Crypto Market Dominance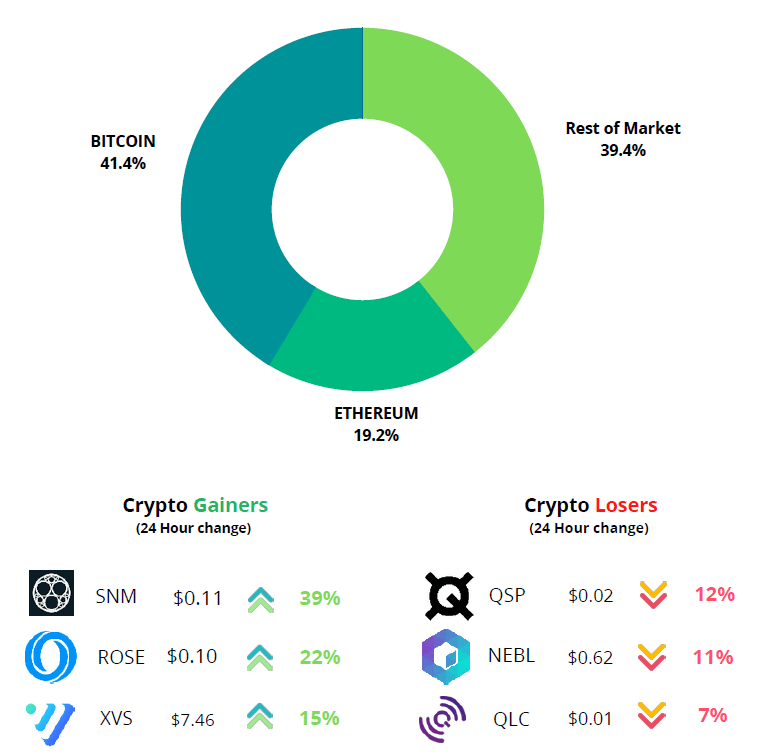 Crypto Sentiment
The sentiment towards the cryptocurrency market continues to remain in the fear
zone and compared to last week's, the Index has dropped from 39 to "31".

Another data to evaluate the sentiment of the general public would be to look at Spent
Output Profit Ratio (SOPR). What is SOPR? In laymen terms, it indicates if people have
sold at a profit or if they sold at a loss. An SOPR value above 1 indicates that profit
booking dominated loss booking and below 1 indicates that loss booking dominated
profit booking. A value of 1 indicates that the coins were sold at their purchase price.
The Adjusted SOPR filters out transactions that are younger than 1 hour, thus,
clearing out noise from the metric.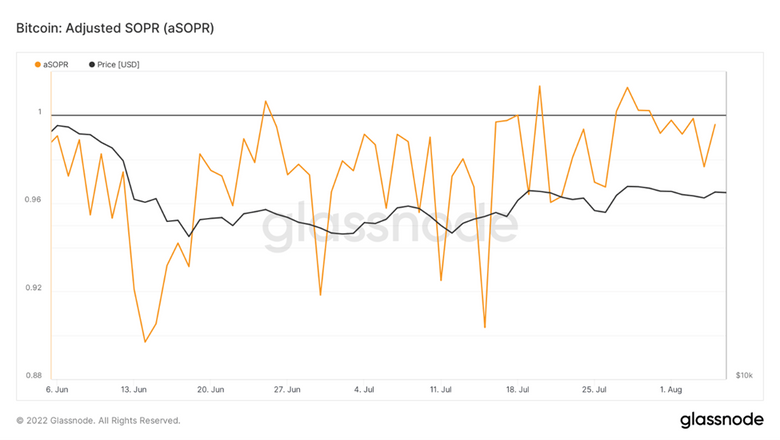 The aSOPR for this week is at 0.99 which means that the coins are being sold close to
their purchase price. For a trend reversal, the metric should stay and oscillate above 1.
The metric has currently failed to oscillate above 1 and hence, doesn't confirm to a
trend reversal.
Who is buying: Whales or Retail Investors?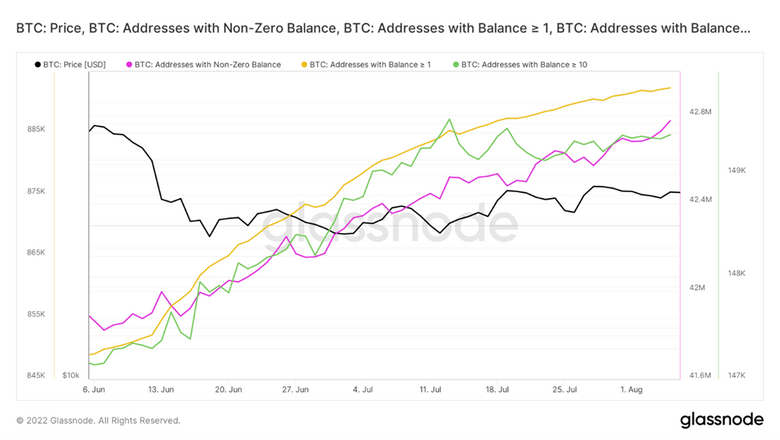 The number of addresses with non-zero balance is at an all time high of 42.7 million.
Similar trend can be seen in the number of addresses holding at least 1 and 10 BTC.
The point to ponder here is, who are selling BTC to these investors?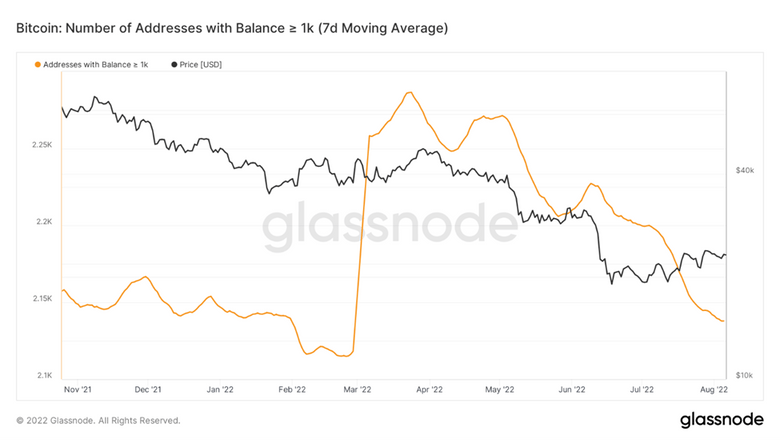 The number of addresses holding at least 1000 Bitcoins have decreased by 149
addresses since the year peak in Mar 2022. This indicates that these investors have
been distributing their coins.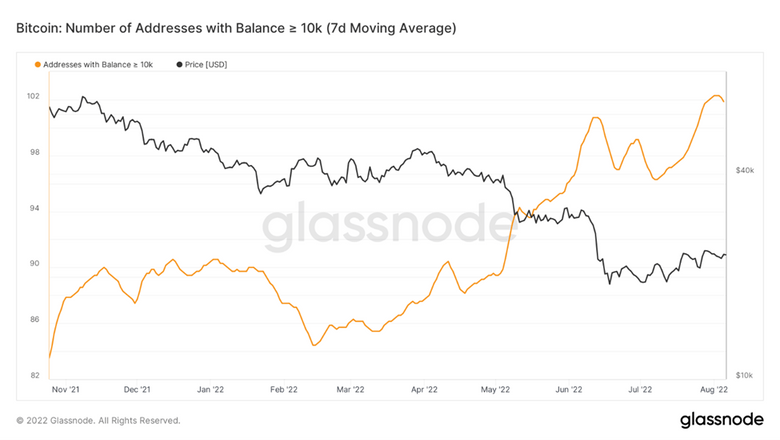 Even though we have seen addresses holding at least 1000 coins have decreased,
An increase in the number of addresses holding at least 10,000 BTC is a positive sign and
gives strength to the price movement.
Are we out of the Bear Market?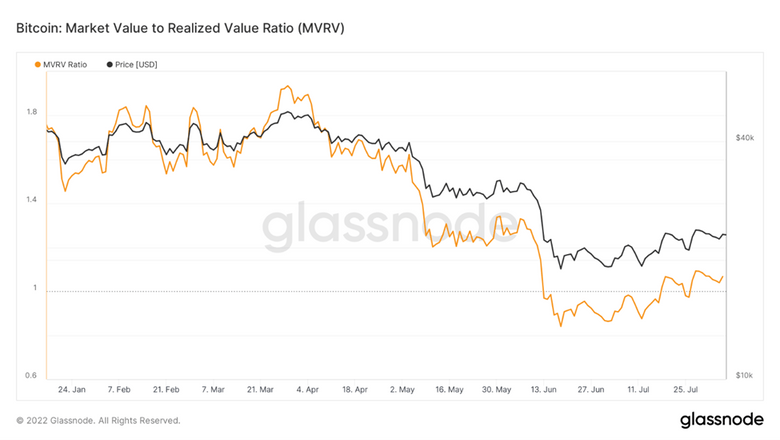 MVRV ratio is equal to the market capital divided by realized capital of Bitcoin. Realized
capital unlike market capital does not use the current market price, but rather uses the
prices each Bitcoin when they last moved.
Currently, the metric stands at 1.06. In the previous bear markets, we have seen that
the metric falls below 1 and oscillates below 1 for few days or months which mark the
bottom of the bear market. As the metric moves above 1, the trend reverses. Since, the
metric is above 1 and has started making higher lows, we can say that the market has
started moving out of the bear phase.
Stablecoin Supply Ratio (SSR) is the ratio of market cap of BTC divided by the market
cap of all stablecoins.
Low SSR value indicates high Stablecoin Supply compared to that of BTC market




cap indicating potential buying pressure and possible price rise.

High SSR value indicates low Stablecoin supply compared to the market cap of BTC




indicating potential selling pressure and possible price fall.
Currently, SSR is near its bottom and has started making an upward movement which
means market has started moving away from its bottom.
Overall Market Performance
DOW JONES
Dow Jones Industrial Average remained fairly flat in the last week closing in green for
the 5th consecutive week. The monthly trend for Dow Jones is traversing within an
ascending triangle pattern. An immediate resistance is expected at 33,300 level.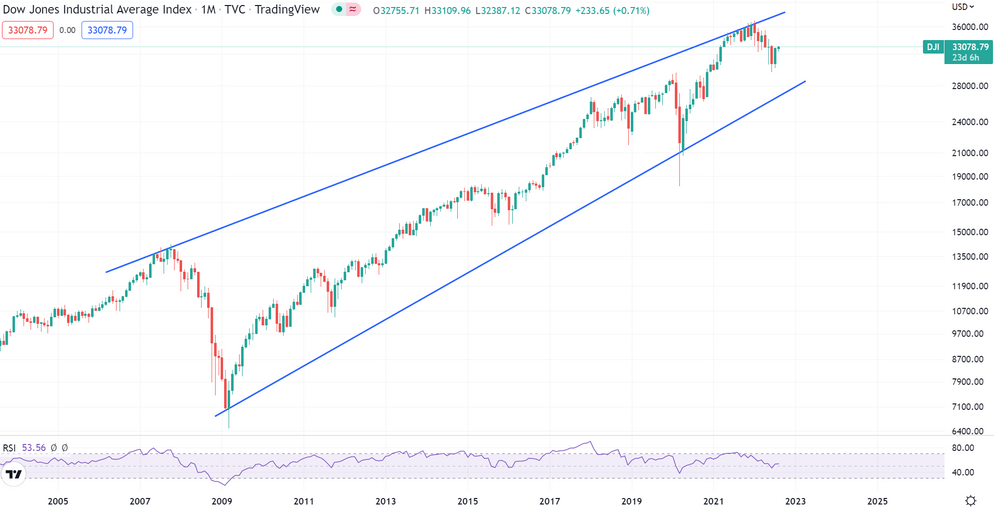 GOLD FUTURES
Gold edged above the $1,800 level last week, closing in green for the 3rd consecutive
week. The daily trend for Gold broken out of the descending channel pattern. The next
resistance is expected at $1,840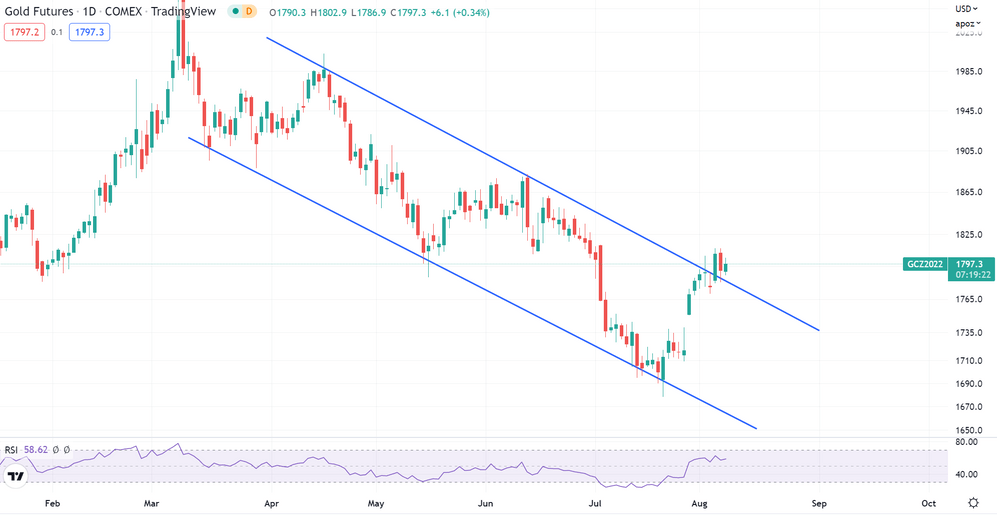 BITCOIN
Bitcoin remained fairly steady throughout last week. The daily trend for BTC is moving
within a descending channel pattern but has been on an uptrend in the recent days..
The next resistance is expected at $32.3K and key support is expected at $19K.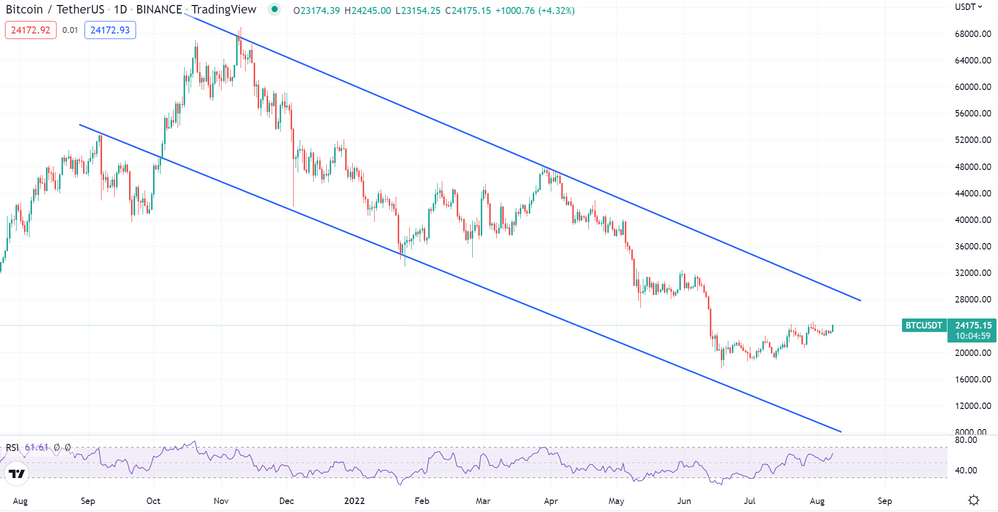 ETHEREUM
Ethereum against BTC closed positive for the 5th successive week. The 4-hourly trend
for ETH-BTC is moving within a classic triangle pattern, making higher lows. The next
resistance is expected at 0.076 and an immediate support is expected at 0.046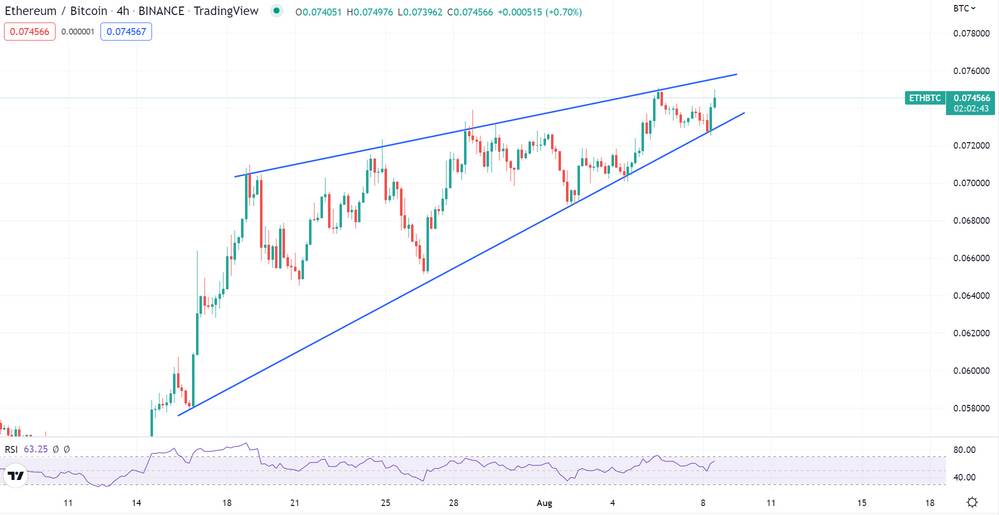 Highlights of the week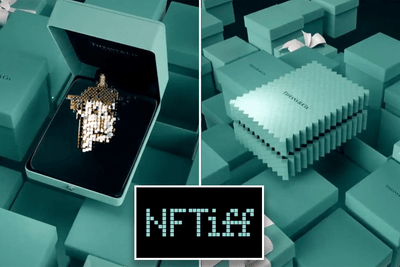 Tiffany & Co has announced the launch of an NFT collection,
exclusive to Cryptopunk holders. The collection has a supply
of only 250 and are priced at 30 ETH each ($50K USD).
RAKBANK announced an agreement with Kraken that will
allow UAE residents to trade digital assets using a local
Emirati bank account and dirhams.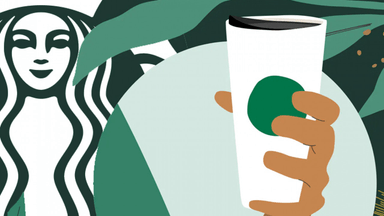 Starbucks is looking for digital collectibles to better engage
customers and is planning to launch its Web3-based rewards
the program next month.
Our Pick of the Week

Loopring (LRC)
We expect a gain of 10% from the Buy Price of 0.4458 USDT and
outperform BTC in the coming week
Target Achieved

Chiliz (CHZ)
CHZ umped by 25% in just a day and achieved our predicted target of
10%, outperforming Bitcoin which gained only 5% in the same period