DOW JONES

US stock market index Dow Jones is respecting this support line since Nov2020, Break below this
trendline shall escalate selling pressure. Markets should remain healthy as far as this trendline is
respected and price trades above the support levels
GOLD

Gold consolidated for almost 10 months and broke out, it restested the support and bounced back. Gold is ready to resume the uptrend.
BITCOIN

Bitcoin is consolidating in the triangle pattern and shall continue for a couple of days. However a
breakdown from this triangle pattern shall trigger the sell pressure.
ETHEREUM

Ether has a strong demand zone between $2 – 2.2k. Ether looks healthy as long as these levels
are not breached.
In conclusion…

The Dow Jones Index is trading in the healthy zone, Gold looks bullish and uptrend shall be seen
in the coming weeks.
Crypto Markets look attractive in terms of risk-reward, we shall see markets consolidating in the
coming week. Some of the Alt coins shall gain if Bitcoin is trading between $30-40k
TRENDING TOKENS
Below tokens look strong and may outperform the markets in the coming week.
TRX/BTC
EOS/BTC
TRX, Mcap – $5.5 Billion
TRX broke a long term downtrend and looks strong against Bitcoin. This could be a potential trend
reversal and we may see TRX outperforming Bitcoin in coming weeks/months.
EOS, Mcap – $5.6 Billion
EOS broke the resistance against BTC and retested the support last week, It has potential to
outperform Bitcoin in coming week
XMINT token by MintingM looks very attractive, It took support at $300 and bounced back to $600
and now trading around $480 levels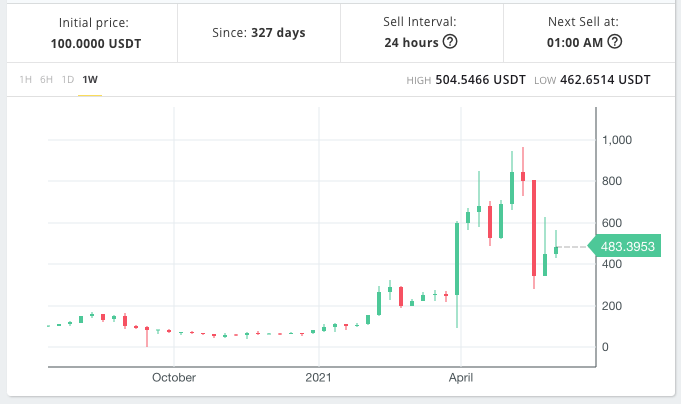 STF token – XMINT listed on Wazirx has consistently outperformed other financial assets and
delivered extraordinary returns for its investors.
Join our Telegram channel https://t.me/MintingM for all the latest updates and information on
Crypto assets.