Research summary:
This research report is focused on Travala.com which is an upcoming project operating in the travel industry. We will focus on how the project works, how it adds value, and review its pros and cons.
The CMP is $2.67 as of 28th May 2021.
What is Travala.com?
Travala.com is a project that operates in the travel industry (An industry that is slowly getting exposure to blockchain technology).
It allows a user to book flights, hotels, and Fun activities with Fiat and cryptocurrency. It claims to provide the best prices for over 2,200,000 hotels (All over the globe), 410,000 activities and also provides access to flights from 600+ airlines. They justify the previous statement with the "Best Price Guarantee", where they either match or beat the competitor's prices.
Travala.com is attempting to increase cryptocurrency adoption.
It is currently ranked #243 (based on mcap) in the cryptocurrency market. The total starting supply 61.57 million tokens out of which 52.17 million tokens are in circulation. It is currently listed on Binance, Gate.io, and HitBTC.
What problems does it aim to solve?
Based on its whitepaper, Travala.com solves the following problems.
• Consumers paying high prices and falling for artificial discounts: Travala.com solves this problem with the help of blockchain technologies. By employing an immutable and shared blockchain ledger, it provides complete transparency regarding the true cost.
• Lack of credible reviews: Reviews are scrutinized and can only be provided by confirmed bookings. They have also mentioned the following in their whitepaper as a solution to the "Lack of credible reviews" issue, "A decentralized review platform governed by a cartel of booking platforms can incentivize trustworthy review writing."
• Complicated user experience and reward redemption: With the help of their native token and better website design, they fixed the rest of the issues.
• Cryptocurrency not being listed as a payment option: Travala.com's noticeable difference from other travel service aggregators is that it accepts a wide range of cryptocurrencies along with fiat currency.
How does it work?
Travala.com operates in the same way most travel service aggregators operate with the only noticeable difference, which is that you can pay with fiat as well as a variety of cryptocurrency. The user experience is also quite smooth and intuitive. Let me illustrate this by booking an activity within three steps.
Step 1 – Use the search bar located on the home page to book an activity.
You can use AVA as a method of payment and earn another 3% discount.
Industry analysis.
Travala.com is operating in the travel industry, which is the most heavily impacted industry post Covid-19. It has 1 close competitor in the cryptocurrency industry.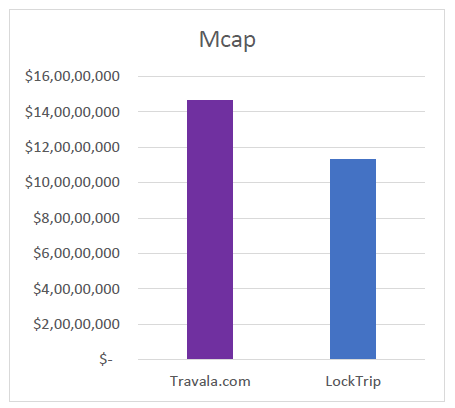 | Project | Mcap (USD) |
| --- | --- |
| Travala.com | $ 14,63,24,400 |
| LockTrip | $ 11,33,81,434 |
Expedia is the largest player in this industry and indicates the potential for travala.com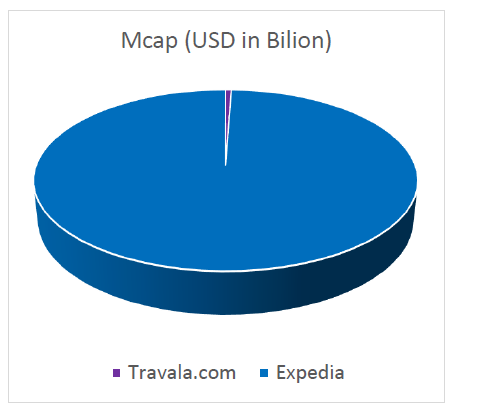 | Project | Mcap in Dollars |
| --- | --- |
| Travala.com | 0.146 |
| Expedia | 25.5 |
Team analysis:
Travala.com has a strong team of 30 members. Within the Travala.com team are experienced professionals in blockchain development, travel, and FinTech from some of the world's largest companies.

They have backing from Binance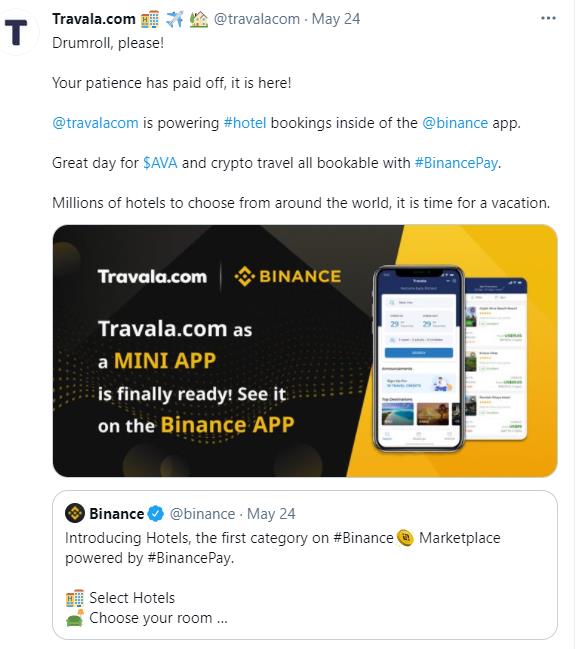 They also have numerous partners with the list growing every day. Some of these partnerships include
• Expedia
• Tezos
• Coingecko
• Haven
• Zilliqa
• Vchain
• Decentraland
• And lots more.
Media and community strength.
Travala.com has a strong media presence as they keep partnering up with most of the popular names in the cryptocurrency industry.
They also have a healthy community of Twitter followers of 79,000, telegram members of 10,000, and Facebook followers of 44,000.
Conclusion:
Pros:
1) Travala.com is an innovative project with great potential (When the Pandemic will die down). They are currently addressing one of the biggest issues with cryptocurrency, which is the ability to use it as a currency.
2) Unlike the majority of cryptocurrency projects, Travala.com is operational and has backing from Binance, the biggest exchange in the world
3) Their token is deflationary & is designed in such a way, that the more you stake, the more benefits you receive. Currently, 9.24 Million AVA is staked. It also has one of the most simple and pleasant user experiences.
Cons:
1) The threat of new entrants in this space is high, as they don't employ any patented technology. Any existing player in the travel industry can just add a cryptocurrency payment gateway and travala.com losses some its' edge.