Research summary:
This research report is focused on "Stacks". We will focus on how the project works, what value it adds, and review its pros and cons.
The CMP is $1.27 as of the 1st of October.
What is Stacks?
Bitcoin is the biggest cryptocurrency in the world with a market capitalization of $850 billion. It is considered as a store of value, decentralized money, and is pseudo-anonymous. Looking at this innovation, people such as Vitalik Buterin decided to create a platform where you could create decentralized applications. This has led to multiple generations of blockchains and innovation happening in full swing.
There have been multiple projects created keeping bitcoin shortcomings in mind, for example, Monero was created with the objective of privacy (better than bitcoin). However, there are some projects working to unleashes Bitcoin's full potential. Stacks is one such project.
Stacks (Previously known as Blockstacks) is an open-source network of decentralized apps and smart contracts built on Bitcoin.
It is currently ranked at #68 (based on Mcap) in the cryptocurrency market. There is a maximum supply of 1.818 billion STX tokens out of which 1.25 billion STX tokens are in circulation. STX is currently listed on Binance, OKEx, and Kucoin.
How does Stacks work?
Bitcoin at the beginning of its journey had the following motto "Don't be Evil", which it eventually removed. Stacks has the following motto "Can't be Evil", indicating that they are trying to decentralise the internet where the people will have privacy and control over their data.
According to founders, Stacks isn't trying to reinvent the wheel. Currently, the internet is already decentralized, however, it is the application layer which isn't decentralized & its focus is to change this with the help of smart contracts.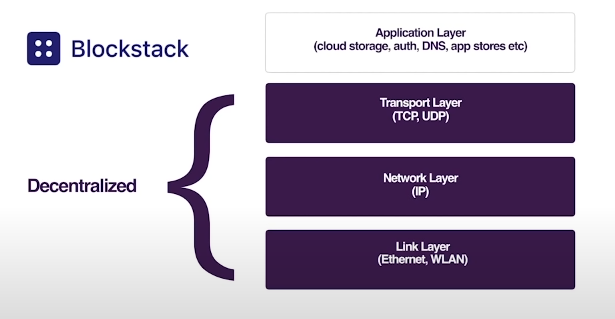 So, with the help of Stacks, developers will be able to create decentralized version of the traditional applications.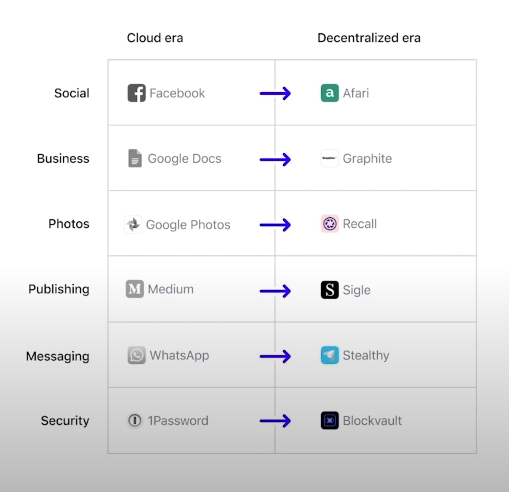 Stacks is a layer-1 blockchain that connects to Bitcoin for security and enables decentralized apps and predictable smart contracts. All the transactions on the Stacks blockchain are verifiable on the Bitcoin blockchain. Stacks can scale up independently and do not modify Bitcoin in any form.
Stacks leverages Bitcoin's strengths. Bitcoin is a tamper-proof source of truth; a value settlement protocol. Once you have the ultimate source of truth, other decentralized protocols and use cases can be built on it.
What is the utility of the STX?
STX token is the fuel for the stacks blockchain and in simple terms is quite essential for the Stacks ecosystem. It is vital for the execution of the smart contracts, very similar to how ether operates on the Ethereum network.
Stacks can be locked by STX holders to participate in consensus and earn Bitcoin rewards. This process is called Stacking. The long-term value of STX depends on the growth of the Stacks network and the demand for the smart contract's executions.
Competition analysis.
When it comes to the competition, Ethereum is the closest and the biggest competitor as both of them working on creating Dapps or decentralized applications.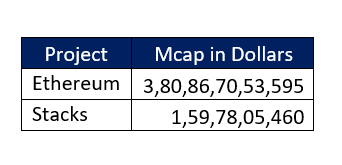 Although Stacks has a dependency on Bitcoin (unlike Ethereum), the growth potential is huge.
Team, Media, and community strength.
Stacks was founded in 2013 at Princeton by computer scientists (Muneeb Ali) and worked on the technology for 4 years. It was also peer-reviewed by individuals from Princeton and Stanford. It is also team members from the above-mentioned institutions. Their media presence isn't strong but they do have a decent community strength. They have 81k Twitter followers and 14k telegram members.
Conclusion
Pros: Stacks is trying to decentralize the internet by allowing people to create Dapps and is leveraging Bitcoin's strength. It has an extremely qualified team and the technology has been peer-reviewed by individuals from Stanford and Princeton.
Cons: Ethereum and a of lot self-claimed Ethereum killers are competing in the market. Stacks has a lot of competition.
MintingM rating for Stacks is 3.7/5