Research summary:
This research report is focused on Polkastarter which is considered as one of the upcoming projects with great potential. We will focus on how the project works, how it adds value, and review its pros and cons.
The CMP is $2.44 as of 21st May 2021.

What is Polkastarter?
Polkastarter is a platform where projects are crowdfunded. So, the projects/startups get access to the capital while normal people get the chance to become a VC and get the chance to invest at the early stages of the crypto startup. Another way of looking at Polkastarter is as a Decentralized exchange, where projects/start-ups list a limited number of coins for the 1st time with a lockup period for those tokens.

Based on its whitepaper, Polkastarter also allows OTC deals with password protection.

It is based on the Polkadot network and is also referred to as the Kickstarter of cryptocurrency.
There is a maximum supply limit of 100 million Polkastarter tokens or POLS out of which 67.29 million is currently circulating. It is currently ranked #246 in the cryptocurrency industry. It got listed on Binance on the 20th of May (1 day prior to publishing the report) and is also available on Uniswap, Gate.io, and Huobi Global.

How does it work?
Presently, Fundamentally strong coins listed on any of the major Decentralized exchanges go through a pump and dump price action. Bots and investors take up most of the liquidity and dump it all on unsuspecting investors. Some of the examples are given below.
The above image is the price chart of Polkamarkets/USDT – 1D on the day of listing.
The above image is the price chart of Polkamon/Wrapped Ether– 1D on the day of listing.

This issue is resolved with the help of a method referred to as the Fixed swap approach. With the Fixed swap approach, the price volatility is eliminated and brings transparency to the amounts raised during the fundraiser. Polkastarter sets a fixed price when swapping the tokens and can add several parameters such as the maximum amount of tokens that can be bought by a user.
The above image represents several projects who are raising capital in Eth. It has determined the price (In terms of eth), number of participants along with the maximum contribution they can make. All of them have raised their target capital.

Polkastarter tends to list high-quality projects. This is made possible because of the Polkastarter Council.

The Council reviews and votes on projects/start-ups application for launch on Polkastarter. Each application is submitted to a thorough and rigorous review during the due diligence process and then evaluated based on objective merits. Each of the Council members then cast their vote, and projects having greater than 60% of the Council's vote are approved for launch. The council members currently include several VC firms.
Due to the high quality of projects listing on Polkastarter, there is always higher demand to purchase the projects/start-ups token at an early stage. So, most of the projects run a lottery system. To participate in them, you need do to share their social media posts, follow them, and do several more tasks (The tasks depend on the project/start-up).

If you win the lottery, you can participate in the listing by completing your KYC and then getting the chance to buy a limited amount of tokens.

Most of the projects that list on Polkastarter also list themselves on Uniswap at a much higher price, hours after the listing on Polkastarter. Giving the non-lottery winners the option of purchasing. But given that Uniswap does not follow a fixed swap approach, they often go through a pump and dump. The prior mentioned charts belong to two Polkastarter listings. However, they are often 10x the listing price on Polkastarter.
What is the Coin used for?
There are 3 main uses for POLS.
Access to listings: To get yourself in the lottery system to participate in any listing, you need to hold at least 250 POLS.
For every 250 POLS you have in your wallet, you will receive a "ticket", which equals one entry into the whitelist process. So, if you own 750 POLS, you will have 3 tickets to your name when you submit your address to be whitelisted. Because projects choose whitelisted addresses at random, the more tickets you have, the greater your chance of being selected.
This utility is quite extraordinary as it quite literally allows you to make 10x gains on your investment amount within an extremely short time.

Staking: The token can be staked to earn staking rewards on various fronts. For example, it can be staked to receive access to the project listings or receive plain POLS tokens.

Governance: The token is also used for governance purposes. POLS holders will be able to vote for ecosystem initiatives, new features development, liquidity rewards distribution specs, and other applications. They will need to stake POLS to participate.

Competitor analysis.
There are several fundraising platforms available in the cryptocurrency market.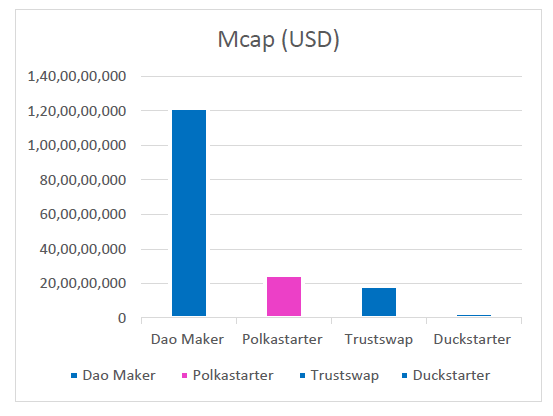 | Project | Mcap (USD) |
| --- | --- |
| Dao Maker | 1,21,97,95,404 |
| Polkastarter | 24,89,51,574 |
| Trustswap | 18,25,73,411 |
| Duckstarter | 3,02,50,380 |
Based on the fully diluted Mcap comparison, Polkastarter has the 2nd largest Mcap among its peers.
Given that Polkastarter views itself as a decentralized exchange (or DEX), a comparison with the top DEX (Uniswap) is also valid.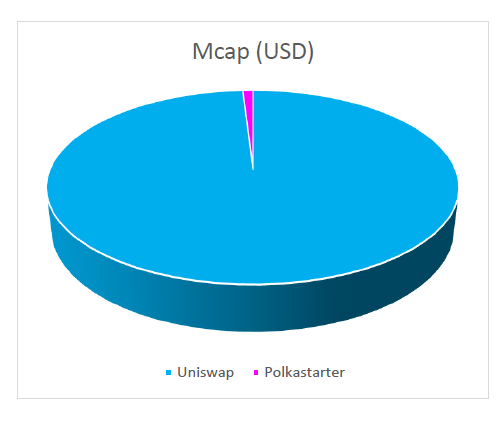 | Project | Mcap (USD) |
| --- | --- |
| Uniswap | 25,97,80,44,411 |
| Polkastarter | 24,89,51,574 |
Based on peer comparison Polkastarter has the potential to achieve a Billion-dollar Mcap status.

Team analysis.
The team size is quite small, with only 10 people working behind the project (Based on their LinkedIn page). The Leadership and advisors all seem to have a strong marketing background but there is no one with expertise in blockchain technology (This information is troubling).
They however have an extremely strong investor backing.
Media and community strength.
Polkastarter has an extremely strong community strength. They have 363.3k Twitter followers and 60k telegram members. This is likely because people who want to get the chance to participate in the listing of new projects (or get whitelisted) have to complete certain tasks. Following Polkastarter on Twitter is one such task.
They are constantly in the spotlight, as a lot of high-quality projects get listed on Polkastarter.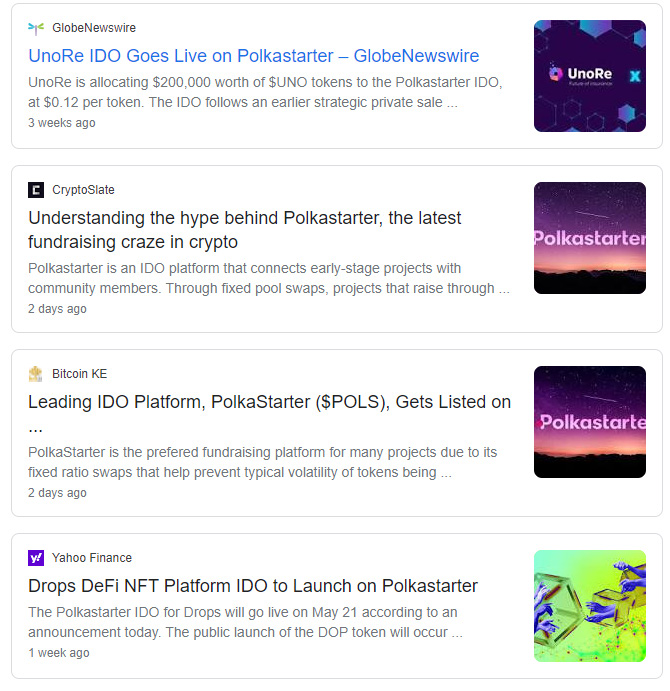 Conclusion:
Pros:
1) Polkastarter is a Defi application (An already booming sector) that gives a normal individual the chance to purchase tokens of high-quality projects at an early stage, just like a VC gets.
2) The native token POLS is designed in such a way that, the more you hold the more chance to make incredible gains within a short duration.
3) It has a strong media presence, community strength, and investor backing.
Cons:
1) The chances of getting whitelisted (winning the chance to buy tokens from the listing) are quite small, so people who don't get whitelisted will often find no value in holding the token.
2) The team size is quite small and lacks blockchain technology expertise