Overview:
The Oasis Network is the first blockchain network with privacy features for open finance and a responsible data economy. The Oasis Network, with its high throughput and secure design, can support private, scalable DeFi, reinventing Open Finance and bringing it to a wider audience than traders and early adopters.
The CMP of ROSE on 10th December is $0.261
What is Oasis Network?
The Cosmos SDK was used to create the Oasis Network, a privacy-focused smart contract platform for open finance. The project emphasizes data privacy and user confidentiality applications and use-cases. It tries to do this by isolating its consensus layer from its contract execution layer and offering a built-in interface for privacy-preserving computation between the two. The consensus layer serves as a hub that secures the network and reaches an agreement on transaction legality using a Proof-of-Stake (PoS) method. The execution layer is made up of a number of parallel runtimes (dubbed ParaTimes) for different types of computations that all plug into the consensus layer.
Why Oasis Network matters and its problem-solving capabilities
The mission of the Oasis Foundation is to build a responsible data society. The idea behind it is to use a combination of advanced distributed ledger technologies to allow people more control over their own data. The public and freely shareable character of tokenized data (whitepaper) is combined with safe computing environments in these technologies. The capacity to create a new type of crypto data is the ultimate outcome.
The Oasis Network can enable new use-cases like under-collateralized loans, private dark pools, private automatic market makers, private stablecoins, private oracles, private payments, and more because of its unique ability to keep data discreet and private.
Fundamentals of Oasis Network
The Oasis Network was created to expand and enhance DeFi prospects for both major and small companies by removing the barriers that currently exist in the field. The Oasis Network has significant benefits that will enable it to support the next generation of DeFi.
Private smart contracts, which enable the creation of a new generation of decentralized applications born that see privacy as an incentive to create trust with their users
Private state and transaction details, which prevent malicious players from gaming the system in order to realize higher profits while limiting the participation of smaller DeFi users
The flexibility to keep data public or confidential, which allows DeFi Dapps to comply with regulations while ensuring the protection of commercial interests and participation of financial institutions in the system.
High throughput, which reduces/eliminates the transaction fees that disincentivize any but the already-wealthy to participate in DeFi
Use cases:-
Nebula Genomics:- Using Oasis' framework, usesr can retain ownership of their genomic data and Nebula Genomics can run analysis on the data without seeing the customer's raw information.
BMW:- Oasis Labs is collaborating with the BMW Group to evaluate differential privacy solutions in their internal systems. All accesses may be saved to a ledger for consent-based auditing, and the Oasis Labs platform can validate all access policies for high integrity before executing queries and delivering results.
Binance CryptoSafe Alliance:- The CryptoSafe Platform, developed by Oasis Labs and Binance, allows exchanges to share threat intelligence data. The Oasis Network's support for confidential computing ensures that exchange data remains private even when being compared.
Tokenomics
Competition Analysis
The web is the Oasis Network's largest rival. The Oasis Network offers primitives like data ownership, immutability, and secrecy that the present web lacks, making it the best choice for the next generation of digital apps and services that value user privacy.
Team, Media & Community strength
Oasis Network was founded by Dawn Song, a professor in the Department of Electrical Engineering and Computer Science at the University of California, Berkeley.
Raymond Cheng is the co-founder and CTO of Oasis Labs. He holds a PhD in Computer Science from Washington University and has a solid research record.
Noah Johnson is another co-founder and the CPO of Oasis Labs. Noah is a PhD candidate at Berkely.
Bobby Jaros is the last co-founder and the COO of Oasis Labs. He holds a Master degree in electrical engineering from Stanford University.
Oasis Foundation has over 90K followers on Twitter and 14.1K in telegram
Conclusion
The contemporary economy's most valuable asset is user data. Control, ownership, usage, and monetization of this data continue to be an economic and privacy concern. To solve these challenges and allow a "responsible data economy," Oasis, a privacy-first, proof-of-stake, decentralised computing network, was created. The protocol intends to put people in charge of their data by allowing them to own and control it while also facilitating the creation of privacy-preserving apps and services.
As we can see the industry size is growing quite extensively in just a year's time. It has a good market capital for a reasonably new token. As it has the upper hand of being the first blockchain network with privacy features, it has a certain edge compared to others. It has a total supply of 10 billion ROSE and a circulating supply of 3.5 billon in the market.
Oasis Network is one of the rare blockchain startups founded by a woman. The present Oasis Team constitutes of talent from across the globe with backgrounds from Apple, Google, Amazon, Goldman Sachs, Stanford, Harvard and more — all committed to growing and expanding the impact of the Oasis Network.
Oasis network achieves scalability through its cutting-edge set of features that provide faster transaction speeds and higher throughput than other networks.
Looking ahead, the Oasis Network looks to be a strong project with emphasis on scalability and high throughput.
MintingM rating for Oasis Network: 3.90/5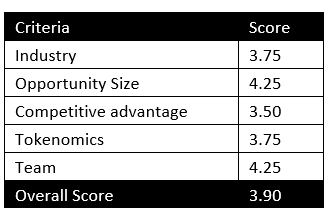 Important links and sources