Research summary:
This research report is focused on Audius which is an established project operating in the music streaming industry. We will focus on how the project works, what problems it solves, and review its pros and cons.
The CMP is $1.06 as of 4th June 2021.

What is Audius?
Audius is a decentralized music streaming platform which unlike the traditional music streaming platform connects Fans directly with artists and exclusive new music.
It is operating in the Music streaming industry which is a multi-billion dollar ever-growing industry. With over 4,846,791 unique users on their platform over the past month (Data as of 3rd June 2021) and over 200,000 streams every day (Data as of 3rd June 2021), it is safe to say that they are well established.
It is currently ranked at #184 (based on Mcap) in the cryptocurrency market. The total supply 1.03 Billion tokens out of which 0.209 Billion tokens are in circulation. It is currently listed on Binance, Gate.io, and AAX.
It is available on Windows, The App store, and the play store.

What Problems does it aim to solve?
The music industry has undergone massive changes in 2 aspects i.e., music creation & music distribution. Gone are those days when there was a need for audio engineers and producers to create music and the need for producing CDs and cassettes for distribution.
Artists can create music with inexpensive software. But music's distribution still has an unreasonably high number of middlemen.
Due to this problem, the revenue that the artists receive is extremely low. To give a clear picture, In 2017, the music industry generated $43 billion in revenue but only 12% of that made its way to artists. As points of comparison, NFL players capture at least 47% of the revenue generated by the entire NFL, and NBA players capture between 49 and 51%
Based on its whitepaper, here are the problems the industry faces:

• There are layers of middlemen and significant time delay involved in payments to artists
• Incomplete rights ownership data often prevents content artists from getting paid; instead, earnings accumulate in digital service providers (DSPs) and rights societies
• Publishing rights are complicated and opaque, with no incentives for the industry to make rights data public and accurate
• Remixes, covers, and other derivative content are largely censored due to rights management issues
• Licensing issues prevent DSPs (Digital service providers) and content from being accessible worldwide

What does Audius do?
Audius aims to give the artists back control over distribution, monetization, and streaming rights for their content. They try achieving this with the help of 4 components,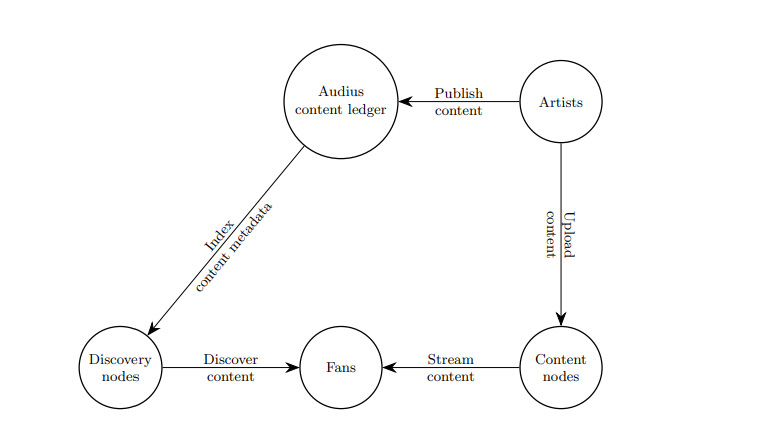 • Audius token: The native token $Audio is used as an incentive.
• Content nodes: These user-operated nodes host the content
• Content ledger: The content ledger holds important information such as music that an artist has published and more.
• Discovery nodes: These user-operated nodes index the content and makes the content discoverable.
The above diagram indicates the life cycle of Audius content.
What is the utility of the coin?
The native token for Audius is "$Audio". Its functionality is triggered when $Audio is staked. These functionalities include Access to exclusive features, additional $Audio tokens, and governance.
Audius tokens are staked by node operators to run the Audius protocol, and by artists and curators to unlock exclusive features and services.
Audius tokens will serve as collateral for artist-based tooling as well. Early examples incubated by the community include artist's tokens, badges, and earnings multipliers. In the future, Fans may delegate tokens to specific artists and curators to share in their growth on the platform and the issuance of future tokens.
The token currently has a very small percentage of supply circulating in the market but the supply keeps increasing every 3 Months till July 2026.
Competitor analysis.
Spotify is the top player in the music streaming industry. Audius is an extremely close peer in terms of offerings but also solves the legacy issues of the music industry (Which Spotify hasn't solved).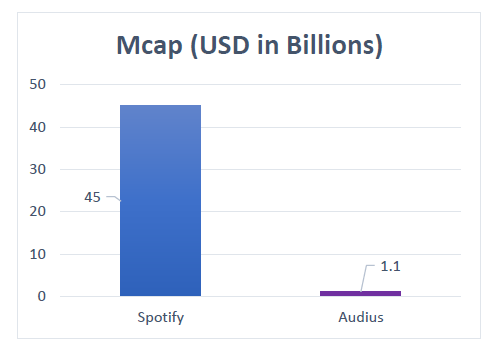 | Companies | Mcap (USD in Billions) |
| --- | --- |
| Spotify | 45 |
| Audius (Fully diluted) | 1.1 |
Audius is the most established decentralized music streaming service. There are two other small players in the decentralized music streaming space.

Team, Media, and community strength.
Audius has an extremely strong team of entrepreneurs, engineers, audiophiles, and blockchain experts. Their advisory team has well-known names like deadmau5, RAC, 3LAU. This team also has the co-founder of EA games and Twitch.
The investors also include Binance, Coinbase Ventures, and 7 more investors. Their media presence and community strength have tremendous scope for growth, with over 50,000 Twitter followers and 12,500 discords members.
Conclusion
Pros:
1) Audius is the only established decentralized music streaming platform with no strong competitors. It has an extremely strong team of advisors and has big names such as Binance and Coinbase ventures as its investors.
Cons:
1) Blockchain is used to solve existing problems but it brings a new set of problems of its own. In Audius' case, artists may upload copyrighted music without much intervention by Audius on copyright and infringement. Platforms such Bandcamp and Patreon solve this issue without the use of blockchain.
2) The native token's ($Audio) current supply is very low and the supply is designed to keep increasing every 3 months till July 2026.