Research summary:
This research report is focused on Sandbox which is an upcoming project operating in the gaming
industry. We will focus on how the project works, its tokenomics, and review its pros and cons. It is
currently listed on Binance, Coinbase, Bithumb among others.
The CMP is $0.65 as of 30th July 2021.

What is Sandbox?
Sandbox is a virtual world where players can build, own, and monetize their gaming experiences in the Ethereum blockchain using SAND, the platform's utility token. Essentially it is a game where a gamer can create a world (a city, castle, casino, amusement park, prison or a town from the wild west) on an NFT land (which is limited) and interact in the world (manage the amusement park, escape from the prison, play casino games). This project is currently in a closed Alpha mode and isn't open for the public.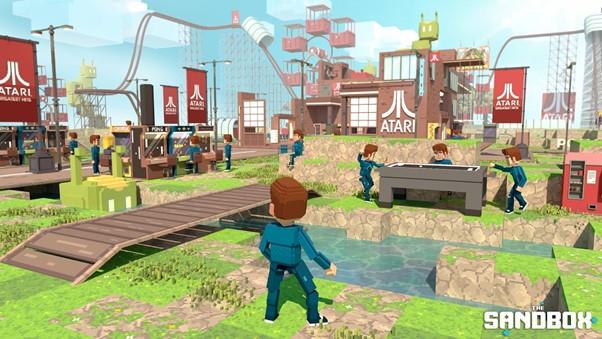 This project is part of the Sandbox franchise that has 40,000,000+ downloads, 1,200,000 monthly active users and has at least 70,000,000 worlds with at least 100,000 worlds created every day.
It is currently ranked #107 (based on mcap) in the cryptocurrency market. There is a maximum supply of 3 billion tokens out of which 0.7 billion tokens are in circulation. It is currently listed on Binance, Huobi Global, and Bithumb.
What problems does it aim to solve?
Sandbox is essentially an environment which allows its users to create content (or worlds). Similar
games are centralized which pose the following drawbacks:
• The ownership of the content goes to the company rather than the gamer. If there is a
market place for these contents, then the company takes a big cut from each sale.
• There is often no clarity when it comes to the origin of the content.
• There is a censorship of content that the company deems unfit.
What does Sandbox do?
In order to overcome these limitations, Sandbox uses blockchain as the secret ingredient. Sandbox is
a gaming platform where creators are able to craft, play, share, collect, and trade without central
control, enjoying secure copyright ownership with the ability to earn cryptocurrency (SAND). This
copyright ownership will be established and guaranteed through the use of NFTs, where every ingame
item will have a unique and immutable blockchain identifier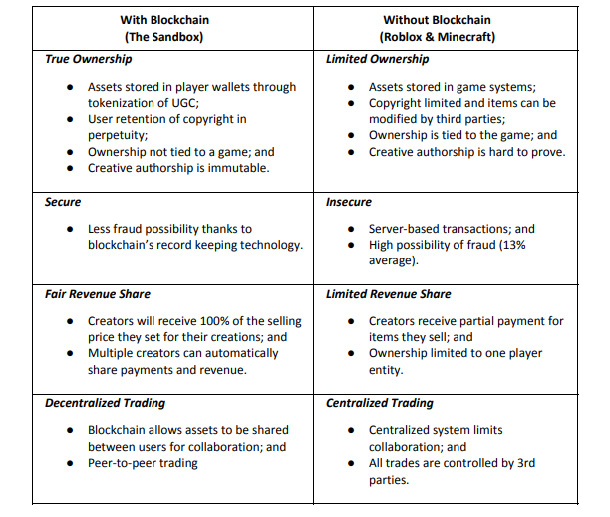 Sandbox has 3 main elements in its ecosystem.

VOXEDIT: This is a simple to use yet powerful and free software which allows users to create and animate 3D objects such as people, animals, foliage, and tools, and export them into the Sandbox marketplace to become NFT game assets. You can also buy gems which essentially add the scarcity value of the asset.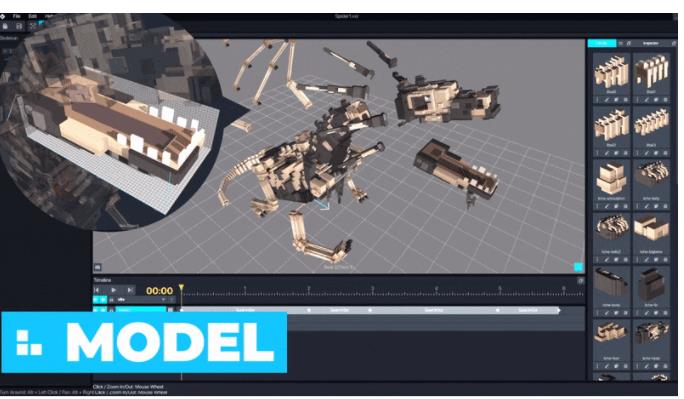 MARKETPLACE: The Sandbox's web-based marketplace allows users to upload, publish, and sell their creations (assets) made in VoxEdit, as tokens (both ERC-721 and ERC-1155 tokens).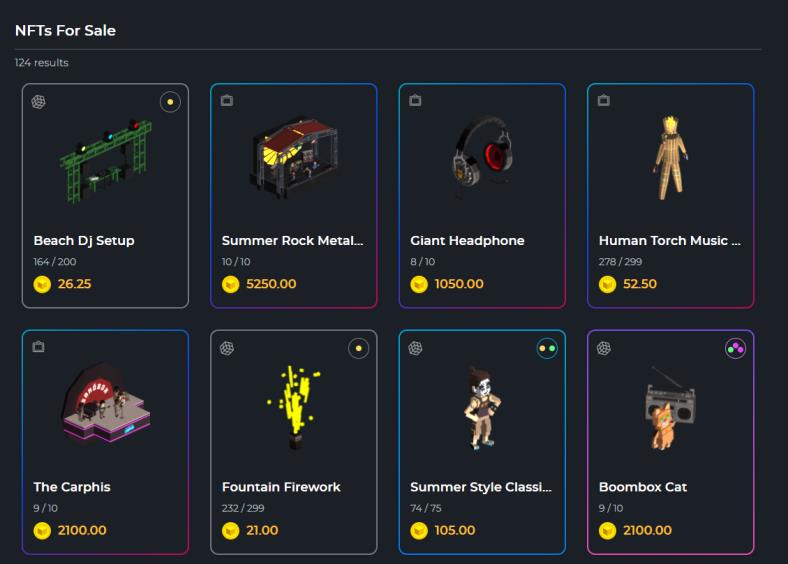 GAME MAKER: Anyone who owns assets, either by making them in VoxEdit or purchasing them, can utilize them with the third and most important ecosystem product, the game maker and the game itself. This product, when launched in game maker mode, enables users to place and use their assets within a piece of Land (an ERC-721 token) that they can own in the virtual world. Users can decorate their land with assets, and more importantly, implement interesting and nuanced gameplay mechanics by assigning predefined behaviours to the assets through visual scripting nodes, turning a land from a decoration experience into a full game experience.
What is Land?
Sandbox is a virtual world with 166,464 parcels (or plots) of land. The land is NFTs and will be completely owned by the purchaser (do read our report on Ethernity Chain to know more about NFTs). The value of these lands behaves similarly to the prices of actual real estate. Land closer to the roads is more expensive and land which isn't accessible is relatively cheaper. Below is the map of the Sandbox world along with the ownership.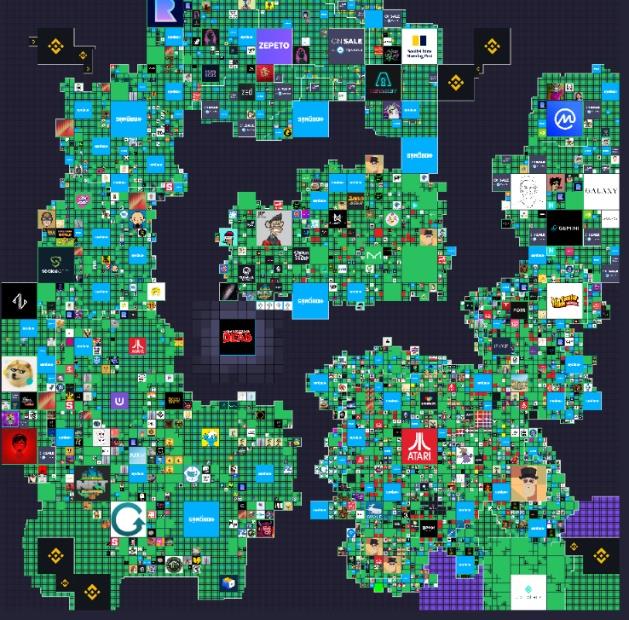 There are several big names in the list of landowners, some of them are::
❖ Binance
❖ The Walking Dead
❖ Hell's Kitchen
❖ Atari
❖ Rollercoaster Tycoon
❖ The Smurfs
Each of these landowners are creating an experience on their piece of land
Land can also generate revenue as land owners can charge sand tokens for visits or hosting events on their land, and you can also sell the land for a profit after customization.
What is the utility of the token?
SAND, the native token of Sandbox, is an ERC-20 token. It is crucial for the functioning of the project's ecosystem. It has multiple major utilities: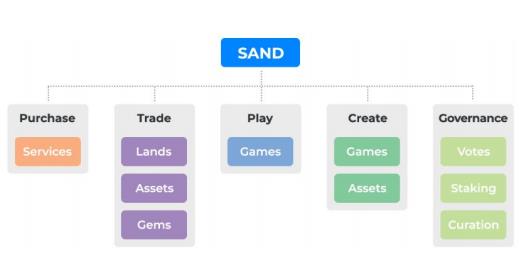 ❖ Currency: SAND is designed to be used for every transaction within the Sandbox ecosystem. You will need it for playing games, buying equipment or land. It is also required if an artist wants to upload assets to the marketplace and buy gems for defining rarity and scarcity.
❖ Governance: SAND is also a governance token. SAND token holders can exercise voting rights on key elements such as foundation grant attributions to content and game creators and feature prioritisation on the platform roadmap.
❖ Staking: SAND can also be used as a stake to provide passive revenues. This passive revenue is paid out from a fee capturing system. 5% of all transaction volume carried out in SAND tokens (transaction fees) are allocated with 50% to the staking pool as rewards for token holders that stake SAND tokens while 50% goes to the foundation. The foundation's main role is to offer grants to incentivize high quality content & game production on the platform.
Industry and competitive analysis.
SANDBOX is operating within two giant industries – the gaming industry and the NFT industry. The global gaming industry is worth more than $300 billion and the NFT industry is a fast-growing industry.
In the cryptocurrency space, Decentraland is the closest competition based on Market capital.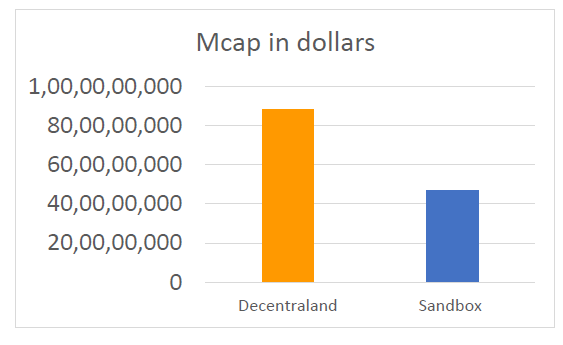 | Project | Mcap |
| --- | --- |
| Decentraland | $ 88,03,34,224 |
| Sandbox | $ 46,93,40,537 |
In the traditional space, Minecraft and Roblox are the closest competitors with a net worth surpassing billions of dollars.
Team, Media, and community strength.
The project has expertise in the gaming space and the leadership team comprises serial entrepreneurs. Although Sandbox may not have a strong media presence, they do have a long list of star-studded partners.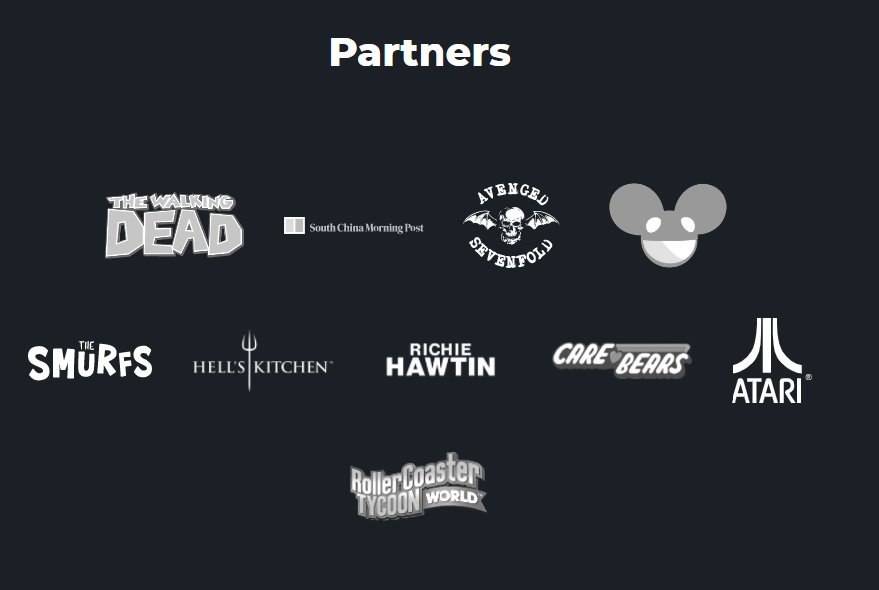 Their community strength is strong and is still growing, with over 150,000 Twitter followers & 24,000 telegram followers.
Conclusion
Pros:
1) Sandbox is a part of an existing established franchise with more than 40 million+ downloads.
2) The project operates in the gaming industry which is worth $300 billion dollar industry and the NFT industry (A fast growing market)
3) It has a long list of star-studded partners such as Atari, The Smurfs and the Walking Dead

Cons:
1) The project is not open for the public and is operating in a closed alpha.
MintingM rating for SwissBorg is 3.6/5
| Criteria | Score |
| --- | --- |
| Industry | 4.38 |
| Opportuniy Size | 5.00 |
| Competitive advantage | 2.00 |
| Tokenomics | 2.38 |
| Team | 4.17 |
| Overall Score | 3.60 |