Overview:
Raydium is an AMM protocol built on the Solana Block Chain that offer on-chain liquidity to a central limit order book.
The CMP is $11.29 as of 12th November 2021.
What is Raydium?
Raydium is a Solana-based automated market maker (AMM) that uses the Serum decentralised exchange's central order book to offer lightning-fast transactions, pooled liquidity, and additional features for generating income.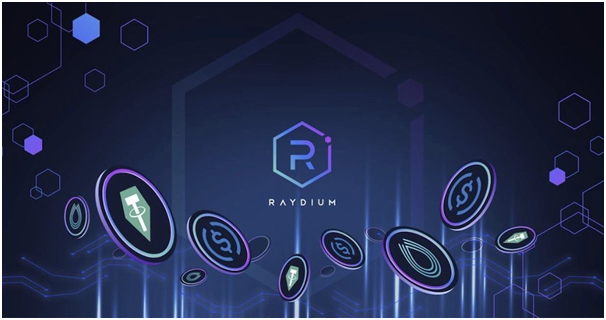 Why Raydium matters and its problem solving capabilities
Liquidity is only available within the pools of other AMM Dexes and DeFi protocols. As a result, they are unable to access a central order book. In addition, the majority of the exchanges use the Ethereum blockchain, which causes network congestion. As a result, transaction times are poor, and the network charges hefty gas prices.
Raydium provides many benefits to its consumers as a result of its integration with Serum on the Solana blockchain. Token trading, staking, exchanging, and farming are just a few of them.
Raydium transactions are cheaper and quicker transactions than Ethereum because of their reliance on Serum on the Solana blockchain. Furthermore, the gas prices are lower than those on the Ethereum network.
Wide liquidity for the ecosystem via a central limit order book — Raydium provides Serum's central limit order book with boundless liquidity. As a result of Raydium's capability, the whole Solana ecosystem has access to continuous liquidity and order flow.
Wonderful trading interface – Users may see their trading charts using this amazing interface. They will be able to better control their trades and establish limit orders as a result of this.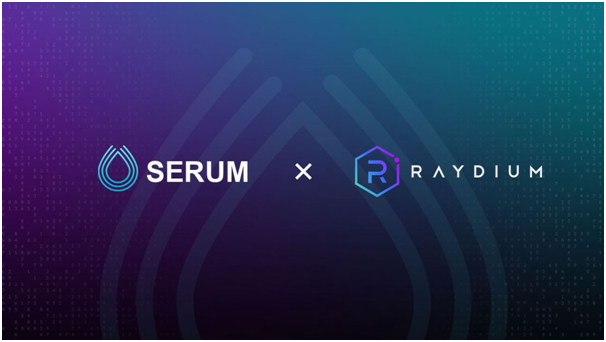 Fundamentals of Raydium
The protocol includes a trading platform that is tailored to the needs of professional cryptocurrency traders. The platform's features and tools provide excellent trading opportunities for users. Buying, selling, trading, and other transactions are carried out at rapid speeds.
There are costs known as takers and makers fees when it comes to controlled exchanges. Customers who remove liquidity from orders are known as takers. The clients who submit the orders are the manufacturers. On their platforms, the CEX often adopts a flat charge scheme for both takers and manufacturers. As a result, both the taker and the creator of an order will be charged at the same time.
Decentralized exchanges, on the other hand, seldom contain modifications in their operations. This is still a significant edge they have over their CEX competitors.
Raydium, on the other hand, adheres to its exchange costs. The protocol charges both takers and makers a 0.25 percent liquidity fee on all transactions.
Use cases:-
Staking: RAY token holders will be able to stake their tokens in order to increase their yield.
RAY holders are permitted to engage in and vote on community ideas and revisions with limited governance.
Tokenomics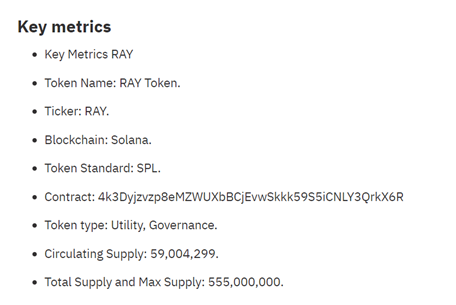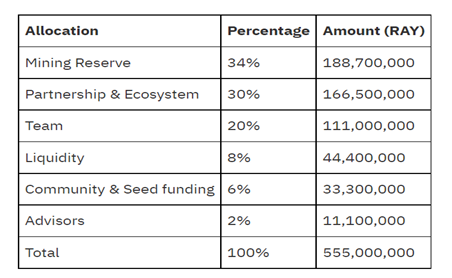 Competition Analysis
Serum is a central limit order book with a matching engine
Raydium is a AMM (automated market maker)
So back before Solana you could not run a CLOB because every limit order was itself a transaction (that may or may not get filled) so…this wouldn't work on Ethereum because of gas fees.
Serum is the first of its kind.
In Raydium's case you can trade on the raydium dex page (that uses the serum order book) or make a swap through In house liquidity pools
When you make a swap, Raydium decides if it can swap you in house through the AMM or through serum. If the slippage is smaller on serum it will swap through serum if not it will swap through Raydium. (Raydium is unique in this case because I believe it was also the first to have a synergistic relationship with a CLOB) thus the user experience was great.
Team, Media & Community strength
Raydium's entire strategy, operations, product direction, and company development are all overseen by AlphaRay. Alpha shifted from algorithmic commodity trading to market creation and liquidity provision for cryptocurrencies in 2017 and hasn't looked back since.
Raydium's Chief Technology Officer and Dev Team Leader is XRay. X has 8 years of expertise in both regular and crypto markets as a trading and low latency systems design.
GammaRay is in charge of marketing and communications, as well as strategy and product development. Gamma worked on both client engagements and corporate marketing for a major portion of his career at a renowned data analytics and market research agency.
StingRay is an experienced operating system and trading developer with an eye for detail and new solutions. StingRay turned his attention to trading after working on the systems kernel for an autonomous car driving firm. He is now the senior developer for Raydium's on-chain order book AMM.
Conclusion
Raydium is one of the most popular AMMs in the DeFi area, allowing users to trade using the majority of CeFi's capabilities. As a consequence, by acting as a bridge between CeFi users and the crypto world, this will promote the growth of the DeFi domain.
Pros
Faster and cheaper :- Raydium takes advantage of the Solana blockchain to execute more transactions than Ethereum's blockchain with extremely low gas fees.
Central order book provides liquidity across the ecosystem:- Raydium allows access to the order book as well as the liquidity of the entire Serum ecosystem.
Trading interface:- Allows convenient market analysis via TradingView, placing limit orders and having more control over your trading on Raydium.
Cons
The operation of transferring assets to the exchange is quite complicated.
MintingM rating for Raydium: 3.4/5