Overview:
MOBOX is an innovative Gaming Platform that combines the best of DeFi Yield Farming and GameFi NFTs (MOMOs) to create a truly free to play and play to earn ecosystem.
The CMP is $6.6 as of 26th November 2021.
What is MOBOX?
MOBOX's goal is to use NFT's to connect each metaverse, ushering in a new era of NFT interoperability across blockchain games and platforms. MOBOX also seeks to increase the usefulness of NFTs associated with blockchain gaming titles and bring new utility through a variety of initiatives.
Why MOBOX matters and its problem solving capabilities
For both novice and seasoned cryptocurrency fans, the mix of DeFi, blockchain gaming, and NFTs provides unique prospects. MBOX tokens may be earned reasonably easily through a variety of games. Furthermore, seeing a free-to-play model mixed with earn-to-play is exciting. The latter notion has proven to be successful in a variety of games, although it frequently necessitates an initial commitment. MOBOX takes a new approach, aiming to create a user-friendly environment.
Furthermore, the ecosystem provides tools for game and NFT development, allowing developers to experiment with new ideas. Aspiring game creators may find that launching and distributing games on this platform is a feasible method to get their name out there.
Fundamentals of MOBOX
The community-driven platform aspires to provide users more control over their involvement and experiences. Its infrastructure is inspired by play-to-earn games, yield farming in decentralised finance, and the popularity of non-fungible tokens. All of these concepts are accessible through an ecosystem designed to allow people to play for free and receive incentives for being as engaged as possible.
MOMOs are MOBOX's native NFTs, which may be obtained through mystery boxes. Users who get these NFTs can sell them, stake them for MBOX token farming, or use them as collateral in other games in the ecosystem.
MOBOX is known as "GameFi," a combination of the words "gaming" and "decentralised finance (DeFi)." The word "DeFi" refers to a variety of services that eliminate the intermediary in financial transactions.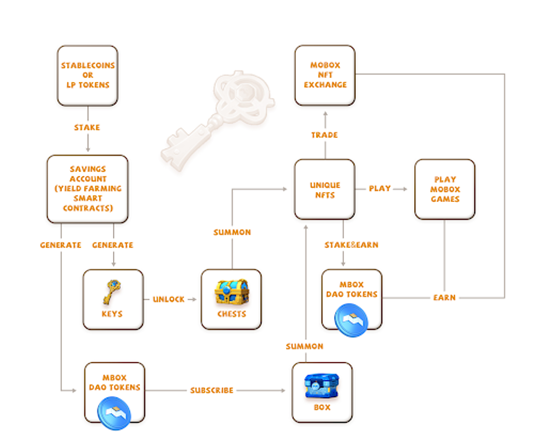 Use cases:-
In-game currency:- Players can use MOBOX tokens to make in-game purchases, such as buying new characters. It's also used as a reward for the in-game activity.
Staking: Staking for platform bonuses and incentives.
Governance: MBOX holders can submit and vote on proposals that help determine the future of the platform.
Buyback & Burn: The platform has also implemented a buyback and burn program funded by 80% of all profits across the platform, which will reduce the maximum token supply of MBOX over time.
Transaction Fee: Processing of transactions through the NFT gaming platform.
Tokenomics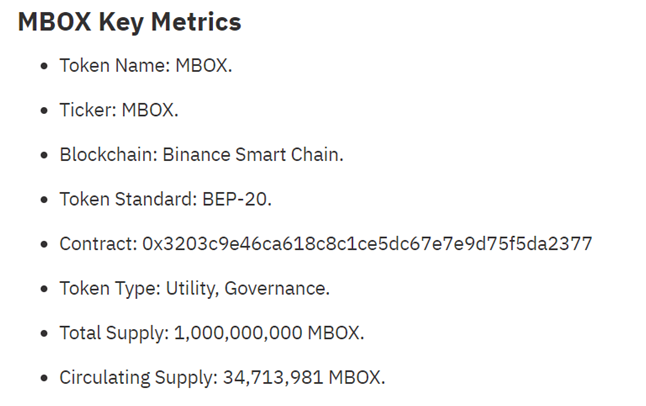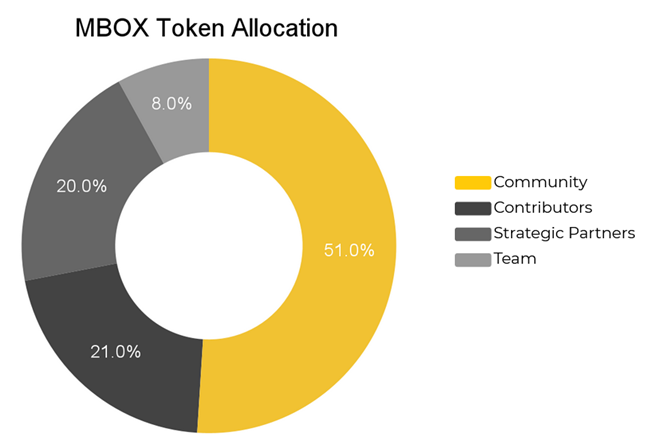 Conclusion
The protocol has a lot of cool characteristics that make it stand out. The MBOX token is a native utility token for it. It runs the network and fulfils a variety of functions in the ecosystem, including governance votes to allocate resources.
The MBOX token is also used for staking for incentives and bonuses, as well as processing transactions via the NFT gaming platform. MOBOX contains native NTFS called MOMOs, which can be obtained from mystery boxes. These MOMOs can be traded, staked to farm MBOX tokens, or used as collateral on the platform.
Pros
Processing of transactions through the NFT gaming platform.
Staking for platform bonuses and incentives.
Voting in management to determine how resources are allocated.
Cons
It has a poor user experience
Decentralized apps have gone a long way, but the issue of scalability must be addressed before they can take the next big step.
MintingM rating for MOBOX: 3.75/5