Research summary:
Frontier is a convenience-based project (which is live and operating) that aims to bring together all the DeFi applications in one place, making the already booming DeFi space (75.67 Billion) more accessible and convenient to use.
The CMP is $2.41, as of 07th May 2021

What is Frontier?
Frontier is a chain-agnostic DeFi aggregation layer. In laymen's terms, Frontier aims to bring together all the DeFi applications (More on DeFi below) from all the major eco-system (Such as Ethereum, Binance chain, and more), so people get to access them at one convenient place.
Frontier is a convenience-based project that has a maximum supply of 100 million tokens out of which 37.48% is in circulation. It will be fully diluted by the end of November 2023. The vesting period for the final 25% token from the private sale will be ending in June 2021.
It is ranked #419 in the cryptocurrency market and is listed on Binance, OKEx, and 18 more exchanges.

What is DeFi?
All of the traditional financial services are centralized (controlled by a single authority or managed in one place) in nature. The Risks and problems that come with centralized financial services are Fraud, Mismanagement of funds, Theft, and restrictions to use your own money. DeFi stands for Decentralized Finance (DeFi is a category of Dapps. Dapps are decentralized applications that are launched on networks such as Ethereum). It is a financial service with no central authority. It eliminates these problems by allowing people to have complete custody and control of their money and to get more returns, by eliminating the 3rd party.
There are various categories of DeFi
• Money Market: Such applications enable users to borrow assets against collateral and earn interest. Maker, Aave, and Compound are the top DeFi applications in this category.
• Decentralized exchange: These kinds of applications give users the ability to swap one crypto for another. Uniswap and Sushiswap are the top DeFi applications in this category.
• Derivatives: A derivative contract derives its value from an underlying asset. With the help of smart contracts, DeFi projects like Synthetix allow people to get exposure to non-blockchain-based assets.

The DeFi space has seen explosive growth over the past year. The graph below indicates that 75.67 Billion dollars are currently involved in the DeFi space.
• User Experience: To reap the benefits of DeFi, there are too many hoops to jump through, due to poor user interface. This makes DeFi a stressful experience and this is compounded when the DeFi concept is slightly complicated. The DeFi applications are scattered all over the place, which further drastically lowers the interest a person has to participate in DeFi. Frontier solves this problem by bringing them all to its simple-to-use application.

• Wallet restrictions: Non-custodial wallets are great for holding crypto assets, but strict app guidelines make them unusable when participating in DeFi. Many wallets also wilfully attempt to create lock-in—this results in users downloading multiple wallets and creating many addresses to participate in one ecosystem.
Frontier eliminates this issue via "Wallet composability". A "Wallet composability" allows a user to select a pre-existing desired wallet to participate in DeFi activities in Frontier's app, instead of transferring funds to frontier and participating (Creating yet another wallet to manage). It also allows creating wallets compatible with all the major eco-system, so you can have them in one place.
What does Frontier offer now?
Frontier currently offers its services on the app store and the play store. There are 3 ways you can use the app.
Watch and manage: You can just watch and manage your assets by simply entering your Ethereum network's public address. In the image below, we can see the tokens owned, DeFi positions, and NFTs on a random eth network address.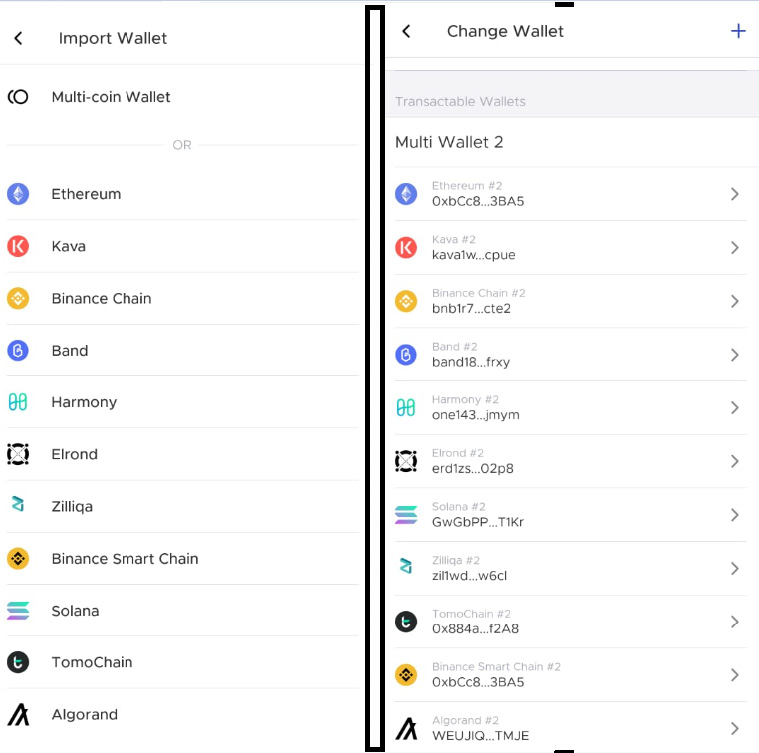 Currently, in the app, Ethereum enjoys multiple DeFi applications while other ecosystems like Kava, Binance Chain, and more can stake and/or create CDPs (Collateralized debt position or laymen terms, taking a loan). This is however likely to change as they have a lot more integrations yet to come.

Competition analysis.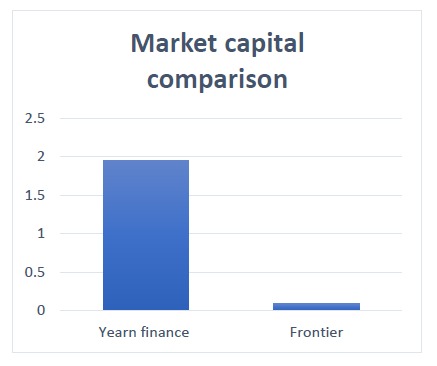 Frontier is a unique project with an extremely limited number of peers. The closest peer in terms of project similarity is 'Yearn Finance'. Yearn finance has a market capital of 1.95 Billion USD while Frontier has a market capital of 0.096 Billion dollars.

What is the utility of the Front token?
The Front token is Frontier's native token and has a lot of utility.
• Staking on Frontier chain: Users can secure the network by staking their front tokens. They can either run a validator node or delegate to a validator.
• Gasless transactions: If you lock in a certain number of Front tokens, you can get access to free or near-free gas fees on any transactions within the app. This is one of the most exciting utility of the front token because Ethereum gas fees are quite high.
• An Incentive to use the app: To encourage people to engage with the DeFi space within the app, the front token would be used as a reward. The more you engage, the higher the chance of eligibility to receive the reward.
• Integration: Frontier will require that a portion of proceeds from grant and fee-based B2B integrations be collected via Front. The more integrations that they release, the stronger the value accrual for Front.
• NFT acquisition & creations: Frontier would allow the acquisitions and issuance of NFTs. For which Front token would be the preferred method of payment.
• More: Front would also be used for liquidity provision, referral benefits, governance, and much more.

Who is behind the project?
Frontier has a strong team with rich technical knowledge and business management skills. They are also backed by industry leaders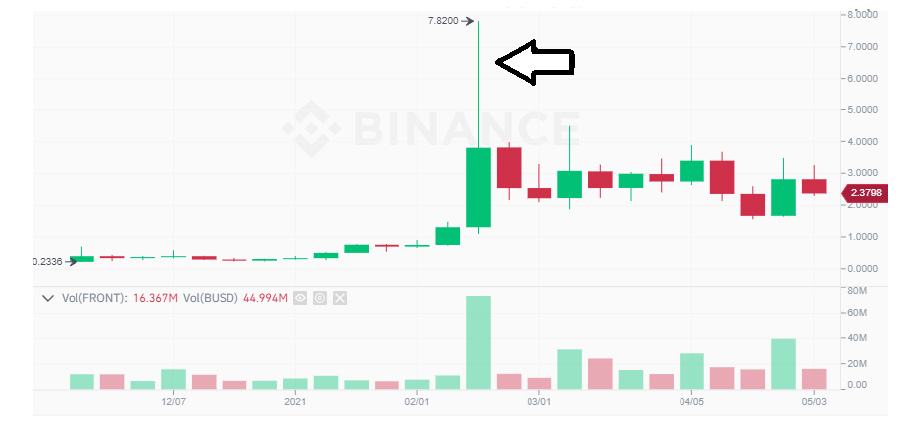 Price action.
The price history hasn't been long enough to determine the RSI for the monthly time horizon.
Conclusion:

Pros: Frontier aims to make the DeFi experience smooth, making the already booming DeFi space more accessible. It plans to do so by bringing all the defi applications to one convenient location. They already have integrated with some of the top DeFi applications and there are more to come.
The Front token has many interesting utilities including the option of having gasless transactions within the app. Unlike a lot of projects in the cryptocurrency space, it is more than just an idea, they are live and operating on google play and apple's app store and have positive reviews. The project is unique and has no close competitors
Cons: Media presence isn't strong. They do not have a telegram community and are only accessible on Twitter. The project isn't fully diluted and the circulating supply increases every month till the end of 2023.