Research summary:
COTI is an adoption-based coin that is solving the existing flaws of the payment processing industry by destroying all barriers between a consumer and a merchant by allowing the user to pay with any currency (fiat or crypto) and by allowing a merchant to instantly receive payment in their preferred currency.

What is COTI?
COTI (The currency of the internet) is a decentralized payment processor platform that would allow the transfer of Fiat as well as for cryptocurrencies from one user to another.
2 Billion COTI coins were created during the network's genesis transaction. Since then, the COTI coins cannot be created or destroyed. The current circulating supply is only 33.5% and is released half-yearly on the 4th of Feb and the 4th of Aug of every year. On the 4th of Aug 2021, there will be 198 million COTI coins coming into the system. The Coins would be fully diluted by 4th Feb 2032.
COTI is an adoption-based coin, which indicates that there is a positive correlation between adoption and price appreciation. It is currently #188 in the crypto industry and is listed on Binance, VCC exchange, and Hitbtc.
Their goal is to make the transfer of value as seamless as the transfer of information. They are now working towards COTI debit cards.
What are the current industry problems?
The traditional financial platform has several issues such as Long settlement periods (3 to 15 days), cross-border limitations, fraud, and security risk, which are resolved by the cryptocurrencies. However, with this new solution, new problems came to light such as
• Scalability issues
| | Transactions per second |
| --- | --- |
| Visa | 24,000 |
| Ripple | 1,500 |
| PayPal | 193 |
| Bitcoin Cash | 60 |
| Litecoin | 56 |
| Dash | 48 |
| Ethereum | 20 |
| Bitcoin | 7 |
• High fees (Fees is an issue even in the tradition space)
• Price volatility
• Too difficult to understand.
• Counterparty risk.

What problems is COTI planning to solve?
• Scalability issues: Coti states that it can process over 100,000 transactions per second which beats both the traditional and the cryptocurrency standard.
• High fees: They state that they can cut out intermediaries and eliminates costly mining, hence reducing the cost relatively.
• Counterparty risk: They mention that they can provide the first-ever dispute resolution system to safeguard users against errors, fraud, and counterparty abuse. It is a Jury system where several jurors independently evaluate the information of the disputed transaction. They have to then give their votes on if the transaction is to be disputed or not, along with depositing COTI coins. If their vote lies with the majority then they are rewarded for the efforts by more COTI coins, while if they aren't, then they stand to lose the deposited coins.
• Simplicity: COTI's user and merchant-facing tools are seamless and extremely easy to use.
• Price volatility: COTI removes the price stability issue by allowing the merchants to issue their stable coins eliminating any loss from cryptocurrency price volatility.

Industry analysis
The market COTI is attempting to enter is the payment processing industry. The payment processing platform is a healthy growing market and is expecting to keep rising, The main driver behind it being Ecommerce sales.
The widespread adoption of the internet along with smartphones across the globe has resulted in a huge boost to e-commerce sales and is likely to continue. Given that all major e-commerce platforms offer e-payments as a method of payment, it is likely that the payment processing industry is also going to grow rapidly.
Given that people are starting to realize the benefits of digital payments over cash payments, it is likely that the adoption of digital payments over cash payments will be increasing. This in turn will be another important factor for the growth of the payment processing industry.
Who are the competitors?
In the traditional space, Visa (491 billion dollars market cap), Mastercard (386 billion dollars market cap) and Paypal (315 billion dollars market cap) are the main players in this industry.
While in the cryptocurrency space XRP (62 billion dollars market cap), XLM (11 billion dollars market cap, Iota (5.9 billion dollars market cap), Utrust (0.23 billion dollars market cap) are the closest competitors.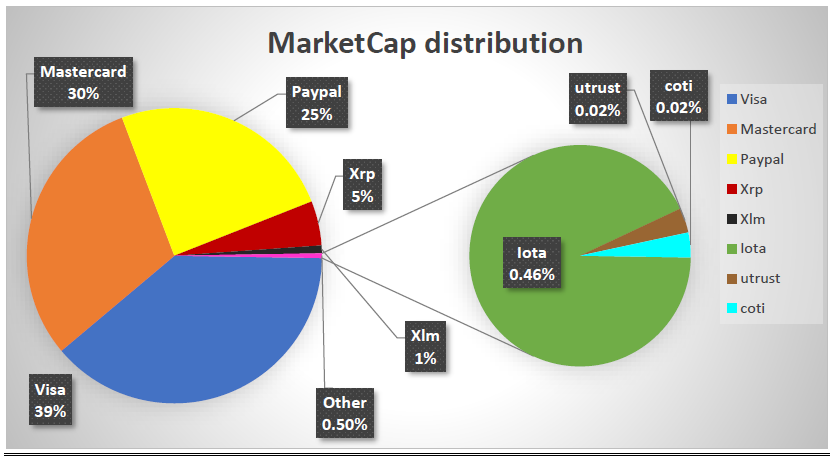 | | Marketcap in billions |
| --- | --- |
| Visa | 491.0 |
| Mastercard | 386.0 |
| PayPal | 315.0 |
| Xrp | 62.0 |
| Xlm | 11.0 |
| Iota | 5.9 |
| Utrust | 0.23 |
| Coti | 0.23 |
Coti currently is a microscopic blip in the industry and has a market capital of 0.23 Billion dollars.
So based on its crypto competitors, Coti could run up from the current market cap of 0.23 Billion to 62 billion or a price appreciation of 26,853%
The above data is as of 28th of April 2021
What is the utility of COTI?
COTI is the primary coin that runs in the project. It is the Medium of exchange that is used when making and receiving payments in the COTI ecosystem. While the COTI network supports multiple fiat and digital currencies, participants are incentivized to use COTI over other currencies for its efficacy as a payment method and low-to-zero transaction fees.
Mediation stakes and pay-outs are denominated in COTI coins. As such, mediators are required to hold COTI coins whenever they wish to engage in mediation.
Merchant rolling reserve funds (A merchant rolling reserve funds is a non-interest-bearing account of money that is held in case the merchant loses a disputed transaction.) are denominated in COTI coins.
Incentives for Node Operators. All node operators will be incentivized in COTI coins and will be required to hold COTI whenever they wish to validate node activity.
The current incentive plan is as follows: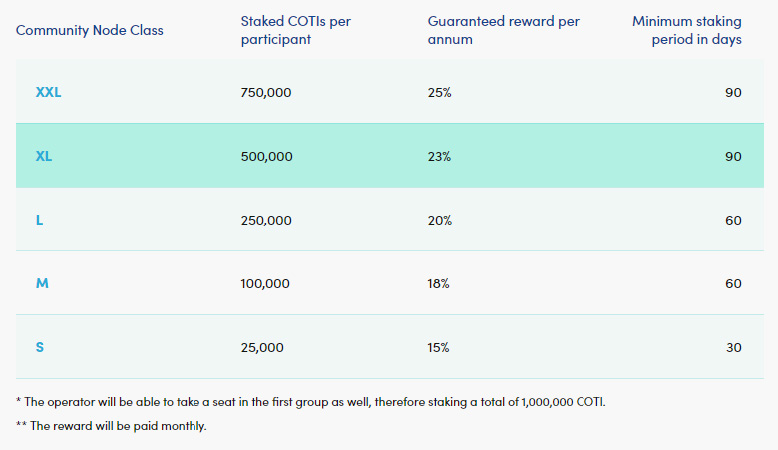 Fees: All the COTI network's fees can be paid solely with COTI coins
What are the Marketing abilities?
Given that COTI is an adoption-based coin, we need to take a look at the marketing efforts taken by the project.
COTI has a CEO (Shahaf Bar-Geffen) who has cofounded 3 marketing firms, which is a big plus point for COTI.
Ambassador program: The ambassador program is designed to help COTI have a presence all over the globe, the ambassador, in turn, earns revenues in the form of referrals from merchants. The performance of this program is not public information and hence cannot be evaluated.
COTI has a strong media presence with new news articles written about them quite often, regular updates, and a healthy community of Twitter followers of 86,100, telegram members of 21,700, and Facebook followers of 24,362
Who is behind the project?
The COTI team and advisors are comprised of individuals with extensive experience in the payments, cryptography, and financial services domains. However, the representation of the marketing front is relatively low.
They have multiple investors backing, the recent one being CARDANO.
What does the price say about the COTI?
Current market price (CMP) – $0.39 as on 30th April 2021.
| | RSI |
| --- | --- |
| 1 Day | 54 |
| 1 Week | 66 |
| 1 Month | 78 |
Conclusion:
Pros: COTI aims to solve numerous problems for both parties in a transaction. A consumer will be able to send money from one point of the world to another, at a lower cost and without being worried about counterparty risk, whilst on the other side, companies with revenue sources in multiple exchange rates can instantly receive their money (Instead of waiting for a minimum of 3 days) and eliminate foreign exchange risk (by issuing their stable coin). Merchant transaction volume in COTI soured to 18.16 million in Feb 2021 alone (Indicating adoption) and the growth of the payment processing industry is increasing.
Cons: The project isn't completely diluted and the circulating supply increases every half-yearly until 2032.