Market Update
Staking on Eth 2.0 was a big debate when the option became available last year.
However, the barrier was quite high to enter as you had to stake a minimum of 32 Eth
which will be locked, required the technical know-how and the right infrastructure.
This is where multiple platforms such as Lido Finance came forward to eliminate these
barriers. An investor could simply stake their Eth via Lido and immediately receive
something referred to as stETH. The value of stETH would be equal to the value of
Ethereum and it would also reflect Ethereum's staking rewards.
So, the investor could use his stETH and earn yields via DeFi protocols while earning
Eth 2 rewards which would not be possible which you would have directly staked as
the Eth would have been locked.
stETH will be redeemable for 1 of itself after the merge is completed and the current
discount represents an arbitrage opportunity. So why is there a discount at all?
Liquidity! The ability to convert your asset into cash is referred to as liquidity. If there
is no liquidity, it would mean that the investor cannot convert his/her asset into cash,
which makes it worthless.
There has been a lot of stETH sold in the market and the liquidity has been taking a hit.
The liquidity pool at curve is at a massive imbalance as only 20% of the Liquidity pool is
made up of ETH. If anyone tries to take eth out from this pool for stETH, the supply of
stETH will increase against ETH which will lead to further depeg.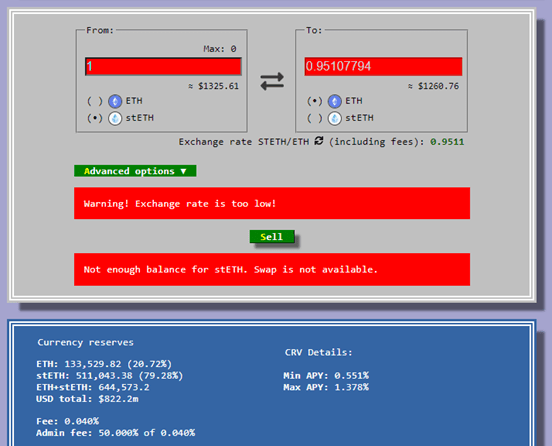 stETH as mentioned above can be used as in DeFi protocols such as AAVE and has
liquidation price points at 0.8 ETH/stETH. So if the price of stETH falls to these levels,
positions would be liquidated and an element of forced selling will occur in an already
imbalanced liquidity pool.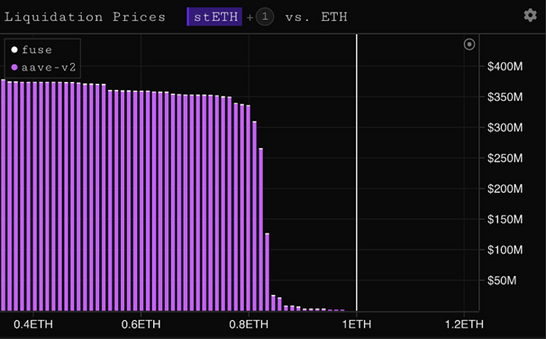 Where does Celsius come in?
Well, it is an all in one banking and financial services platform for cryptocurrency users.
You deposit crypto and you get rewards and similarly you can take out loans. So just
like a bank, their entire holdings are people's money.
When you look at their holdings, you realize that Celsius is a large holder of stETH.
Only 30% of their ETH holdings are liquid while the 70% isn't. They have 510 million in
ETH locked in ETH2.0 staking contract which is still locked, while they have approx 700
million in stETH (much larger than the liquidity available at Curve).
This means that stETH's value could go lower. This has spooked the market which has
just witnessed another 100% crash of LUNA, has started to withdraw their assets from
Celsius. To stop this bank run, the company has decided to halt all withdrawals, citing
market conditions as the major reason. But we speculate that the true reason is to
calm people down and let them understand that the situation is quite different than
Luna.
If the public still wants to remove their assets off Celsius, they will have to sell their
stETH at a significant loss (due to liquidity).
Does this mean that stETH is going to zero? Absolutely not. Once the merge is
complete, you will be able to redeem your 1 stETH for 1 Eth but in the short term the
investors value at Celsius is going to take a hit.
The market is wondering if Ethereum could be the next LUNA and hence a lot of fear is
looming. Worry not! I am here to tell you that the reason why LUNA collapsed is
extremely different from what is happening to stETH. UST was an algo stablecoin and
was connected with LUNA. To maintain the UST peg to $1, the Terra chain would
enable people to mint more LUNA and burn more LUNA. Once the peg and the
confidence were lost, the system just kept on minting LUNA with the hopes of bring
back the peg.
StETH and ETH are pegged 1:1 and it is not pegged to a fixed value, neither does stETH
and ETH have any minting mechanism in place, that could lead to a large amount of
ETH being minted in the system. What people will realize is that the stETH will be
redeemable for full value after the merge and the peg will be accomplished. The
current situation of stETH is quite similar to Grayscale's gbtc. GBTC has been trading at
a double-digit discount to the BTC's price for months, however the discount will
immediately vanish once Gbtc becomes an ETF.
Our Theory – Based on the above data, it is possible that there are organizations that
want to buy up stETH at a significant discount just to redeem them for full value after
the merge. So they will depeg it till there is a cascading liquidation and buy it up