Crypto Markets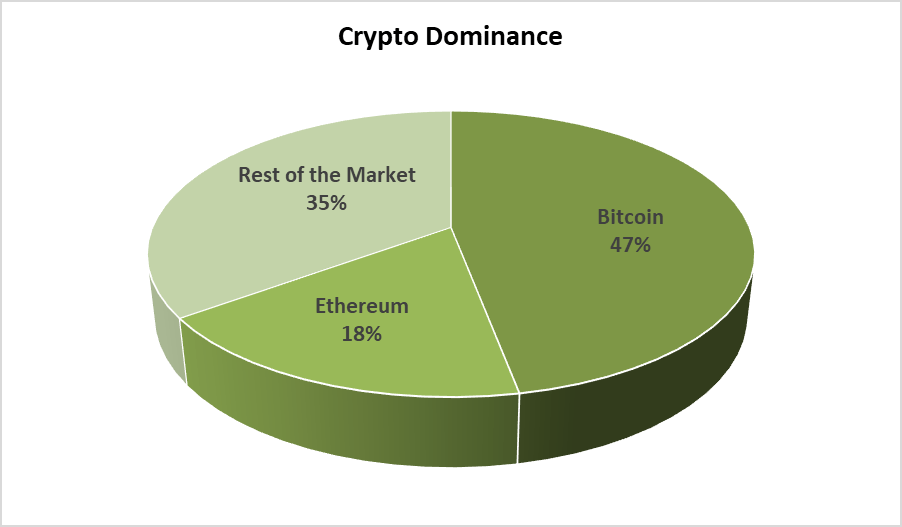 Crypto Sentiment
This week the sentiment towards the cryptocurrency markets has not changed much
from last week. The fear and greed index has remained in the "extreme fear" at 14.

Another data to evaluate the sentiment of the general public would be to look at Spent
Output Profit Ratio (SOPR). What is SOPR? In laymen's terms, it indicates if people have
sold at a profit or if they sold at a loss. An SOPR value above 1 indicates that profit
booking dominated loss booking and below 1 indicates that loss booking dominated
profit booking. A value of 1 indicates that the coins were sold at their purchase price.
The Adjusted SOPR filters out transactions that are younger than 1 hour, thus,
clearing out noise from the metric.
Long Term Holder SOPR (LTH-SOPR) filters out coins that are younger than 155 days.
Generally, coins that are lived more than 155 days are less likely to be spent on chain.
From the graph below, it can be seen that LTH-SOPR has fallen below 1, indicating that
investors are selling at a loss. The price of $30K where we see LTH-SOPR>1 acts as a
major resistance as most of the investors have booked profit at this price.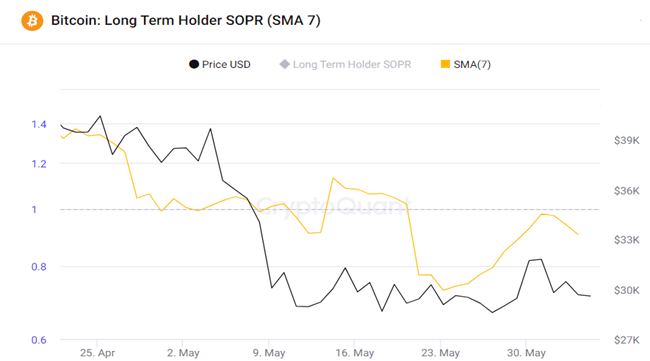 Demand for Cryptocurrency
The BTC balance on exchanges has been on a downtrend since the early weeks of May
while the addresses with a balance more than 1 BTC is on an uptrend since the early weeks
of May. A decrease in the exchange BTC balance indicates investors have been moving
their BTC from exchanges to wallets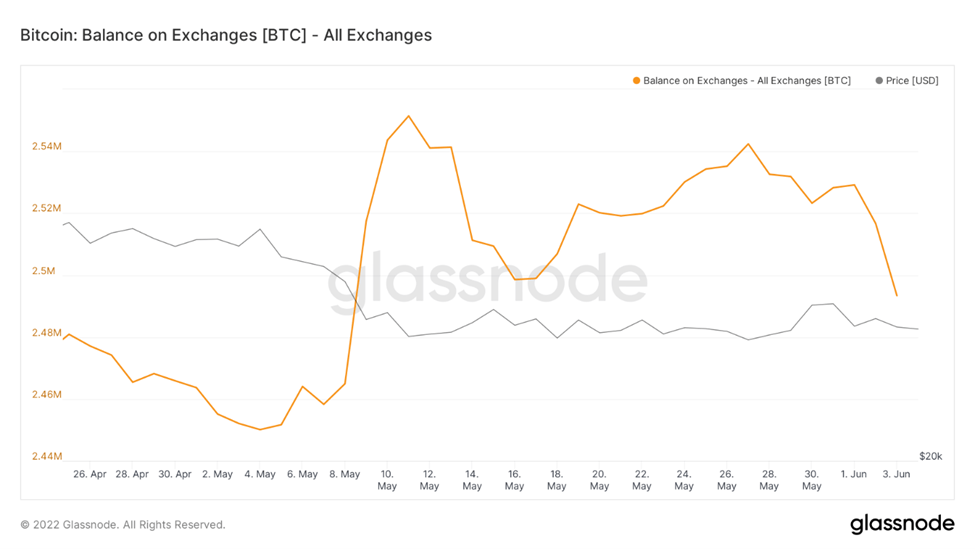 And an increase in the number of addresses with balance greater than 1 BTC confirm s
this hypothesis. This indicates an accumulation phase which can eventually lead to
supply shock and thus, reversal of the bear market.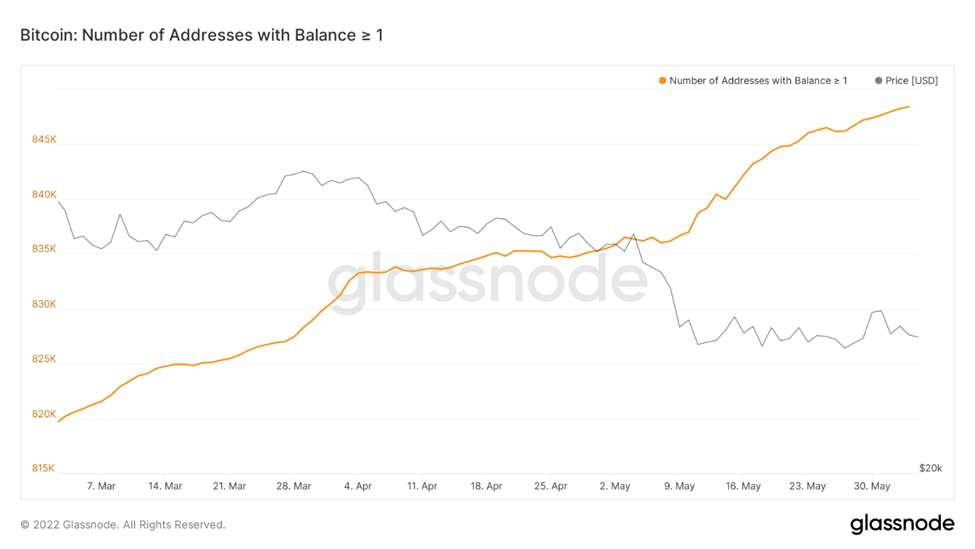 During the recent Luna crash we could see that there was fear sell leading to a sharp
decrease in the number of addresses with non-zero balance. These addresses could
have possibly sold their holdings completely or have their holdings sent to the
exchanges increasing the probability of sell-off during volatility. The addresses with
non-zero balance increased soon after, indicating that either new investors are joining
the market or the same investors who had earlier sold their BTC, have started
accumulating.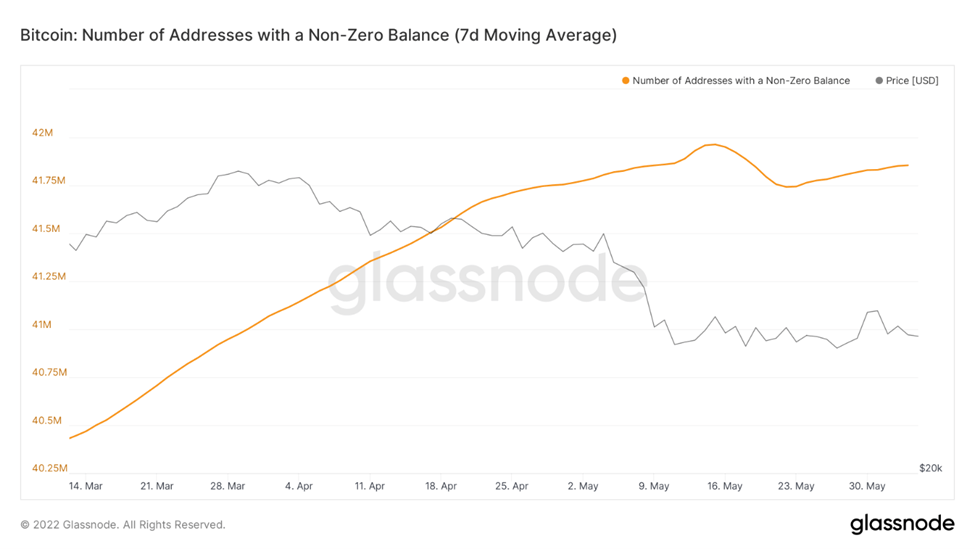 Is the Smart money buying?
We will consider wallet addresses with more than 1000 Bitcoin as institutional
investors who are closely monitoring the asset class. The recent LUNA fiasco saw the
no. of addresses holding 1000 plus BTC's, drop slightly. However, the number jumped
up soon after.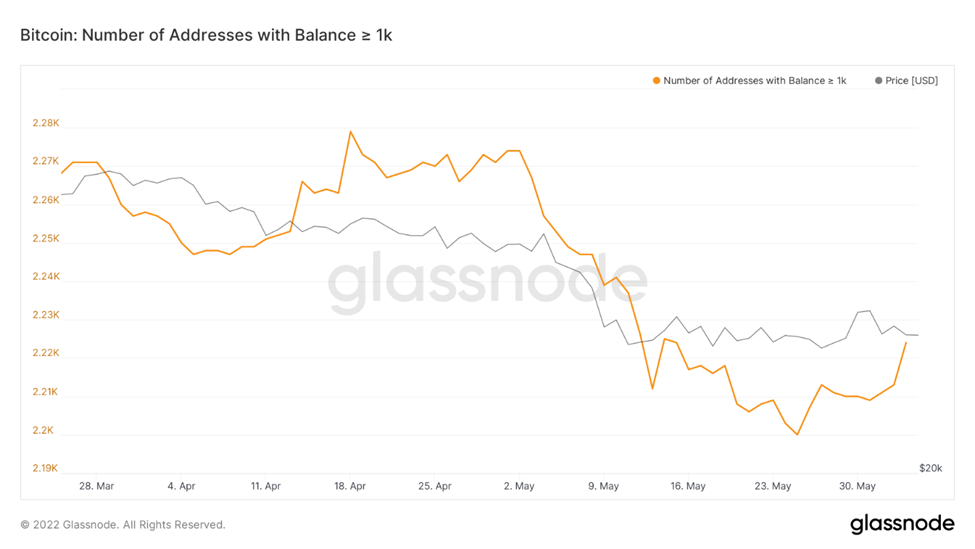 What could play out?
Accumulation trend score is an indicator that reflects the relative size of entities that
are actively accumulating coins on-chain in terms of their BTC holdings. Trend score
closer to 1 indicates that on aggregate, larger entities are accumulating, and a value
closer to 0 indicates they are distributing or not accumulating. Trend score shifting
closer to 1 also confirms our hypothesis of investors accumulating.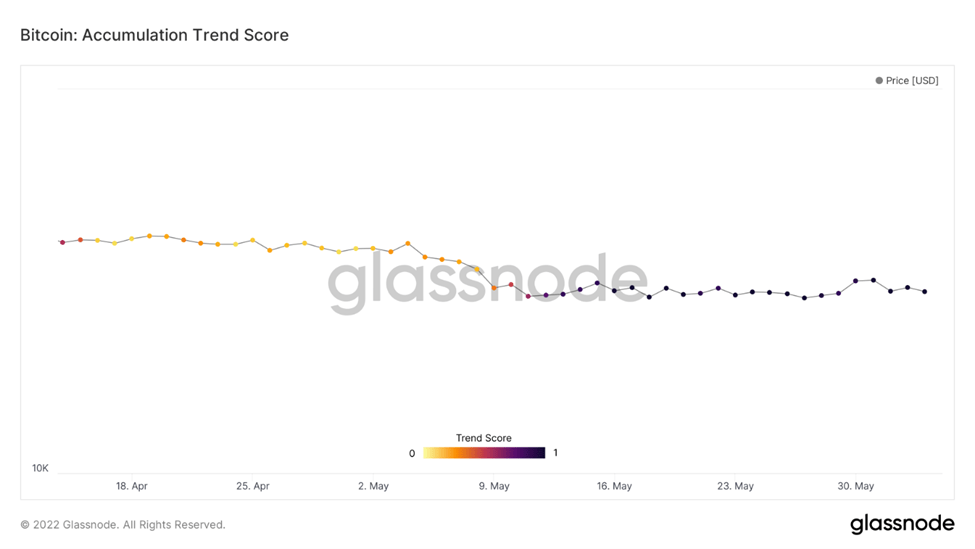 Overall Market Performance
DOW JONES
Dow Jones Industrial Average dropped marginally by 1% in the last week. The daily
chart for Dow Jones is moving within a descending channel pattern. The next
resistance is expected at 35,500.
GOLD FUTURES
Gold Futures remained neutral throughout the past week. The 4-hourly trend has
formed an ascending triangle pattern. The next resistance for Gold Futures is
expected at $2,000.
BITCOIN
Bitcoin finally stopped its downward spiral after 9 weeks. The 4-hourly trend for BTC
traversing within an ascending channel pattern. The next resistance for BTC is
expected at $40,000 and an immediate support is expected at $24,000.
ETHEREUM
Ethereum against BTC dropped by over 2% over the week. The daily trend for ETH
against BTC has formed a descending channel pattern. An immediate support is
expected at 0.055
Highlights of the week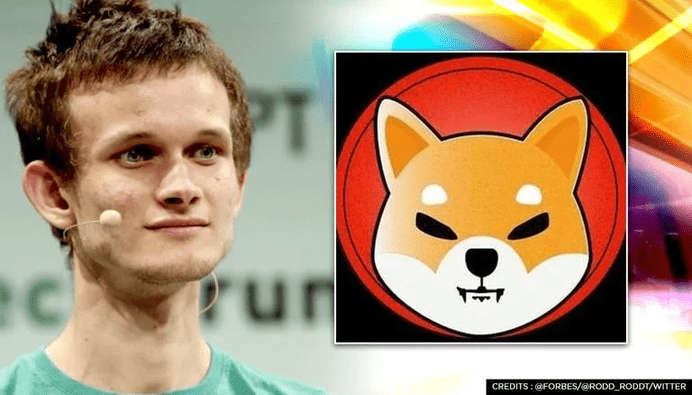 The founder of Shiba Inu, Ryoshi has deleted all his previous
tweets. He had deactivated his account around the same
time last year on May 30, 2021. Ryoshi had last tweeted in
May 2021 and has mostly stayed away from posting. A year
later, the founder has come back only to delete all his posts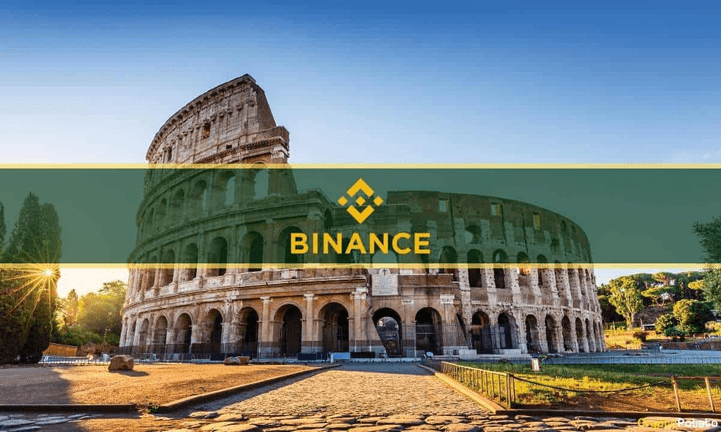 The world's largest crypto exchange has gained regulatory
approval in Italy as it continues its expansion to new regions.
⁠The approval allows the company to offer crypto products to
customers in Italy, as well as open offices and expand its
team in the country. ⁠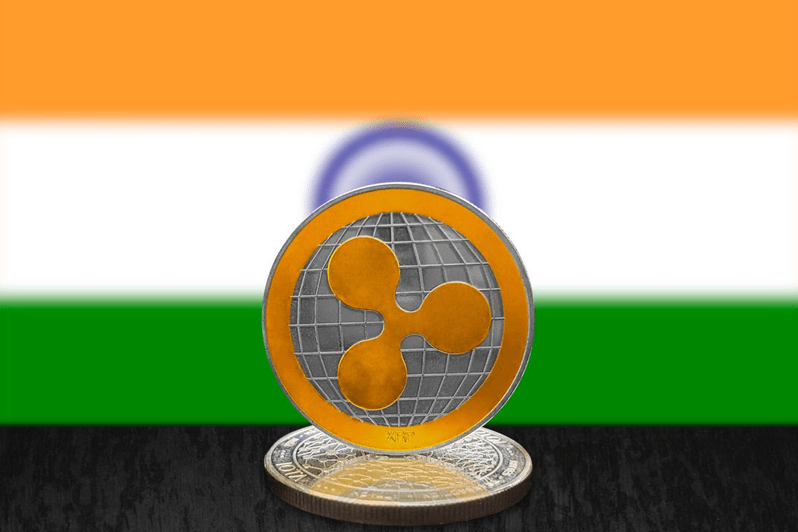 Ripple, one of the most popular blockchain companies, is
preparing to open a new office in Bangalore. Bangalore is
often called the "Silicon Valley of India", hence it is of no
surprise that the company chose this location for its office.
Our Pick of the Week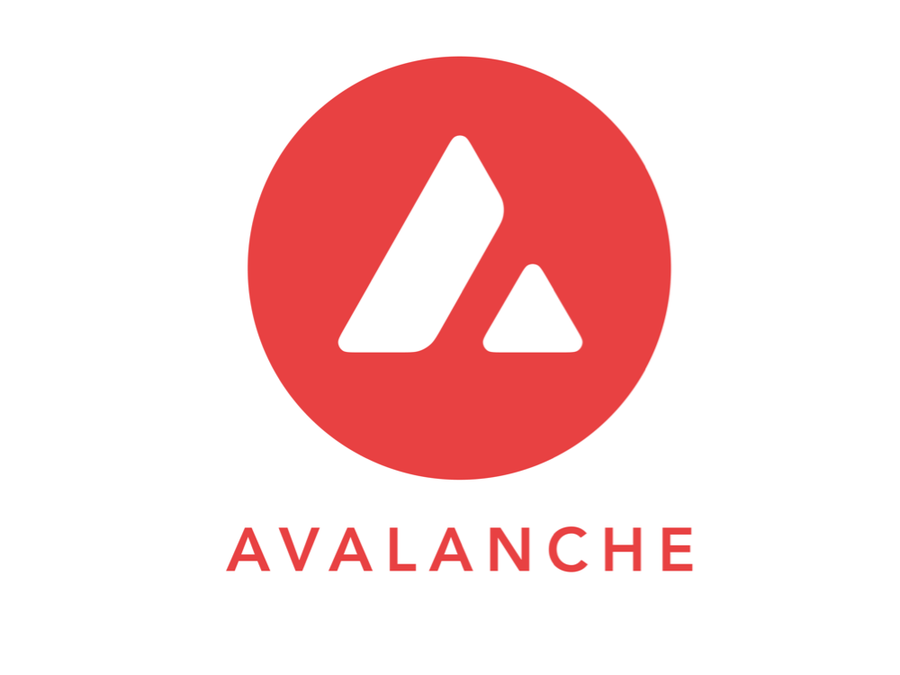 Avalanche (AVAX)
We expect a gain of 10% from the Buy Price of 24.79 USDT and
outperform BTC in the coming week.