Overview:
Waves is a flexible blockchain system that allows developers to create DApps and smart contracts. Individuals can also develop their own unique tokens that can be traded on DEX's decentralized exchange.
The CMP of WAVES on 15th April is $21.65
What are DApps?
Decentralized applications, commonly referred to as "dApps" or "dapps," are computer programs that operate on a blockchain network of computers rather than on a single computer. The protection of user privacy, the lack of censorship, and the development freedom are all advantages of dApps. Prime examples of DApps would be Decentraland, Uniswap, OriginTrail, and IDEX.
What is Waves?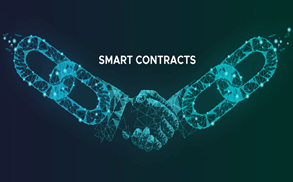 Waves is a blockchain platform that can be used for a variety of purposes, including decentralized applications (DApps) and smart contracts. Waves was founded in June 2016 as a result of one of the cryptocurrency industry's first initial coin offers (ICO), with the goal of improving the original blockchain platforms by enhancing speed, functionality, and user-friendliness. To build on its initial idea, the platform has undergone several adjustments and introduced additional spin-off features.
It is currently #49 (based on Mcap) in the cryptocurrency market. Waves' native token "WAVES" has a total supply of 100 million WAVES' and currently has 100 million WAVES (100%) in circulation. It is currently listed on all the major exchanges.
Ethereum, Solana, and Cardano are among Waves' main competitors.
What problems does Waves solve?
Security, decentralization, and scalability are three characteristics of the ideal blockchain. However, achieving all three characteristics is extremely difficult and often blockchain achieves only 2 out of the 3 characteristics. If you go for Security and decentralization, you are sacrificing scalability, if you are going for decentralization and scalability then you are sacrificing security and if you are going for security and scalability, you are going to sacrifice decentralization.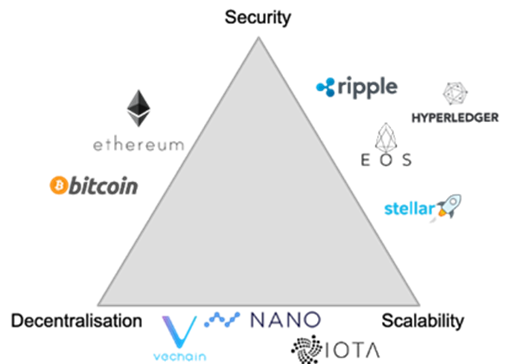 Security: Blockchain is inherently secure, but is not entirely immune to hacking. If a hacker is able to secure control of more than half of the network (51%), they are able to alter a blockchain and manipulate transactions to steal from the network. In blockchain, the more nodes, the more security.
Scalability: In blockchain, scalability is similar to scalability in business; it refers to how large a network may expand in the future while keeping the current level of transaction speed and output.
Decentralization: The concept of decentralization is simple; it means that there isn't a central authority that has power. When decentralization is taken out of the equation, we land back in the existing world of centralized organizations.
How does it solve the problem?
The freshly created Waves-NG mainnet can handle roughly 100 transactions per second (tps), compared to Bitcoin's maximum of 5 tps. Transaction costs can be lower than $1 transactions. The Leased Proof of Stake (LPoS) consensus method used by Waves assures that anybody holding WAVES tokens may earn rewards by leasing their tokens to mining nodes.
Difference between Proof of Stake and Leased Proof of Stake – With a traditional Proof-of-Stake system, any node that holds a particular amount of bitcoin is eligible to add the next block to the blockchain, but in the LPoS system, users may lease their balance to full nodes via the Waves Platform. With LPoS, the user will be able to lease WAVES from their wallet to various contractors who will pay a percentage as an incentive.
Smaller token holders who would not normally be able to participate in the block generation process in a standard PoS system might pool their assets to boost their chances of getting a cut of the network's transaction fees. Users can shop around to locate the node that best fits their investing plan, since some nodes may provide more rewards than others.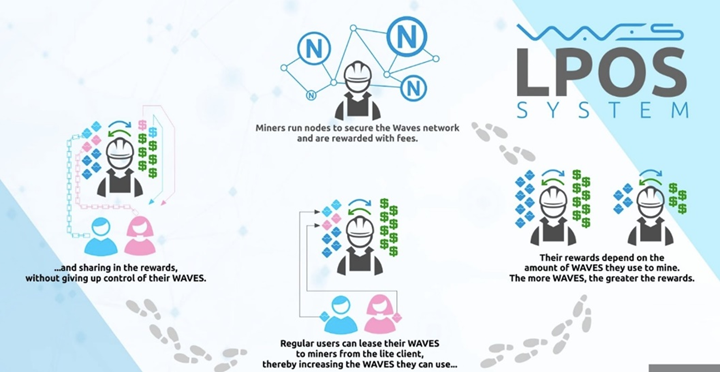 There is no simpler method to generate your own coin and benefit from basic blockchain features. To design Dapps and execute smart contracts on Ethereum, the most popular Dapp blockchain, developers must comprehend programming languages such as Solidity. These rules significantly increase the cost of any crowdfunding effort. To be sure, tokens based on Waves are not as technically solid as tokens based on Ethereum. However, because they are so simple to create, they are ideal for businesses that require basic features like those used in ICOs, utility tokens, and loyalty programs.
When users utilize Waves, they receive access to a sophisticated decentralized exchange (DEX) Matcher nodes connect orders on a centralized basis, these carry out a deal but do not have access to funds. The deal is then finalized on the blockchain for utmost security. Storing decentralized assets on a centralized platform is neither rational nor secure, within seconds you may exchange any Waves-based token for any other Waves-based token. The network enables the creation and trading of crypto tokens without the need for complex smart contract implementation.
Tokenomics
WAVES has 100 million tokens, with proof-of-stake miner nodes staking 80 percent of the supply in wallets for transaction validation and receiving block rewards. The token is inflationary in nature.
Waves was an early adopter of the initial coin offering (ICO) trend, launching its ICO in April 2016. The investment round ended in June 2016 with a total of more than $16 million raised. 85 percent of the 100 million WAVES released at the launch were sold, with the remaining 9 percent held for the development team. The remaining 6% was divided among early backers, key partners, and a bug bounty program.
WAVES' principal centralized exchange is Binance. Bybit, FTX, Kraken, and other exchanges also provide liquidity. Waves' decentralized exchange offers user-generated liquidity pools, which let users earn up to 4% annual percentage return incentives for contributing to the pools.
Ownership of the WAVES coin decides who gets to contribute new blocks to the Waves blockchain and who earns a part of transaction fees.
A minimum balance of 1,000 WAVES is required for each user who wishes to become a full node. Waves allow users with fewer tokens to participate in mining by leasing their nodes, although leasing costs 0.002 WAVES.
Sasha Ivanov was criticized for allegedly pumping the cryptocurrency using its DeFi platform, Vires Finance. The charges, made by Twitter analyst @0xHamz, occurred at a time when WAVES was beginning to fall from record highs. Since then, the value of the token has plunged.
Competition Analysis
Waves vs Solana

Solana seized the crypto industry by storm in 2021, quickly becoming one of the major blockchains. Waves is one of the few cryptocurrencies that has a positive year-to-date return in 2022. Both are well-known for their minimal transaction costs and quick transaction times.
Solana is the more established blockchain heavyweight, having a significant lead in terms of publicity, total users, and platform development. Solana has a TVL of $6.81B while Waves has a TVL of $2.25B. However, I'm amazed by the traction Waves is generating and the user base it has amassed thus far. While Waves is now trailing Solana in many areas, it is gaining speed and may be able to close the gap further as its $150 million investment in network development begins to yield dividends. On a market-cap-to-TVL ratio, Waves appears to be a better buy.
Waves have a TPS of 100 while Solana has 65000 TPS, Solana is often less expensive to deliver than Waves. Solana is approximately six times more decentralized, allowing SOL to be more trustworthy and perhaps safe.
Waves vs Cardano

Waves' utility is typically lower than Cardano's, and it is anticipated to remain so for the foreseeable future. This might explain why, while being older than Cardano, it is utilized in transactions less frequently. Given its usefulness, and despite its smaller market valuation of €1.99 billion, Waves is most likely overpriced in comparison to Cardano, which has a market worth of €27.72 billion. TPS of Cardano is 250 whereas Waves' TPS is 100.
Waves vs Ethereum

Smart contracts on the Waves Platform assist in controlling the flow of personal cash without the interference of third parties. The Ethereum blockchain, on the other hand, employs smart contracts to settle key business interactions and transactions.
The Waves platform's DEX tokens are simple to convert into fiat or other crypto money in the shortest period of time feasible. However, when it comes to the Ethereum Blockchain, Ethereum 2.0, which has yet to include decentralization, is still in the works. As a result, the debut of DEX in the Ethereum Blockchain will cause a massive transformation in the whole crypto market. They do, however, provide decentralized tokens that may be converted into any sort of crypto token. Compared to Ethereum, Waves is faster in terms of TPS which is 100 whereas Ethereum's TPS is 15.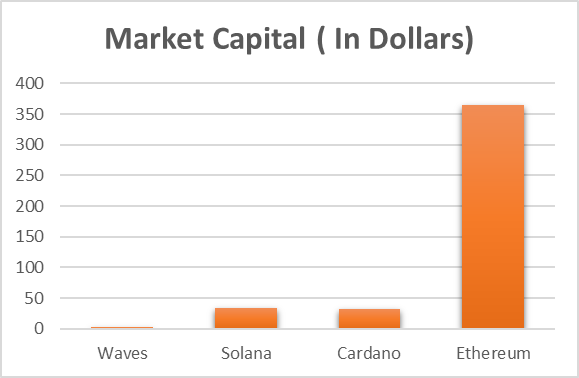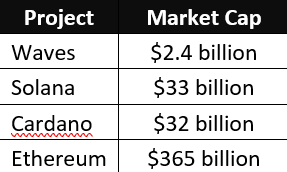 Team, Media & Community strength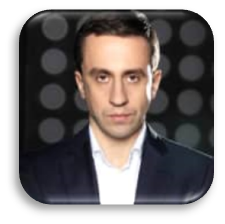 Sasha Ivanov is a Technology Entrepreneur who has spent the last decade working to enhance commercial, financial, and government processes by developing electronic payment mechanisms. Waves Platform has now grown to become one of the largest tech communities, with 300,000 active users in 25 countries, and has created agreements with a number of well-known worldwide organizations. He launched a new initiative, Vostok, to develop the first viable blockchain solution for scalable digital infrastructure, therefore expanding blockchain's worldwide accessibility. He is the founder and CEO of Waves.
On April 4, the founder of Waves Sasha Ivanov tweeted in which he accused Alameda Research for foul play claiming that the trading fund is behind organization's FUD campaign with the purpose of creating panic selling.
Waves' social media family is growing at a steady rate on Twitter. They have over 240.2K followers on Twitter. They have been in reported in news articles constantly, monitoring its price, losses, and gains, showing that it's on a high sale radar for a lot of people proving that it has lots of potential to reach great skies.
Conclusion
The unveiling of the new Waves Labs, which intends to put up a $150 million accelerator fund to recruit new developers, is an example of Waves' recent growth. Waves Labs will be based in Miami and will focus on projects in the United States.
Pros:-
It is very user-friendly in making tokens and simpler to use.
Cons:-
Being one of the older projects it still has fierce competition and is lacking behind by even newer projects.