Overview:
Tezos is a smart contract-based blockchain network.
The CMP of XTZ on 15th July is $1.59

What is Tezos
Tezos is a blockchain network that hosts the digital currency Tez (XTZ), often known as tezzie. Tezos, like other cryptocurrency blockchains, enables user engagement such as decentralized finance (DeFi), decentralized apps, and non-fungible token (NFT).
Tezos, unlike other blockchains, forbids hard forks or blockchain splits using a governance process that approves and executes protocol changes decided by voting proportionate to users' economic stake in Tezos. It has a TPS of 1000 transactions
XTZ has a total supply of 922M out of which 901M tokens are in circulation, it ranks 36 with respect to market cap.
How is it unique?
Tezos' governance rules set it apart from Ethereum, which lacks formal governance structures, and its determination that the blockchain cannot be forked sets it apart from other cryptocurrencies. The feature that adjusts active stakes for the generation of new tokens is also novel and is intended to promote involvement.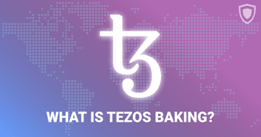 Staking is widespread across blockchains, but Tezos offers a unique take on it. Participants can participate in network governance by "baking," in which they essentially stake 8,000 XTZ. Bakers are then tasked with voting on suggested changes to the blockchain's code over the course of 23 days in a four-step process. Proposals that gain the vast majority of votes are tested for 48 hours on a testnet before being fully implemented.
Large cryptocurrency exchanges like Binance and Coinbase have also announced support for Tezos staking, which means users may get rewards based on the amount of XTZ they own. This is not a characteristic that is commonly seen.
Tokenomics

XTZ is the native cryptocurrency of the Tezos. It has a total supply of around 922M tokens, of which 901M (97%) tokens are in circulation.
The Tezos network relies heavily on the XTZ coin, which may be used for storing, spending, sending, and baking.
Users obtain the opportunity to vote on network enhancements by owning and baking XTZ, with each vote proportionate to the amount of XTZ coin they bake.
Tezos awards XTZ to participants depending on the number of tokens they bake, with bakers earning a tiny fraction of the reward paid to those who delegate their XTZ.
XTZ is an inflationary asset with a fixed issuance rate of around 5.51% and an uncapped token supply.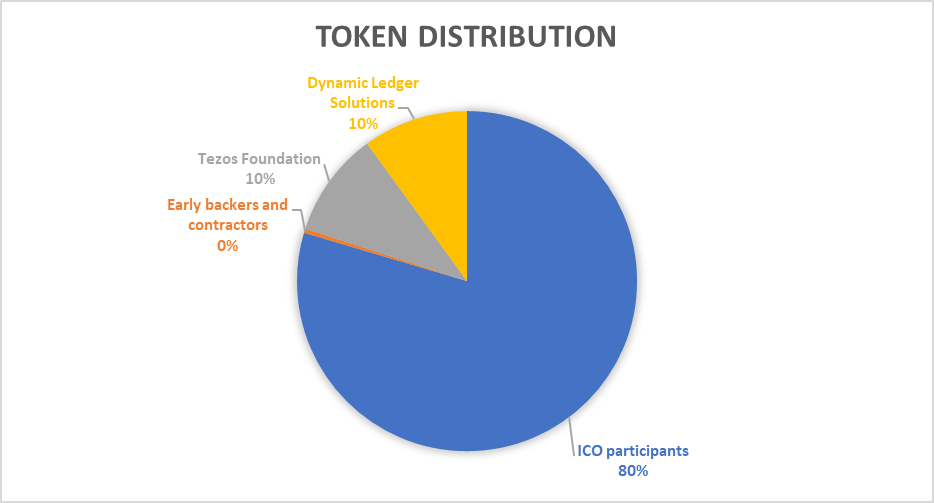 The XTZ allotted to the Foundation and Dynamic Ledger Solutions (DLS) have a four-year vesting structure with monthly cliffs. Half of the Foundation's XTZ is held in a vesting smart contract, with the other half reserved for DLS if specific milestones are fulfilled. When those milestones are fulfilled, the tokens will be transferred to a DLS vesting smart contract. Until then, the Foundation will utilize portion of the reserved tokens as part of the deposit required for baking.
Competition Analysis
Tezos vs Ethereum

Tezos is a self-improving blockchain network that includes an on-chain system for proposing, selecting, testing, and implementing protocol updates without requiring a hard fork. Ethereum offers a few significant benefits over Tezos. The first of these is decentralisation. Ethereum is frequently regarded as the second most decentralised cryptocurrency, after only Bitcoin.
Tezos offers long-term stability. Anyone building on Tezos may be certain that the network will not divide, as happened with Ethereum with Ethereum Classic
Ethereum has faced severe network congestion. On certain days, Ethereum had so much load that sending even a basic transaction may cost as much as $5 or $10.
More complicated transactions may cost $50 to $100 or more. This is a negative scenario since it renders Ethereum inaccessible to the average individual. While certain scaling solutions may be released on Ethereum, it is unclear whether these solutions will solve the problem instantly.
Recognizing an opportunity, Tezos recently launched the "Delphi" improvement, which lowered the amount of gas required for smart contract execution. Tezos says that in many circumstances, the gas fees may be decreased by up to 75%.
Tezos vs Cardano

Tezos has a single layer for transaction settlement as well as computing, whereas Cardano has two distinct levels. The Cardano Settlement Layer is intended to record the transaction's final value or outcome.
Cardano Computation Layer, on the other hand, is where transactions, such as smart contract execution, contract calls, and other activities, are handled. Compared to other blockchain networks, this technique gives Cardano more flexibility.
Tezos features a single layer that handles both calculations and settlements. It is created with a modular architecture to enable the same amount of flexibility as two levels of operations.
With respect to TPS, Tezos is way faster than Cardano, Tezos has a TPS of 1000 whereas Cardano has a TPS of 250.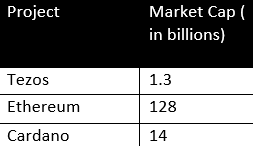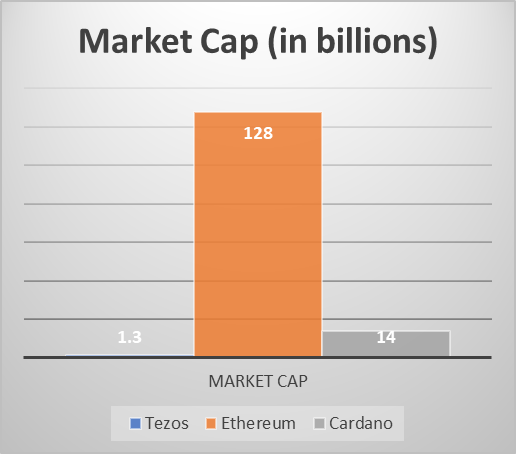 Team, Media & Community strength
Kathleen Breitman is the CEO of Dynamic Ledger Solutions, a company that created the first version of Tezos, a blockchain-based smart contract platform with an on-chain governance mechanism to coordinate and push upgrades to its network.
Tezos was created by Arthur Breitman. He formerly worked as a research engineer at Google X and Waymo. He began his career as a quantitative analyst for Goldman Sachs and Morgan Stanley.
They have over 459.7K followers on Twitter. Tezos is an open-source asset and application platform supported by a worldwide community of validators, researchers, and builders. It was established in 2014 and is based in Luxembourg.
Conclusion
Tezos is a multifunctional blockchain created to put user engagement and governance at the forefront of the Web 3.0 revolution. The Tezos blockchain enables the construction and implementation of smart contracts. Tezos' technology enables its blockchain to be readily modified to include new features.
Pros:-
Cons:-