Overview:
It is an endless play-to-earn NFT game in which everyone may explore and combat in space with their favorite space companions known as Playermons.
The CMP of PYM on 29th July is $0.003761

What is Playermon?
Playermon is a blockchain-based adventure battle game that makes use of the Polygon network and its coins, PYM and SGEM. In the game, players take on the roles of the captain of Starsailor and a bounty hunter. After a sequence of events, Playermons gain the players' confidence and become their best friends. Because the game distributes generic Playermons to each newbie at the start of the game, players can experience Playermons for free.
In May 2021, a group of experts who were big fans of the Pokemon Trading Card Game and the Animal Crossing video games came up with Playermon. Their enthusiasm for earlier games, as well as their understanding of blockchain technology, motivated them to contemplate creating a space-themed adventure game with open-world gameplay. Players can colonize planets, earn resources, and battle other players with their Playermons.
Playermon has a two token model, PYM and SGEM, one has a fixed supply and the other has an inflationary as well as deflationary supply.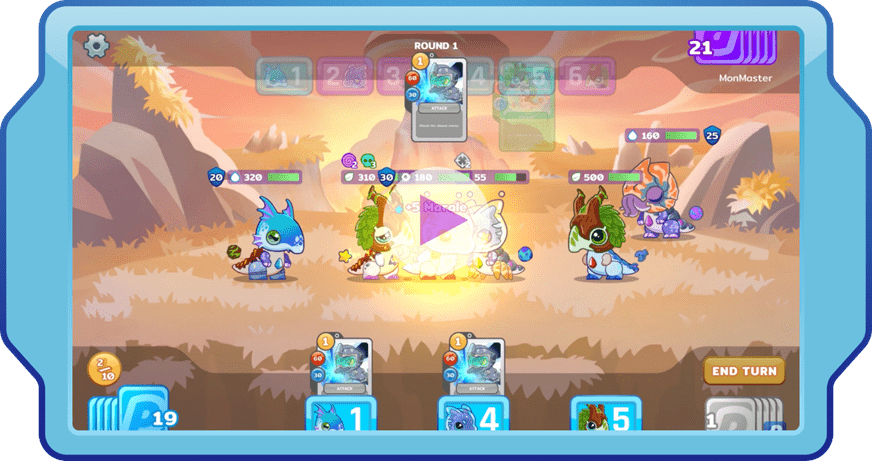 Vision and Mission of Playermon
Although the play-to-earn games were only just launched, it has seen rapid development in terms of transaction volume and total active users. It took more than ten years for cryptocurrencies like Bitcoin to become famous, but we believe gamefi will acquire traction quicker than cryptocurrency 1.0. In reality, gamefi encourages a whole new group to become cryptocurrency users.
The Playermon's team produces a terrific game that is enjoyable to play using gaming basics. The team's sole mission is to create a social creative metaverse that provides high engagement value among players, and through gaming, they hope the users experience the following things:-
Immersive storytelling provides players with exciting experiences on the battlefields.

Strategizing and battling against one another using their gaming prowess.

Colonizing planets to harvest resources in peace, and a few more
How is it unique?
The Playermon Team recognizes the importance of a blockchain network in the long-term sustainability of P2E games. Polygon (MATIC) combines the best of Ethereum and sovereign blockchains into an appealing feature set developed by developers, for developers. Here are some additional features on how Playermon is unique and has potential.
ETH Compatibility Industry dominance, established tech stack, tools, languages, standards, enterprise adoption

Scalable dedicated blockchains and scalable consensus algorithms.

Security as a service provided either by Ethereum or by a pool of professional validators

User Experience Comparable to Web2, "zero-gas" transactions, instant transaction finality
Tokenomics
Playermon has a two token model, where PYM has a fixed supply whereas SGEM is inflationary as well as deflationary in nature. As the token is unlimited in supply, the more people who play and get rewards, the more are the tokens generated at the same time. To avoid its oversupply in the game a burning process will be applied to all in-game activities and transactions. Playermons are created by utilizing in-game resources (SGems and PYM) and may be traded with other players. Game resources and products are termed NFTs (Non-fungible Tokens) in this context, which implies they may be sold on open peer-to-peer exchanges by anybody.
PYM

It is a governance and currency token in Playermon's ecosystem. Token holders of PYM will be able to shape and vote for the direction of the game universe. Players can purchase items to craft new items and to build and upgrade their SpaceDen. Token holders can join the open-world planet to explore dungeons
SGEM
It is only a currency token. SGEM can be used to purchase in-game services and items. SGEM will be used for upgrading and breeding Playermons. It will be used for crafting and upgrading items. SGEM can be used in purchasing non-NFT in-game assets. You can acquire this token as a reward for completing quests, missions and defeating opponents.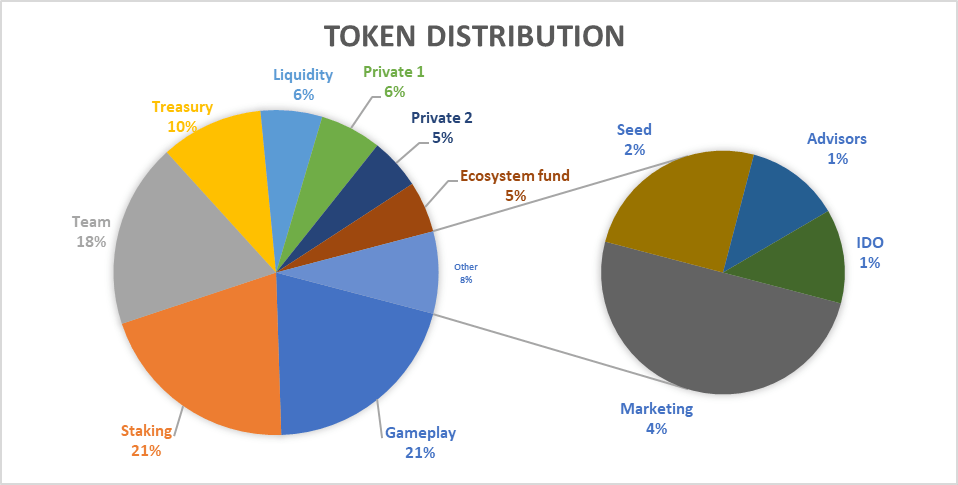 Competition Analysis
Playermon is a little different compared to other play-to-earn games, mainly because of its tokenomics which is a two token model, very few or no play-to-earn projects are functioning like Playermon. The closest competitors for Playermon would be Decentraland, SandBox, and more.
Decentraland:- Decentraland (MANA) describes itself as a virtual reality platform powered by the Ethereum blockchain, where users may develop, enjoy, and monetize content and apps. Users in this virtual environment buy pieces of land that they may subsequently traverse, construct on, and monetize. Decentraland is built for content creators, businesses, and individuals that are looking for a new artistic medium, business opportunity, or source of entertainment. Decentraland is also one of the growing numbers of projects to use a decentralized autonomous organization (DAO) structure for governance decisions. As a result, MANA token holders are in control of how the Decentraland world behaves, by proposing and voting on policy updates.

SandBox:- The Sandbox is a blockchain-based virtual world allowing users to create, build, buy and sell digital assets in the form of a game. The startup launched with a boom, attracting support and funding from several famous gaming industry names. These include Atari, Helix, and CryptoKitties. As the Sandbox virtual world is built on top of the Ethereum blockchain, it is secured by the proof-of-stake (PoS) consensus mechanism. The SAND token is a standard version ERC-20 token, which means owners can stake it and benefit from staking rewards.
Team, Media & Community Strength

Jisheng Tan is the co-founder of Playermon. He is a technology expert with diverse experience under his belt. His passion for blockchain technology drives him to the pinnacle of the industry. He started as a blockchain developer in Trivechain Ltd and soon founded TriveAcademy to train and advise blockchain companies in Malaysia.

Joseph FS Leng is the co-founder. He is the key person in coming up with the space-themed Playermons. He oversees creative development and makes important decisions in overall creative direction.
They have over 144K followers on Twitter within a year, this shows how strongly the gaming community feels about Playermon.
Conclusion
The Playermon team of developers and other supporters have invested enormous resources in making the game a success and have proven their dedication. The team tokens, gameplay tokens, and treasury tokens have been vested for ten years to ensure that the game has enough tokens to cover the cost of the endeavor, guaranteeing that it will survive. This project will begin with a Tamagotchi-like experience in which a player may feed, play, and wash his or her Playermons. It will also generate a game inside a game that employs a turn-based card gameplay mechanism. The gaming community is quite vast and more inclined toward the new digital era, and as Playermon is being inspired by Pokemon. It will have a vast exposure towards Playermon.
Pros:-
The play-to-earn models now aim to provide an added incentive for players who want to spend more time in a virtual environment without worrying about losing what they earn in the game.

Contributes to the growth of the gaming community. Some of the most strong and active communities in the gaming industry may be found in the most recent P2E.

The unique two-token model makes it exclusive and exciting to get SGEM which can't be purchased.
Cons:-
It does not promote inclusiveness because expert gamers frequently win all of the contests.

Creates room for bad players in the space to exploit others.

Risks of oversaturating the NFT market.