Overview:
Optimism is a low cost and lightning fast Ethereum layer-2 blockchain
The CMP of OP on 10th June is $0.8512

What is Optimism
Optimism is a layer 2 chain, which means it runs on top of the Ethereum mainnet (layer 1). Transactions take place on Optimism, but transaction data is posted on mainnet, where it is validated. It's like driving on a less congested side street while still having the security of a highway.
Optimism is the second-largest optimistic rollup on Ethereum with a total of $352 million locked into its smart contracts. Optimism is an Ethereum blockchain scaling solution. It employs optimistic rollups to process transactions in batches, thereby lowering gas costs.
Optimism's native token is OP which has a total supply of 4B tokens out of which 251M (5.85%) are in circulation.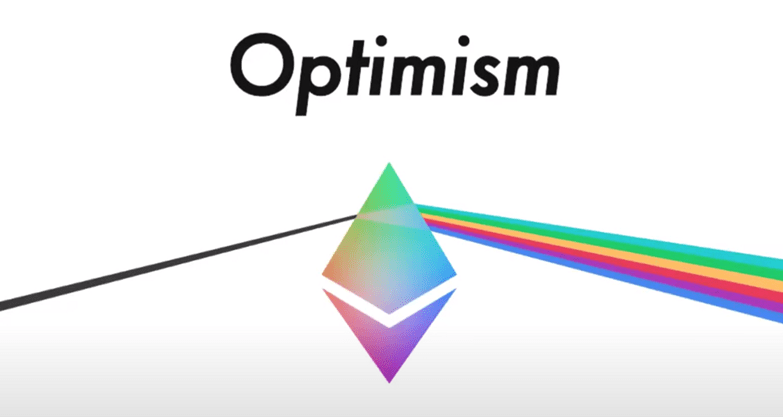 What are optimistic rollups?
Optimistic rollups are a layer 2 scaling solution. A layer 2 solution is a network that takes some of the processing work off the main (or layer 1) Ethereum chain with the aim of improving performance. The goal of optimistic rollups is to decrease the amount of time it takes to confirm a transaction and increase the number of transactions that can be processed each second thereby reducing gas fees.
Other scaling solutions:-
Plasma:- A plasma chain is a distinct blockchain that is linked to the main Ethereum chain and uses fraud proofs (such as optimistic rollups) to resolve disputes. Because they are essentially smaller copies of the Ethereum Mainnet, these chains are sometimes referred to as "child" chains.
Sidechains:- Layer 2 sidechains are Ethereum Virtual Machine (EVM) compatible blockchains that run in parallel with the Ethereum main chain. The sidechain network's validator nodes are in charge of confirming and processing transactions, adding blocks, and adhering to the sidechain's own consensus rules.
State Channels:- A state channel is a technique that allows users to perform multiple Blockchain transactions at the same time. Only two transactions are added to the Blockchain in the traditional state channel, but an infinite or nearly infinite number of transactions can be made between the participants. For eg in a chess game built on top of state channels, the opening and closing moves should be committed to the Blockchain. All other transactions can take place off-chain, without involving the Blockchain.
ZK Rollups:- Zero-knowledge rollups (ZK-rollups) are similar to optimistic rollups in that they combine a large number of Layer 2 transactions that were executed off-chain and submit them as one transaction onto Ethereum. However, instead of assuming transactions are valid until proven otherwise, ZK-rollups use validity proofs to instantly prove if transactions are valid or not.
What problems does it solve?
The inability of layer-1 networks to scale is a common issue. In times of high demand, Bitcoin, Ethereum, and other large blockchains have struggled to process transactions. Bitcoin employs the Proof of Work (PoW) consensus mechanism, which requires a significant amount of computational resources. While PoW ensures decentralization and security, it also causes PoW networks to slow down when transaction volumes are too high. This lengthens transaction confirmation times and raises fees. If the gas fees are too high for eg a $100 transaction has $50 of gas fees, it makes the transaction useless which invariably locks the funds. There is an option to reduce the gas fees, but for that, the finality takes a hit which makes the processing time very long.
How does it solve the problem?
Ethereum is a distributed computer that is powered by nodes all over the world. Each node must store and process data that passes through the Ethereum network, there is a limit to how much data can be processed at any given time.
Optimism is an Ethereum Layer 2 scaling solution that can support all of Ethereum's Dapps, there are currently 41 DApps on Optimism whereas there are currently 2,970 DApps on Ethereum. Rather than running all computation and data on the Ethereum network which slows down the network, Optimism stores all transaction data on-chain and runs computation off-chain, increasing Ethereum's transaction per second and decreasing transaction fees. Because transaction data remains on the Ethereum network, this scaling solution does not compromise Ethereum's decentralization or security in exchange for scalability.
The design process of Optimism is focused on long-term sustainability and avoiding shortcuts to scalability. As a result, it scales the network using optimistic rollups and the Ethereum consensus mechanism. Blocks are built and executed on the L2 (Optimism), whereas user transactions are batched and submitted to the L1 (Ethereum).
Tokenomics

OP is the native cryptocurrency of Optimism. It has a total supply of around 4B tokens, of which 251M (5.85%) tokens are in circulation. They had an airdrop on 31st May.
The initial token supply is 4,294,967,296 OP tokens, with a 2% annual inflation rate. In Year 1, the Foundation will receive 30% of the initial token supply for distribution as airdrops or public sale. Token holders will vote after the first year to determine the Foundation's annual OP distribution budget.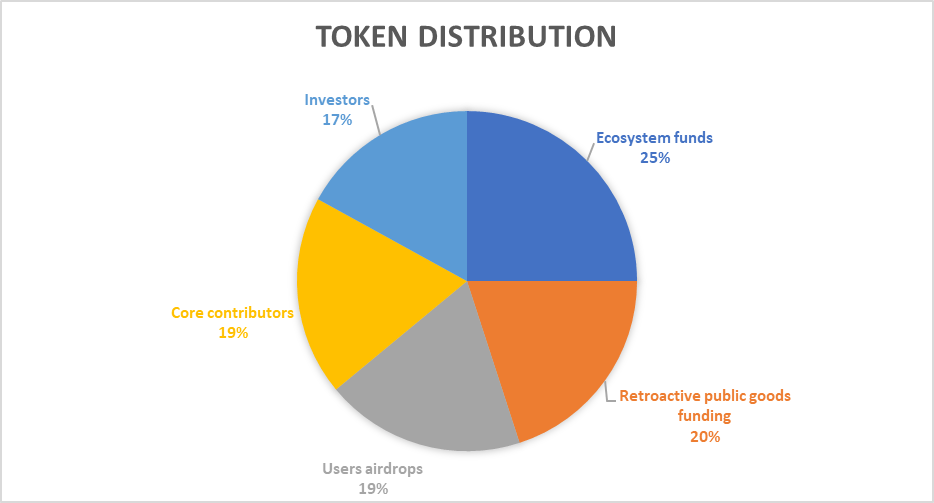 Competition Analysis
Polygon vs Optimistic

Polygon is a decentralized Ethereum scaling platform that offers multiple scaling solutions. The most widely used solution is "Polygon PoS," which achieves high transaction speeds and cost savings by utilizing side-chains for transaction processing. Whereas Optimism uses only one scaling solution, optimistic rollups.
They first implemented the Plasma scaling solution, which was co-authored by Ethereum creator Vitalik Buterin. Plasma was created to make transactions on the main Ethereum chain less data-intensive, resulting in lower costs. Polygon now offers not only Plasma but also completely unique blockchains that can communicate with other Polygon chains and Ethereum itself. This provides greater flexibility and security for projects wishing to join the Ethereum ecosystem.
Optimism vs Arbitrum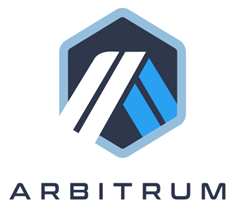 Optimism and Arbitrum use smart contracts that run on Ethereum, which means they don't use their native token like Polygon, but rather ETH as their currency.
Arbitrum is a layer 2 solution that aims to improve the capabilities of Ethereum smart contracts by increasing their speed and scalability while also providing additional privacy features. The platform is intended to enable developers to easily run unmodified EVM contracts and Ethereum transactions on a second layer while maintaining Ethereum's excellent layer 1 security.
The Optimistic is a Layer 2 scaling protocol for Ethereum applications. In other words, it lowers transaction costs. They want to make Ethereum transactions affordable and accessible to everyone. Optimistic Ethereum is designed to look, feel, and behave similarly to Ethereum, but to be cheaper and faster.
Arbitrum uses a technique known as transaction rollups to record batches of submitted transactions on the Ethereum chain while Optimism uses optimistic rollups to record batches of transactions. Although Arbitrum doesn't have its own token yet, but it's the closest competition for Optismism.
dYdX
Optimism and0 dYdX are similar projects but are a little different. They both are layer 2 solutions but Optimism is on Ethereum and dYdX is on eponymous, a decentralized exchange. Both of the projects solve the scalability issue.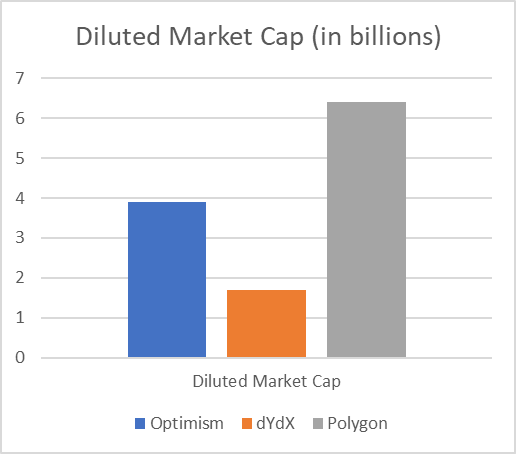 As per the above data, Optimism is a very new project compared to Polygon and has come very close in terms of diluted market cap, which means that people have high hopes for this project and expect the same growth as Polygon.
Team, Media & Community strength
Jinglan Wang is the Co-Founder & CEO of Optimism.
Kevin Ho is the Co-Founder of Optimism.
Karl Floersch is the Chief Technology Officer (CTO) at Optimism. After graduating from Stony Brook University with a degree in CS, Karl has contributed to the growing Ethereum software ecosystem. He maintains an Ethereum-focused blog, karl.tech, and is active in the Ethereum community.
They have over 204K followers on Twitter. The Optimism Foundation is a non-profit organization dedicated to expanding the Optimism Collective. Until the project is fully decentralized, they will donate all profits.
Conclusion
Overall, Optimism is well-positioned to continue leading the effort to scale Ethereum well into the future. Users can expect Optimism to become much cheaper and more efficient as the team continues to improve this technology and find ways to significantly implement new gas reduction features as they go.
Pros:-
Cons:-