Overview:
Mina Protocol is a "simple blockchain" designed to reduce processing needs so that DApps can operate more quickly. Mina has been dubbed the "lightest blockchain in the world" since its size is designed to remain constant despite increased usage.
The CMP of MINA on 24Th December is $3.50
What is DApps?
A decentralized application, often known as a Dapp, is a software program that operates on a distributed network. It is not hosted on a single server, but rather on a decentralized peer-to-peer network. Prime examples of DApps would be Decentraland, Uniswap, OriginTrail, and IDEX.
What is Mina Protocol?
Mina Protocol, formerly known as Coda Protocol, is the world's lightest blockchain. Mina's size remains constant regardless of the number of transactions conducted on it, unlike other cryptocurrency platforms such as Ethereum and Bitcoin. Mina Protocol also includes a difficult cryptographic mechanism called zero-knowledge proofs, which decreases the size of the blockchain, even more, allowing users to keep a complete node even while they're using it heavily. Any Mina user can install a whole node on their smartphone because it's so little.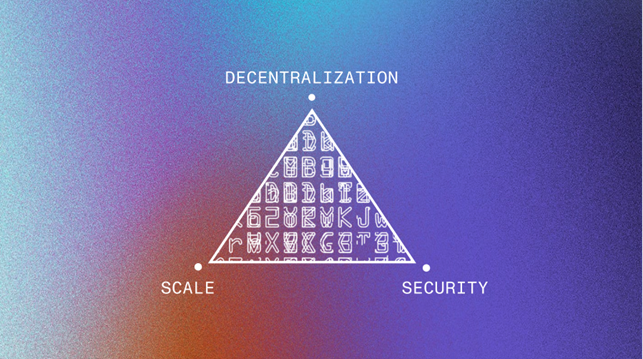 Why Mina Protocol matters and its problem-solving capabilities
The Mina Protocol (MINA) combines a number of cutting-edge cryptocurrency technologies to address a number of market issues. The platform primarily aids in the fight against centralization. Mining monopoly has been a problem for early blockchain projects for a long time. These concerns will affect practically every network in the future. This concentration is due to the nature of blockchain technology. Miners must preserve a copy of the legitimate transaction history as blockchains expand.
Early blockchains, like as Bitcoin, have a large history that might take up to a day to download during node setup. Sadly, this arrangement may ultimately lead to situations in which only a small number of miners have the technological resources to safely store such massive volumes of data. By imposing an on-chain data limit on the network, the Mina Protocol (MINA) addresses these problems.

Mina Gives Us Censorship-Resistant Money:- Every user on the network may confirm the status of the ledger with a basic blockchain, ensuring that crucial components of censorship resistance don't fall through the cracks. Mina is the world's first totally censorship-resistant means of exchange, designed for everyday usage and integration with existing services.
Mina Gives Us Next Generation Permissionless Applications:- On Ethereum, computation takes place on-chain, which has resulted in several issues, including network congestion, excessively high transaction fees, publicly accessible user data, and the ever-increasing cost of recompiling the whole chain when a developer wishes to launch a dapp. With a whole new kind of decentralized application called Snapps, Mina tackles all of these difficulties at once.
Snapps are SNARK-powered applications that have two qualities that set them apart from DApps. Snapps ensure that computations are done correctly, allowing bandwidth and processor-intensive computations to be moved off-chain.
Use cases:-
Proof of Stake:- With Proof-of-stake, cryptocurrency owners validate block transactions based on the number of coins a validator stakes.
Proof of Assets / Net Worth:- Verify ownership of any crypto asset, by demonstrating control over the address without revealing the address or exact balance. (e.g. to prove solvency, access certain investment groups, DAOs, OTC telegram channels, etc.)
Private ID:- Prove to third parties that you have previously KYC'd on a crypto exchange without actually sharing your ID documentation again. (Mina will never store your data.)
Anonymous Single Sign-On & Digital Identity:- Replace logging in through closed ecosystems like Facebook (and giving away all your data) with open anonymous login.
Private DAO voting:- It's a blockchain-based form of organization or company that is often governed by a native crypto token. Anyone who purchases and holds these tokens gains the ability to vote on important matters directly related to the DAO.
Virtual Keychain for Real-World Spaces:- A smartphone app that interacts with IoT, granting access to private places, both permanent (your home, office, car, etc.) and temporary (your friend's house, hotel rooms, air tickets, etc).
Tokenomics
MINA is the blockchain's native token, and it is utilized for all network operations, both as a form of payment and as an incentive for network participants. MINA is an inflationary token with no supply cap. There is no lockup or bonding necessary for all tokenholders to stake or delegate to get their fair share of the inflation.
At launch, up to 1 billion MINA tokens will be distributed, which will be completely unlocked over the course of eight years.
Accounts with lock-ups will get block rewards for the first year in order to achieve a 12-percent yearly inflation objective. The rate of inflation will gradually fall, finally reaching 7% at steady-state.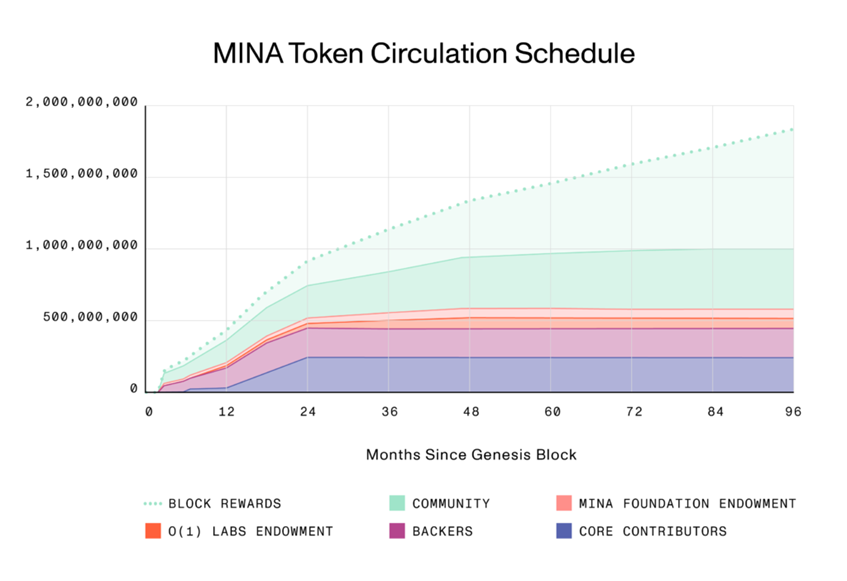 Competition Analysis
There is no project with Mina that we can compare because it is different from all of them. There aren't any projects that are using the same technology as MINA. Having no competition is going to be a great thing for the growth of this project as it has a monopoly in the market.
Team, Media & Community strength
Evan Shapiro is the CEO of O(1) Labs, where the Mina Protocol is being developed. He is one of the two co-founders and began working on the Mina Protocol almost immediately after graduating from Carnegie Mellon University with a Master's degree in Computer Science. He only lists a brief period as an intern with Mozilla in his professional history, aside from his work with Mina and O(1) Labs.
Izaak Meckler is the Co-founder of O(1) Labs. He worked as a software engineer at Jane Capital for a year after graduating from the University of Chicago with a Bachelor's degree in Mathematics and Computer Science. In addition to his position at O(1) Labs, he returned to school and is currently pursuing his PhD in Cryptography from Berkley.
Mina protocol's social media family is growing at a very good rate. They have over 166.3K followers on Twitter and 56K in telegram in just over 4 years. They've been featured in an article done by replublicworld in April which shows it's picking up the pace by the media.
Conclusion
The Mina Protocol employs a new technique to address a variety of blockchain issues, including bloated blockchain data, scalability, and centralization.
All of these difficulties may arise on any blockchain, but they appear to be particularly challenging for successful blockchains, because greater usage leads to a significant increase in total blockchain data, resulting in fewer node operators and too much data.
The Mina Protocol's unique concise blockchain methodology allows the blockchain's integrity and security to be maintained without sacrificing scalability or decentralization.
While the mainnet has just recently debuted on 23rd March 2021 and protocol adoption is still modest, the project has the potential to become one of the major transactional blockchain platforms in the long run.
Mina is the first cryptocurrency protocol with a succinct blockchain which means it's a blockchain with verification complexity essentially independent of chain length. Instead of preserving the entire chain, one merely holds onto the current state along with a SNARK proving that there exists a blockchain explaining the current state. It was launched in June 2017. It has a total supply of 824,104,972 tokens with a circulating supply of 327,905,652 tokens.
On May 31st, 2021, Novel Blockchain Platform debuted its MINA token on CoinList, and on June 1st, it was listed on Kraken. This sparked a lot of interest from investors, and it was valued at about $600 million immediately after it was released. It's a fascinating blockchain play for the future because of its unique privacy and security features, as well as its lightweight chain of 22kb. Its use cases of enabling permission-less connectivity, a single internet private login, and an appealing incentivizing mechanism for stakers based on its zSNARKs proof are certain to expand its network.
MINA will see how well it performs when its full-fledged solution is released by the end of 2022 when they want to introduce an on-chain protocol for treasury and budget administration. The team members are experts in their respective fields, they know about what they are doing which gives a good foundation to the company.
Blockchain's growth and its mass adoption will bring more demand for MINA protocol. Although MINA was launched in March 2021, it only started being listed on exchanges from May onward. Since August, the price of MINA has increased by over 100%. Although this isn't an astronomical figure, it's a good starting point for a cryptocurrency that's fairly new to the (highly competitive) crypto market.
MintingM rating for Mina Protocol: 3.70/5
| | |
| --- | --- |
| Criteria | Score |
| Industry | 3.75 |
| Opportunity Size | 4.00 |
| Competitive advantage | 3.75 |
| Tokenomics | 3.25 |
| Team | 3.75 |
| Overall Score | 3.70 |
Important links and sources