Overview:
ECash (XEC) is the rebranded version of Bitcoin Cash ABC (BCHA), a fork of Bitcoin (BTC) and Bitcoin Cash (BCH).
The CMP of XEC on 5th August is $0.0000 4464

What is eCash?
Bitcoin Cash ABC has rebranded to "eCash," redenominated its token, and launched a proof-of-stake consensus layer. The project's re-launch integrates proof-of-stake consensus layer "Avalanche," introducing staking and greatly increasing the speed of transactions. eCash also reduced its decimal places down from eight to two.
ECash incorporates the "Avalanche" proof-of-stake (PoS) consensus layer, which is not to be confused with the blockchain Avalanche (AVAX). Consensus protocols (like Avalanche) facilitate agreement between all of the validators, ensuring that the network has a synchronized view on the data. Following the renaming, eCash stated that it will convert all BCHA coins to XEC at a one-to-one million ratio.
eCash has a max supply of 21 trillion tokens out of which 19 trillion tokens are in circulations. Currently it ranks 60th by market capitalization.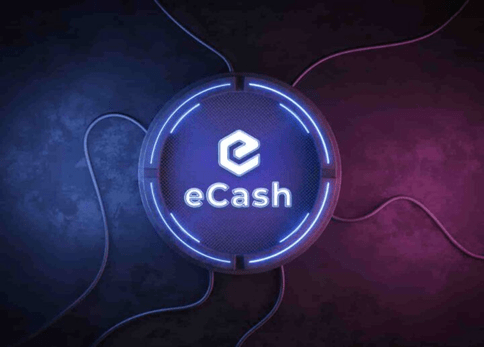 How is it unique?
The Bitcoin ABC developers had announced the commencement of a rebranding effort to coincide with the introduction of a new project – eCash – aimed at reinventing digital money. On July 1, 2021, the Bitcoin ABC project officially changed its name to eCash, and the token changed from BCHA to XEC.
The relaunch included a series of important upgrades including Avalanche – a revolutionary consensus algorithm, that reduces transaction confirmation time to less than 1 second while making transactions fully secure and instantaneous. While other Bitcoin competitors like Bitcoin Cash lost significant value from contentious and seemingly endless forks, Avalanche was technically sound, politically decentralized governance to the eCash protocol. eCash can be used everywhere that could replace fiat currency. They are adding features on top of PoW which leverage PoS.
XEC has the properties of a good store of value and a good medium of exchange, which makes it a superior form of money which are follows:-
Ensuring anonymous transactions

Ensuring the integrity of transactions

Guaranteeing that transactions remain almost free

Enforcing globally secure transactions with a finality of fewer than three seconds

Designing the coin's infrastructure as a public good.
Increasing transaction throughput from 100 to more than five million transactions per second. Reducing transaction finality time and improving the payment experience. The key advances that the eCash team have in mind are protocol extension and fork-free updates. These aspirations will accelerate eCash to 50 transactions per user per day for up to 10 billion users.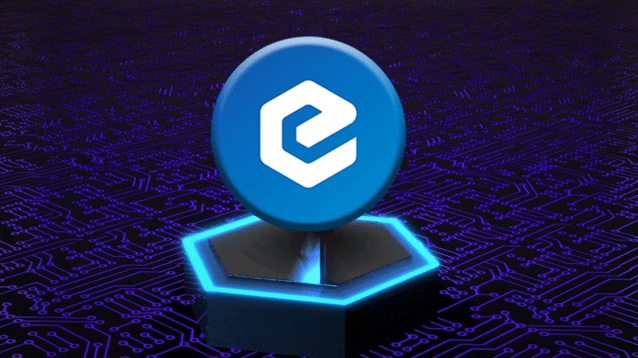 Tokenomics

The eCash coin (XEC) is the ecosystem's native token. The rebranding involves a redenomination and change in the ticker symbol, which was formerly used by the Bitcoin Cash ABC (BCHA) token. As a result, all BCHA currency holders can exchange their assets at a 1:1,000,000 ratio to XEC tokens. eCash aims to be as user-friendly as feasible and it follows many of the same rules as Bitcoin (BTC). It uses the same supply and distribution structure as Bitcoin.
ECash has the same supply cap as Bitcoin of 2.1 quadrillion tokens, but instead of being split by 100 million to create 21 million BTC, the 2.1 quadrillion were divided by 100 trillion XEC. The rationale behind this is that people can visually understand integers more easily, and this decision corresponds with the coin's objective of widespread adoption.
Competition Analysis
The closest competitors for eCash would be Dash (DASH) and Monero (XMR).

Dash:- Dash is a digital currency that allows for quick and inexpensive payments anywhere in the globe. It aspires to deliver a user-friendly experience as well as privacy equal to cash. Dash suffers a problem that all cryptocurrencies face. Its ultimate objective is to become a worldwide payment system, but this will necessitate a more stable pricing.
Dash's most famous feature is InstantSend, which enables for rapid confirmation of transactions. Because a certain number of blocks must elapse before a transaction can be validated, most currencies have a delayed transaction time. The Dash network employs what are known as "masternodes." These masternodes operate as a second layer of support to guarantee that the blockchain technology is ready to handle all transactions.

Monero:- Monero (XMR) is an open-source, privacy-oriented cryptocurrency that was launched in 2014. Monero's blockchain is intentionally configured to be opaque. It makes transaction details, like the identity of senders and recipients, and the amount of every transaction, anonymous by disguising the addresses used by participants.
Along with anonymity, the mining process for Monero is based on an egalitarian concept. This is the principle that all people are equal and deserve equal opportunities. Its developers did not keep any stake for themselves when they launched Monero but they did bank on contributions and community support to further develop the virtual currency.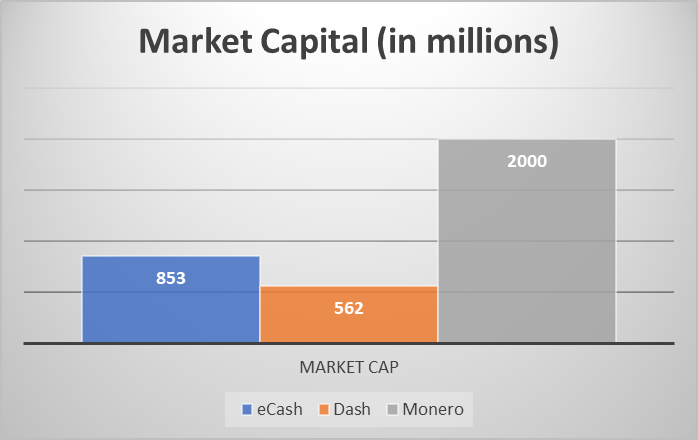 Team, Media & Community Strength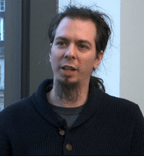 ECash (XEC) is led by Amaury Sechet, who was the principal developer of Bitcoin Cash (BCH) and forked that blockchain to produce the forerunner of eCash, Bitcoin Cash ABC (BCHA). Sechet then chose to rebrand Bitcoin Cash ABC in order to build a new brand identity for eCash, saying that reducing decimal places will aid in the coin's adoption. Before his involvement in cryptocurrencies, he was a software engineer at Facebook and a lead developer at Stupid D Compiler.
They have over 55.9K followers in Twitter in just over a year, this shows how fast the community is adopting eCash as it is easy to use.
Conclusion
Within such a short amount of time, eCash has gone through many improvements since its fork from Bitcoin Cash, by changing to small denominations at 2 decimals for easier transactions, compared to Bitcoin and Bitcoin Cash's 8 decimals. The development team has made good progress on the eCash technical roadmap, with over 1900 changes to the code repository in the last year. They have also improved and enhanced the Cashtab and Electrum ABC wallets, making it more convenient for people to use eCash and have control over their coins. This is a significant step towards their goal of a more financially accessible and technologically involved world.
Pros:-
Cons:-