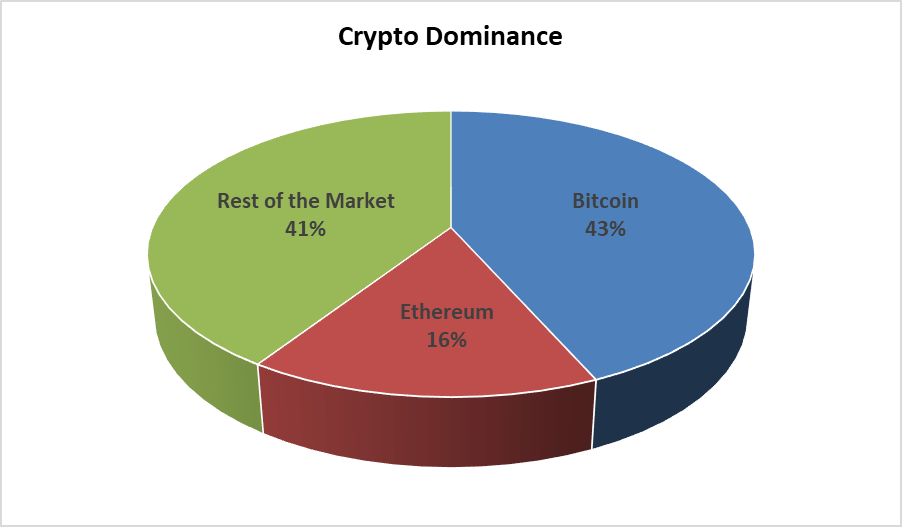 Crypto Sentiment

This week the sentiment towards the cryptocurrency markets continued to remain in the "extreme fear" zone. There was no change in the Fear & Greed score from last week and stood at "14".




Another data to evaluate the sentiment of the general public would be to look at Spent Output Profit Ratio (SOPR). What is SOPR? In laymen terms, it indicates if people have sold at a profit or if they sold at a loss. An SOPR value above 1 indicates that profit booking dominated loss booking and below 1 indicates that loss booking dominated profit booking. A value of 1 indicates that the coins were sold at their purchase price. Adjusted SOPR filters out transactions that are younger than 1 hour, thus, clearing out noise from the metric.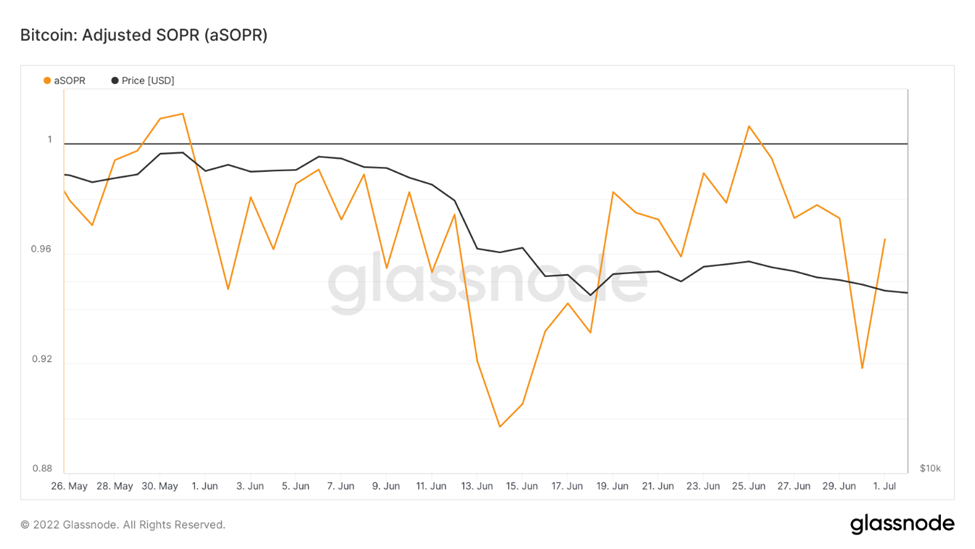 The aSOPR for this week stands at 0.96. Although the metric has not changed significantly compared to last week, it still indicates that investors are selling BTC at a loss. When we analyze the historical cycles of bear market, we see that as aSOPR moves above 1, investors start selling and the metric falls below 1. This continues for an extended period of time before final capitulation happens and trend reverses.


Is there any demand for Crypto?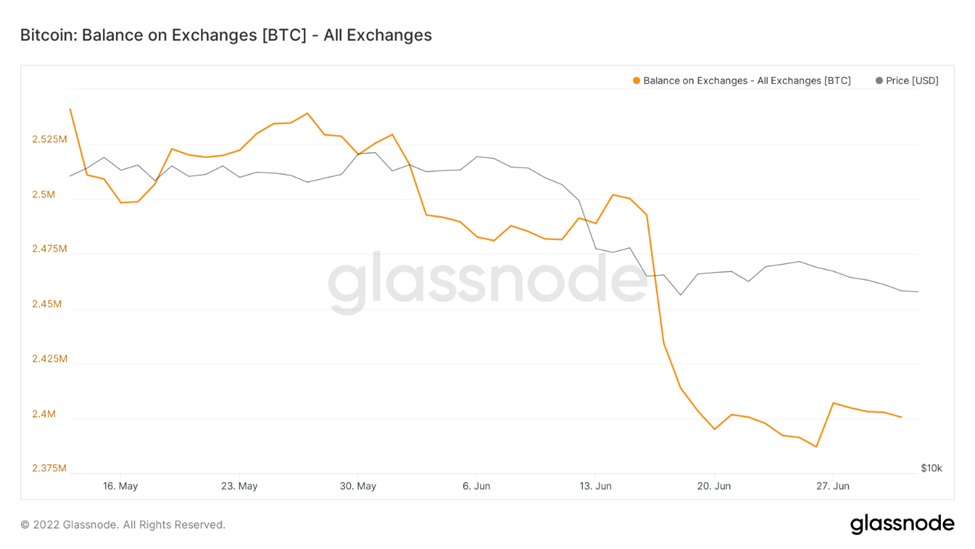 The Balance on exchanges has reduced significantly. Due to decrease in prices of cryptocurrencies, exchanges are facing liquidity issue. In the past few weeks, there had been instances of some exchanges pausing withdrawals. The data indicates that investors are transferring their tokens onto their wallets and prepared to HODL.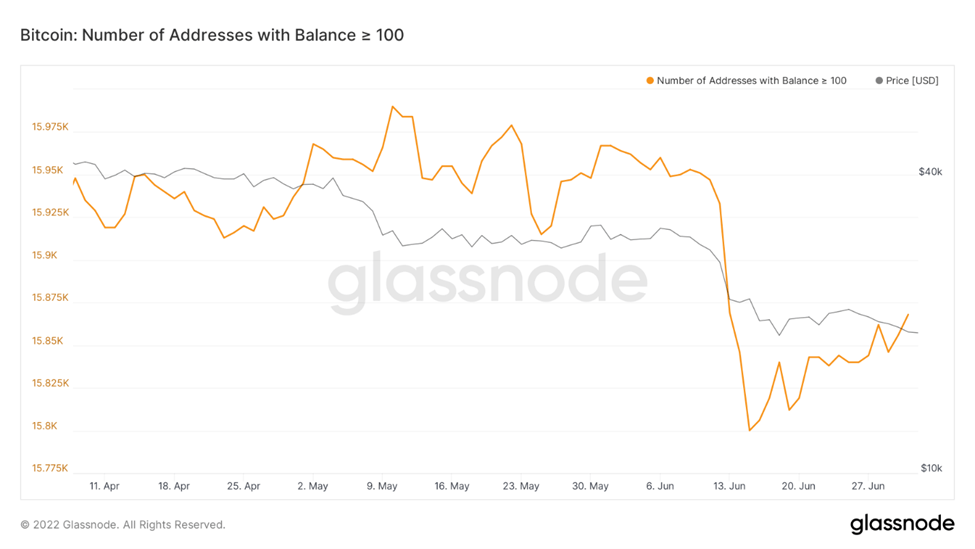 Even though the number of addresses with balance more than 100 is not at its previous high levels, the upward trend suggests, the metric is improving and investors are accumulating at this price level.

What could play out ?


MVRV ratio is equal to the market capital divided by realized capital of Bitcoin. Realized capital unlike market capital does not use the current market price, but rather uses the prices each Bitcoin when they last moved.
The current realized price is below the market price and MVRV ratio has fallen to 0.86 compared to last week's value at 0.94. The fall in the MVRV ratio can be attributed to decrease in market price.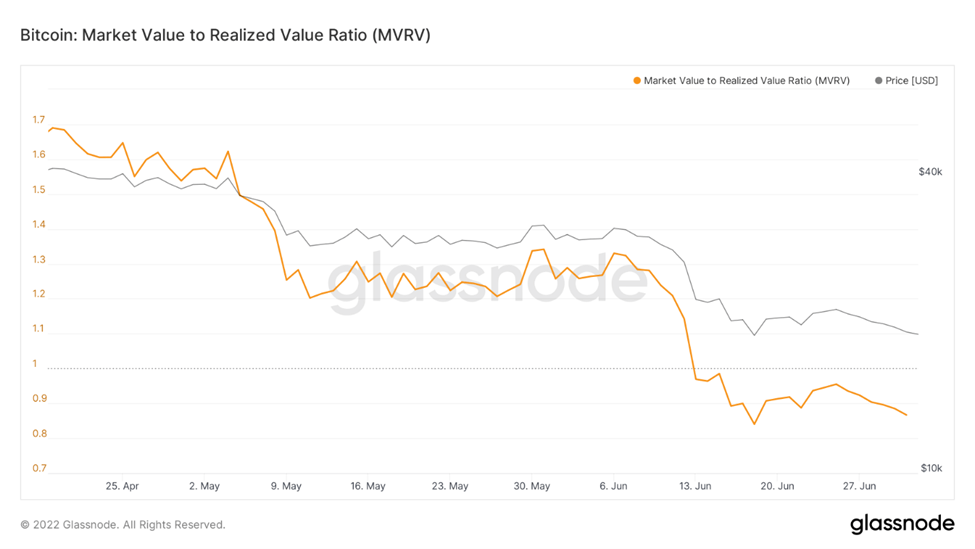 Currently, 52% of the circulating coins are in profit. The previous bear markets have bottomed around 40-45% of supply in profit. Its not necessary that the same pattern follows in this bear market too but statistically, we could see further fall in prices.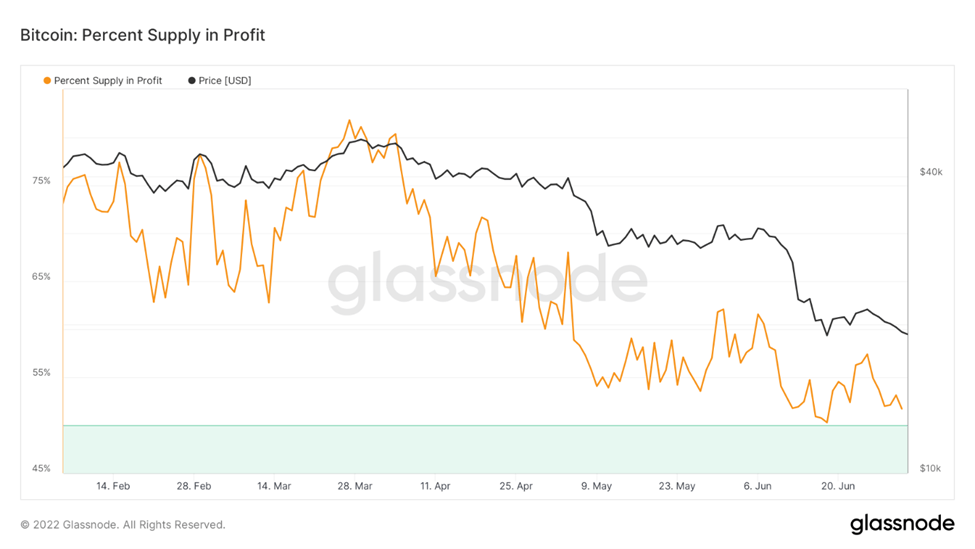 Overall Market Performance

DOW JONES
Dow Jones Industrial Average remained fairly neutral throughout last week. The daily chart for Dow Jones has formed a megaphone down pattern. The next support is expected at 28,900.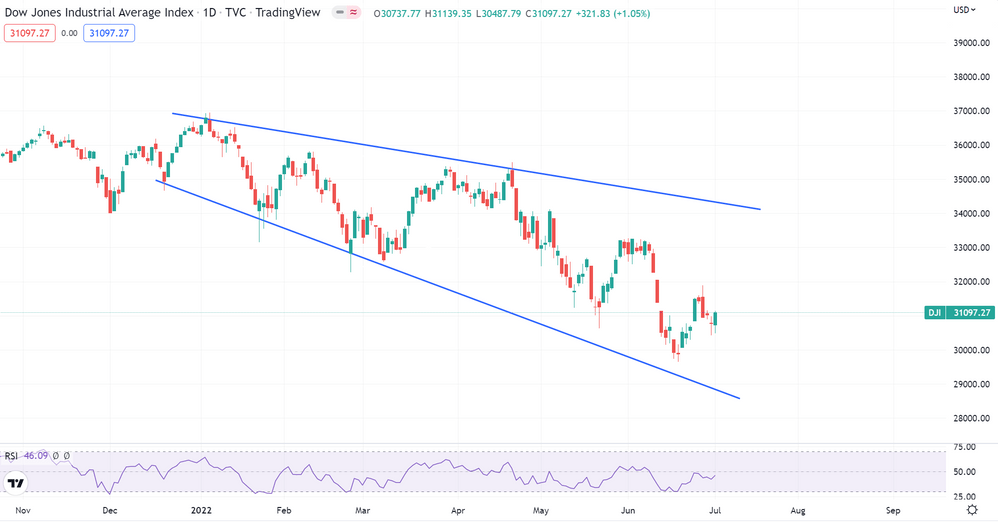 GOLD FUTURES
Gold Futures dropped 1.6% in the past week, closing in red. The daily trend for Gold broke out below the triangle pattern. An immediate support is expected at $1,750 and next resistance for Gold Futures is expected at $2,000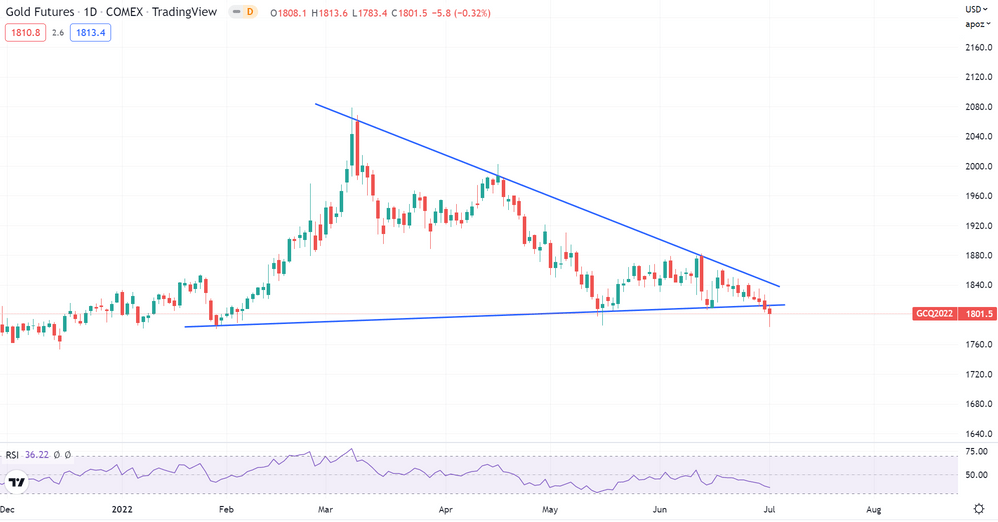 BITCOIN
Bitcoin lost over 8% in the previous week, closing around $19K. The daily trend for BTC continues to traverse within a descending channel pattern. The next support is expected at $14,000.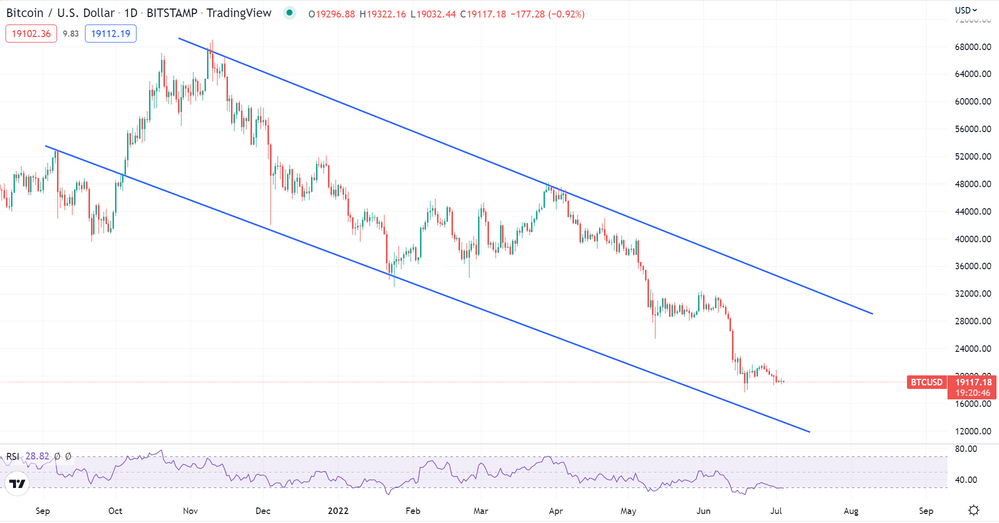 ETHEREUM
Ethereum against BTC remained flat during the last week. The weekly trend for ETH-BTC has formed an ascending triangle pattern and is trading at support levels. The next resistance is expected at 0.076 and an immediate support is expected at 0.046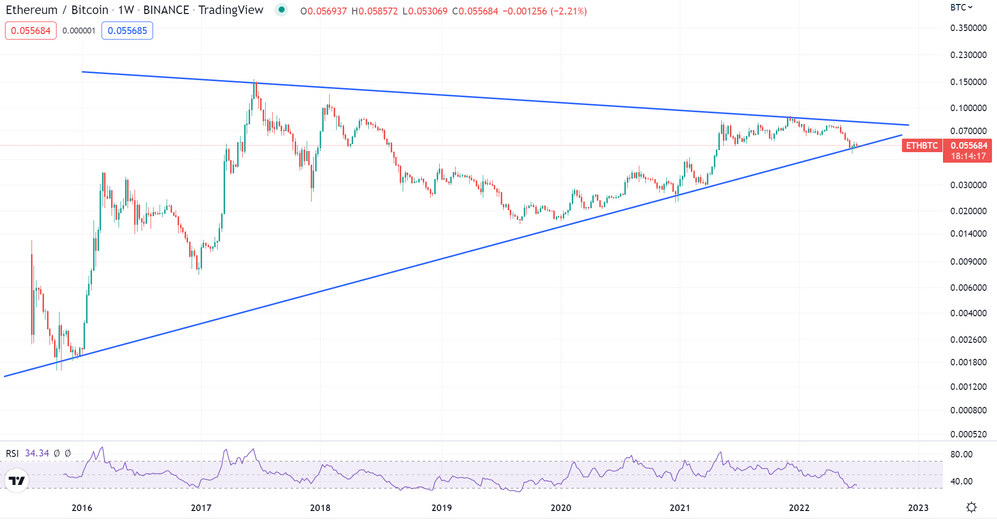 Highlights of the week

1) Opensea recently suffered an Email data breach. They have warned their users of Phishing attacks due to this data breach. They confirmed that a third-party vendor's employee misused their access to OpenSea's customer email addresses.

2) The Russian parliament recently cleared a draft law that may possibly exempt digital asset issuers from making value-added tax payments. It has also established new tax rates on income earned through the sale of such assets.

3) Crypto Asset management firm Grayscale Investments LLC has filed a lawsuit against the Securities and Exchange Commission(SEC) for rejecting its bid to convert the Grayscale Bitcoin Trust (GBTC) into a spot Bitcoin exchange-traded fund(ETF)


Our Pick of the Week


Digibyte (DGB)
We expect a gain of 10% from the Buy Price of 0.00909 USDT and outperform BTC in the coming week.