Crypto Markets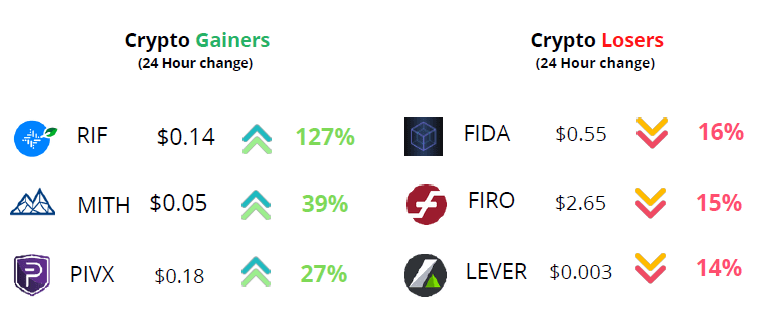 Crypto Sentiment
After staying in the extreme fear zone for more than 3 months , the Fear & Greed
Index has finally moved to the Fear zone. The index currently stands at "31".

Another data to evaluate the sentiment of the general public would be to look at Spent
Output Profit Ratio (SOPR). What is SOPR? In laymen terms, it indicates if people have
sold at a profit or if they sold at a loss. An SOPR value above 1 indicates that profit
booking dominated loss booking and below 1 indicates that loss booking dominated
profit booking. A value of 1 indicates that the coins were sold at their purchase price.
The Adjusted SOPR filters out transactions that are younger than 1 hour, thus,
clearing out noise from the metric.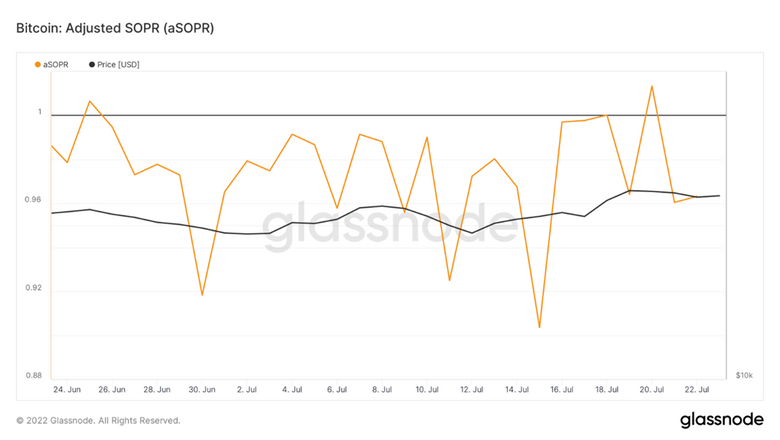 The aSOPR for this week is currently at 0.96. Even though the price has gained some
momentum in the last few days, aSOPR is still oscillating below 1. As soon as the metric
moves above 1, it is pulled back below zero. For the trend reversal confirmation,
aSOPR should oscillate above 1.
Who is buying: Whales or Retail Investors?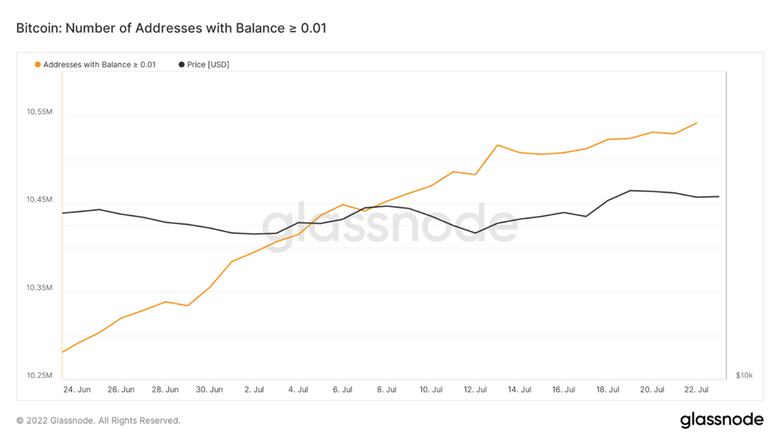 The number of addresses with at least 0.01 Bitcoin has reached all time high value of
10.5 million. Even though we see tremendous growth in the number of addresses , we
cannot conclude that the recent price movement is due to large investors or retail
investors.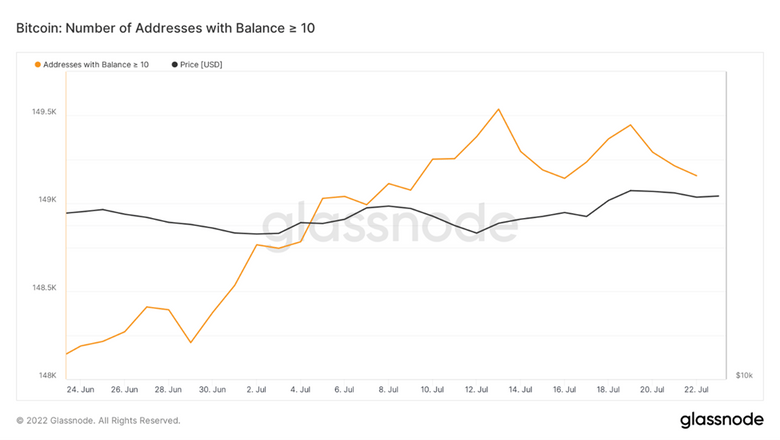 Number of addresses with at least 10 BTC does not show any growth compared to last
week's data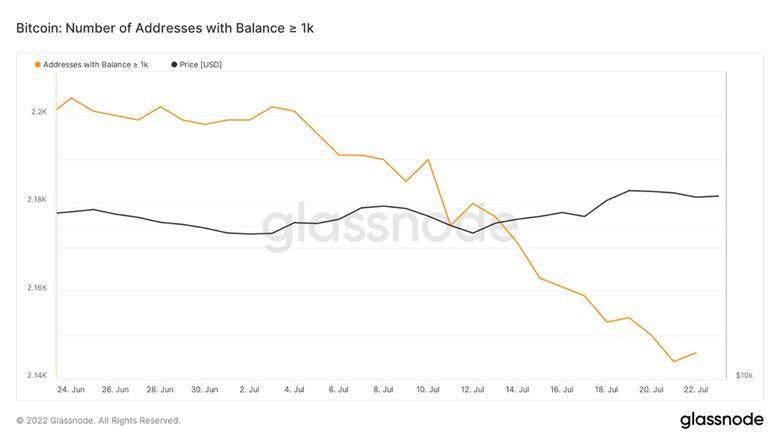 Whales or large investors holding at least 1,000 BTC has decreased slightly compared
to last week.
This shows that the recent price gain of Bitcoin is mainly due to small or retail investors
buying from these large investors.
Has the Trend reversed or is it a pullback?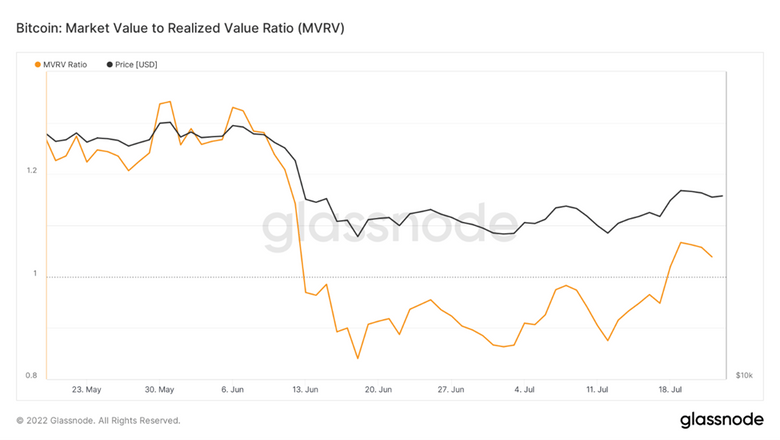 MVRV ratio is equal to the market capital divided by realized capital of Bitcoin. Realized
capital unlike market capital does not use the current market price, but rather uses the
prices each Bitcoin when they last moved.
Historically, we have seen that during bear market the metric oscillates below 1 and
the trend reverses when it moves above 1. Currently we see that after oscillating for
more than a month below 1, the metric has finally moved above 1 but for the trend
reversal confirmation metric must oscillate above 1 for few days.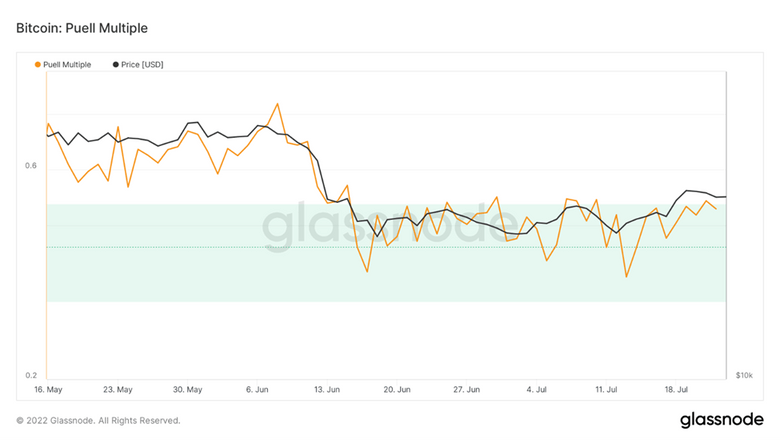 Puell Multiple captures the aggregate profitability of Bitcoin mining industry. It is
calculated by dividing miner's current income (USD) to the annual average income.
Puell Multiple > 4: Profitability is high which increases miner's incentive to sell

Puell Multiple < 0.5: High income stress which can lead to capitulation
Generally, we have seen that the Puell Multiple increases when trend reverses.
Currently, Puell Multiple is oscillating below 0.5 and hence, the metric doesn't confirm
recent increase in price as trend reversal.
Overall Market Performance
DOW JONES
Dow Jones Industrial Average jumped by 2% in the last week. The daily chart for Dow
Jones continues to move in a megaphone down pattern. The next resistance is
expected at 32,800 and next support is expected at 28,900.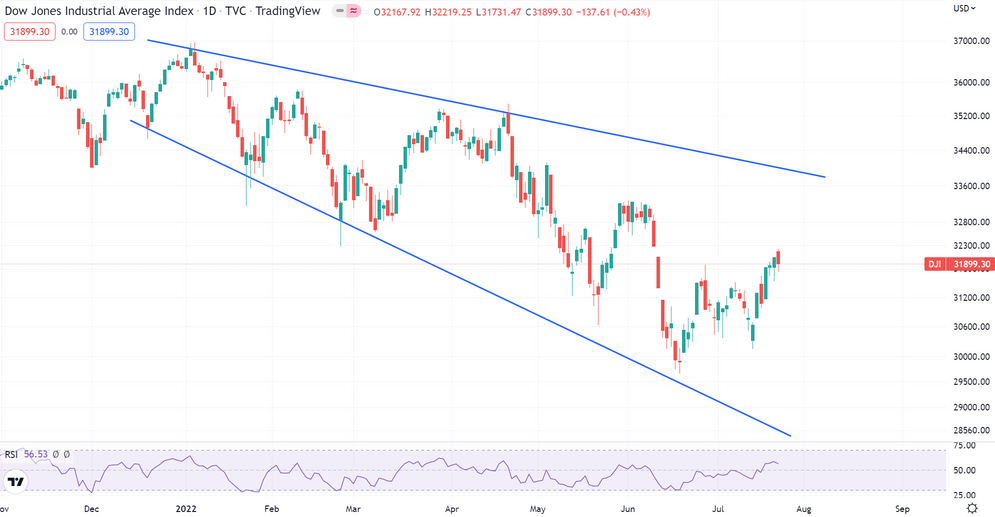 GOLD FUTURES
Gold Futures finally saw a green weekly candle after closing in red for 5 consecutive
weeks. The daily trend for Gold continues to traverse within a descending channel
pattern. An immediate support is expected at $1,670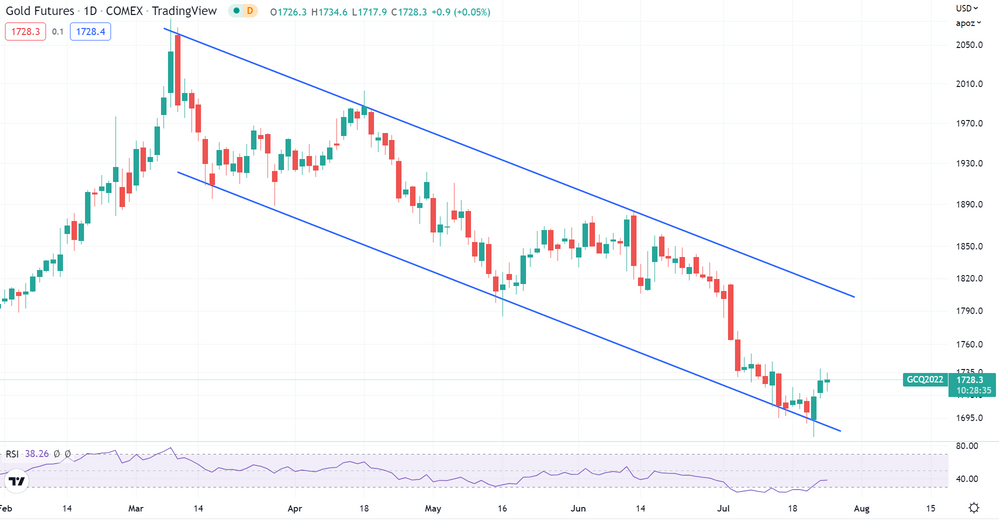 BITCOIN
Bitcoin gained nearly 9% over the past week. The daily trend for BTC is moving within a
descending channel pattern. The next resistance is expected at $32.3K and key support
is expected at $14K.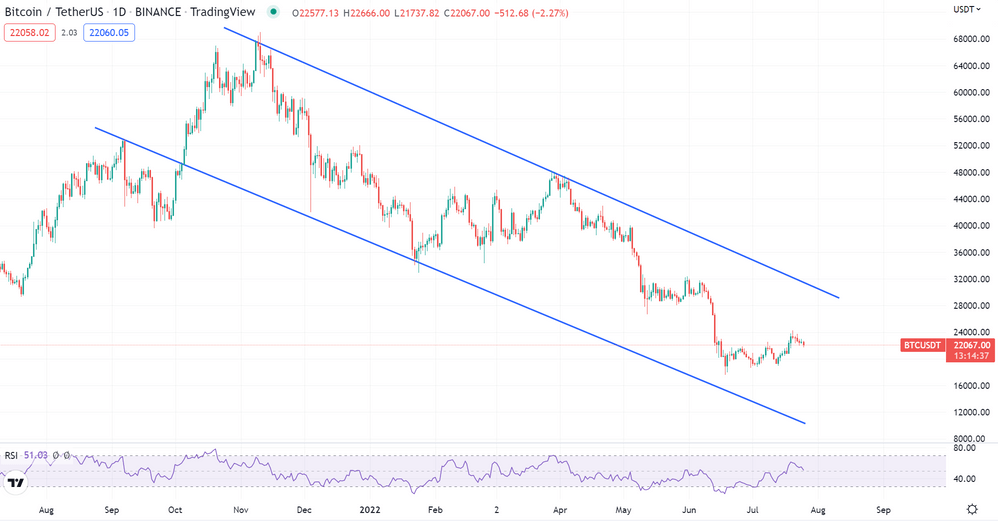 ETHEREUM
Ethereum against BTC surged by 15% in the last week. The hourly trend for ETH-BTC
has formed an ascending channel pattern. The next resistance is expected at 0.076 and
an immediate support is expected at 0.046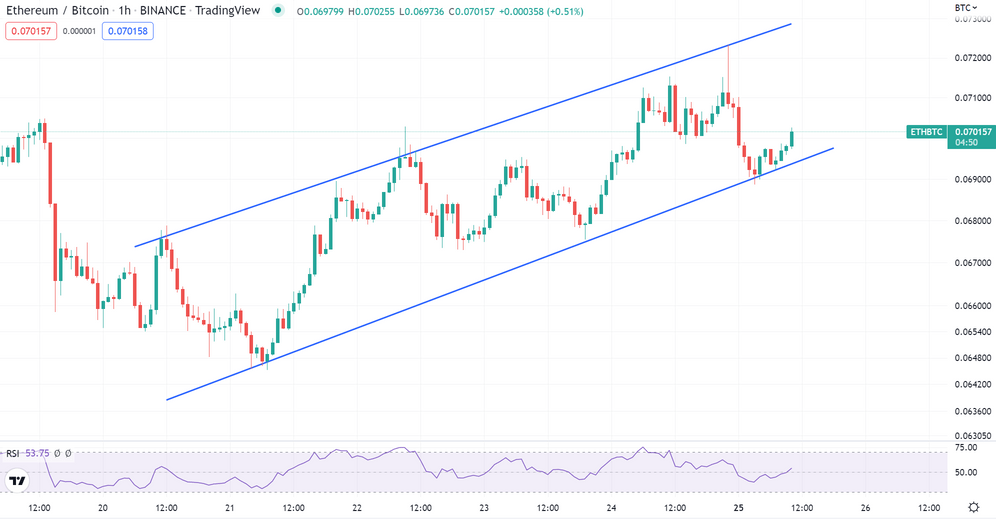 Highlights of the week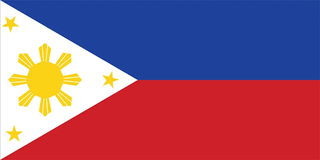 Banning cryptocurrency in the Philippines is out of the
question. That's good news for crypto users in the
Philippines, which is the world's fifth-largest crypto market.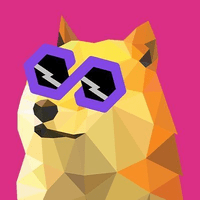 PolyDoge token is now supported on the popular
cryptocurrency e-commerce platform. This implies that
PolyDoge can now be used to purchase goods from wellknown
retailers such as Amazon, Walmart and more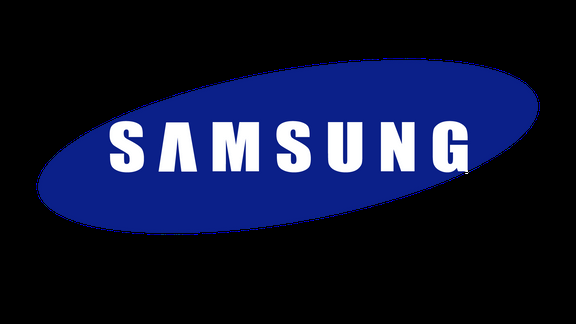 Tech giant Samsung said it is currently working on new 3-
nanometer(nm) mining chips that will be 45% more energy
efficient. The new chips are estimated to have 23% higher
performance and are expected to significantly reduce
carbon emissions in the mining industry.
Our Pick of the Week
ApeCoin (APE)

We expect a gain of 10% from the Buy Price of 6.65 USDT and
outperform BTC in the coming week.